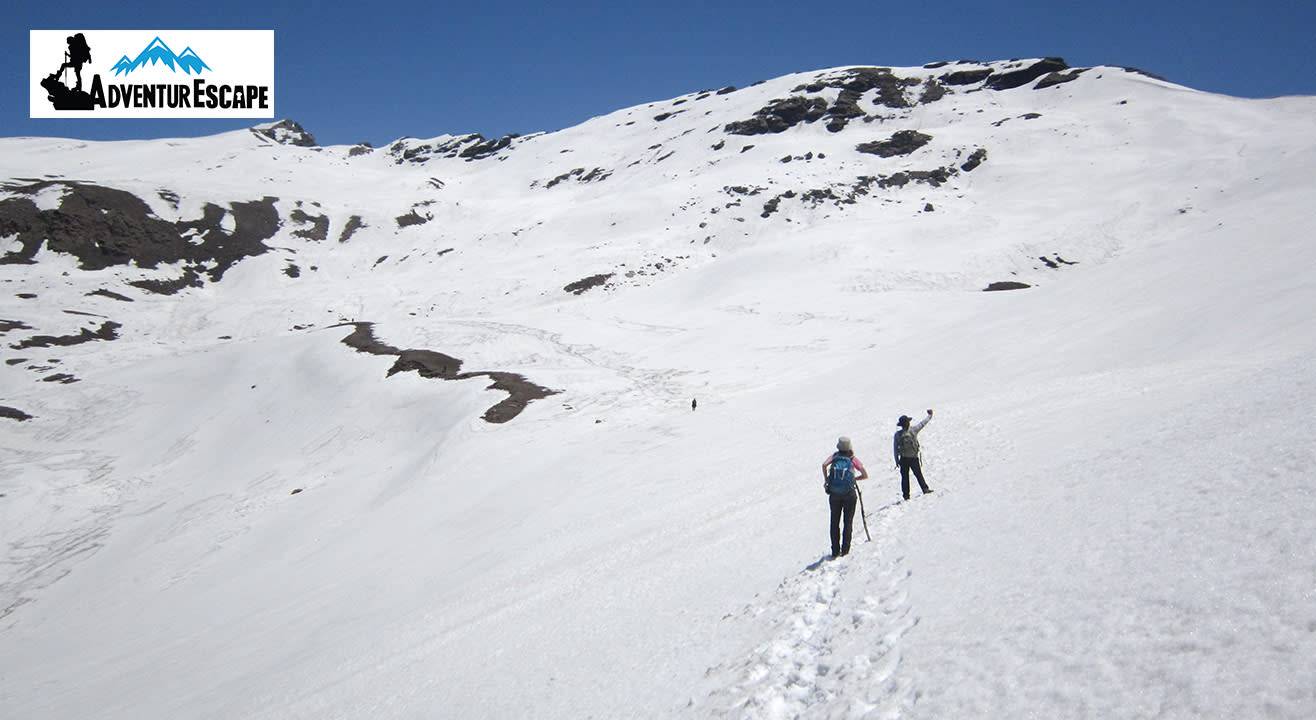 Step out and enjoy this event
Invite your friends
and enjoy a shared experience
Invite your friends
and enjoy a shared experience
About the Event
The Bhrigu Lake trek is a popular trek in Himachal Pradesh which lies in the heart of Kullu Valley.


The maximum altitude during this trek is 4267 metres/14000 feet. This trek is through the high-altitude alpine meadows and woody trails tucked away in the mountains of Kullu Valley. The view around the Bhrigu Lake is charming and spectacular with the lake changing colours all through the day. The Bhrigu Lake has a mythical significance attached to it. As per legend, the great Bhrigu Maharishi had meditated at this lake, many hundred years ago; the lake is located about 6km from the picturesque Gulaba. The weather in summers varies from 20–25 degrees during day time and 5–7 degrees at night. During winter, the temperatures are 10-15 degrees at daytime and -7 degrees at night.


The trek not only offers superlative views of the Himalayan ranges, trekking up the highest Himalayan lush green meadows and rolling mountain slopes, but the route takes you through colourful villages, welcoming warm people, and their quaint lifestyle. The Bhrigu Lake trek is rated as 'Easy' and is suitable for beginners.
Day 1: Manali (2000 m) - Gulaba (4000 m) – Rola Kholi (3830m)
Two hour drive to Gulaba Village and a trek of 3-4 hours covering 7 kms.
The trek begins in Manali with a drive to Gulaba Village, about 22 km from Manali. The first destination from Gulaba Village is the Gulaba campsite, which is about 3 km from the village and takes a trek of one hour to reach. The trek goes through a dense woody trail. Further, after a steady and steep climb of 20 minutes through rivulets, the team reach the vast, green meadows. This place offers astounding views of the Hanuman Tibba and other mountain ranges. You trek from Gulaba camp to Rola Kholi passing through the Kolang Nallah.
This place presents great views of Solang, Manali, and the seven sister peaks. The campsite here is surrounded by mountains all around, shielding the place from blustery winds. The team camps overnight at this place.

Day 2: Rola Kohli – via Bhrigu Lake (4267 m) – Pandu Ropa (3596 m)
The 14 km trek takes about 7-8 hours
The trek to Bhrigu Lake from Rola Kohli is a steep ascent. The sight of this magnificent lake, even from a distance is captivating. The lake remains frozen for the most part of the year barring the summer months. The crystals of water glistening through the golden rays of the sun offer colourful hues during different times of the day. Alpine blossoms amidst the grassy green pastures are a sight to behold. After a stop at the Bhrigu Lake, the trek makes a steady descent to Pandu Ropa. The trek is through green rice fields and beautiful meadows. The team camps out at Pandu Ropa where there will be bonfire and dinner.

Day 3: Pandu Ropa – Vashishth(2103m)
The 8 km trek takes 4 hours + drive to Manali.
Today, you trek to Vashishth from Pandu Ropa, which is one amidst awesome views. Vashishth is a place engulfed with hot water springs. The temple shrines of Lord Rama and Vashishth Maharishi are popular here. The team reaches Vashishth where they officially end the trek and proceed on their return journey to Manali.


Accommodation costs for triple sharing stay in camps cost of sleeping bags, with roll-on mattresses and the pantry/kitchen and toilet facilities.
Qualified and experienced guides and support staff.
First-aid treatment/facilities.
The cost of meals provided all through the trek.
All costs of helpers, porters, and the mule costs used for transporting equipment all through the trek.
Any of the permit charges, forest entry fee and camping charges.
Transport from Manali and back.

The trek cost does not include any train fare or air fare charges
Any other cost of other equipment other than those that are listed above in the inclusions should be entirely borne by the trekkers.
Cost of porters / Mules for personal baggage.

Necessities
Trekking shoes: Trekking shoes with good grip and ankle support is compulsory for the trek. Please ensure that the trekking shoes are not new and used by the trekker prior to the trek. The trail is slippery and requires you to walk through rocks and boulders, so a good grip and water resistant shoe is necessary. Do keep an extra floater in case of rain and for use in camps.
Backpack (50-70 litres): A backpack with comfortable straps and a supporting frame is very important as you have to carry it on your own during the trek. Invest in a good backpack that is lightweight and comfortable to carry on long treks.
Daypack (20 litres): Keep a daypack in case you offload your backpack during the trek for your essential day items.
Torch or headlamp: Please bring a torch or headlamp for all treks.
Cutlery: Carry a spoon, mug and a lunch box. Adventure Escape insist on trekkers getting their own cutlery for hygiene reasons and for packed lunch.
Sunglasses: Invest in a good pair of sunglasses as you are going to be out in the sun for most of the day. If you are trekking in snow, it will be mandatory as it protects you from snow blindness.
Two water bottles: 1 litre each for water during the trek.

Clothes and Other Accessories
Warm jacket and sweater (couple of them if you feel more susceptible to cold).
Thermals: Carry thermals to keep yourself warm in the camp. Trek pants (2) for daily use during the trek which are light and comfortable.
Collared shirts (3-4), full sleeves, and quick dry so that it prevents sunburn on the arms and neck area.
Poncho: Poncho is very important when you are trekking in the monsoon season to protect you from the rain. You can rent one from Adventure Escape at INR 50 per day.
Cap: To protect your hair and face from the scorching sun, carry a cap.
Synthetic gloves for your hands as it will protect your hands from water, snow and keep you dry and warm.
Socks (2 pairs) + woollen socks (2 pairs) for keeping you warm in the camps.
Trekking pole: You should carry your own trekking poles for the steep uphills and downhills. You can carry them or rent one from Adventure Escape at INR 50 per day
Toiletries: Sunscreen, moisturizer, lip balm, toilet paper, toothbrush, toothpaste, hand sanitizer, wet wipes and tissues.
Plastic covers: While packing, use plastic bags to compartmentalize things and carry few extra plastic bags for wet clothes and to bring back your non-biodegradable material back. Mountains are the source of water and life on this planet. Please try and keep it clean and healthy.

Mandatory Personal Medical Kit
Diamox – 5 tablets (to prevent AMS)
Hyoscine - 3 tablets
Amlodipine - 5mg (5 tablets) with doctor's prescription only
Avomine – 2 tablets (motion sickness)
Crocin – 3 tablets (fever)
Avil 25mg – 2 tablets (allergies)
Disprin – 3 tablets (a headache)
Norflox TZ & Lomofen – 3 tablets each (diarrhea)
Digene – 5 tablets (acidity)
Crepe bandage – 3 to 5 metres
Gauze – 1 small roll
Band-aid – 5 strips
Cotton – 1 small roll
ORS – 105 packets
Betadine or any antiseptic cream
Moov spray (aches, & sprains)

How to reach by Air?
The nearest airport for Manali is Bhuntar, 50 km (approx) from Manali. Air India & Air Himalayas (9-seater, non-scheduled flights) have flights for Kullu. Air India has flights to Kullu from Delhi Airport & Air Himalayas operates flights from Chandigarh Airport.

How to reach by Train?
The two nearest railway stations for Manali are at Chandigarh (350 km) and Ambala (360 km). Onward journey can be travelled either by chartered taxis, buses or by air, as Himalayan Bulls, a private 8-seater charter is available between Chandigarh & Kullu.

How to reach by Road?
You can also reach Manali by road. There are many Volvo buses running from Delhi and Chandigarh daily. Delhi to Manali buses is available from RK Ashram Marg as well as ISBT Kashmiri Gate. Chandigarh to Manali buses are available from Sector 43 Bus Stand.

What is the style of accommodation in this trek?
Brighu Lake is a 4 day trek. Accommodation will be in tents on all the days – each tent will be shared by 3 trekkers. The tents will be provided by AdventurEscape. They will also put up toilet tents – the number will vary according to the size of the group.

Will you provide us with sleeping bags?
Yes. AdventurEscape will provide each trekker with a sleeping bag. The sleeping bags provided can withstand temperatures up to -10° C on high altitude treks.

What is the best time to do this trek?
June to September are the best months for the Bhrigu Lake trek.

What will the temperatures be like June, July and September?
Bhrigu Lake is at an altitude of 14,009 ft. At altitudes as high as these, temperatures go up to 18°C during the day and might fall to -1 to -2°C in the night.

When will there be snow on this trek?
You are likely to find snow on this trek in June. However, this depends on the amount of snowfall that happens in the preceding winter.

What will we do if it rains?
If it starts raining while you're trekking, the group will continue on the trail as planned. Your poncho should protect you from the rains. Carry a backpack cover for extra protection from rains for your belongings. When it rains at the campsite, the group usually gets together in the dining tent and plays games. The tents that you will be staying in, the dining tent, kitchen and toilet tents are all water proof, so you will stay dry inside.


Cancellations prior to 30 days from the start of the trek:
You can either transfer the same trek to any of your friends/family or get a voucher for the same amount and register for any of our treks in future (validity 1 year) or get a refund of 90 % (If the trek amount varies, the balance needs to be paid by the trekker)

Cancellation between 30 days and 15 days to the start of the trek:
You can either choose to go for any other trek or other batches for the same trek depending on availability or get a refund of 75%

Cancellation between 15 days and 10 days to the start of the trek:
You can choose to go on the same trek with other batches in the same season or get a refund of 50%

Cancellation less than 10 days to the start of the trek:
You can transfer your trek to your friend/family (same trek) No cash refund.


AdventurEscape India is an adventure travel community for trekking in India. They strive to give you the best trekking experience with our focus on expertise and experienced staff, safety and individual attention.