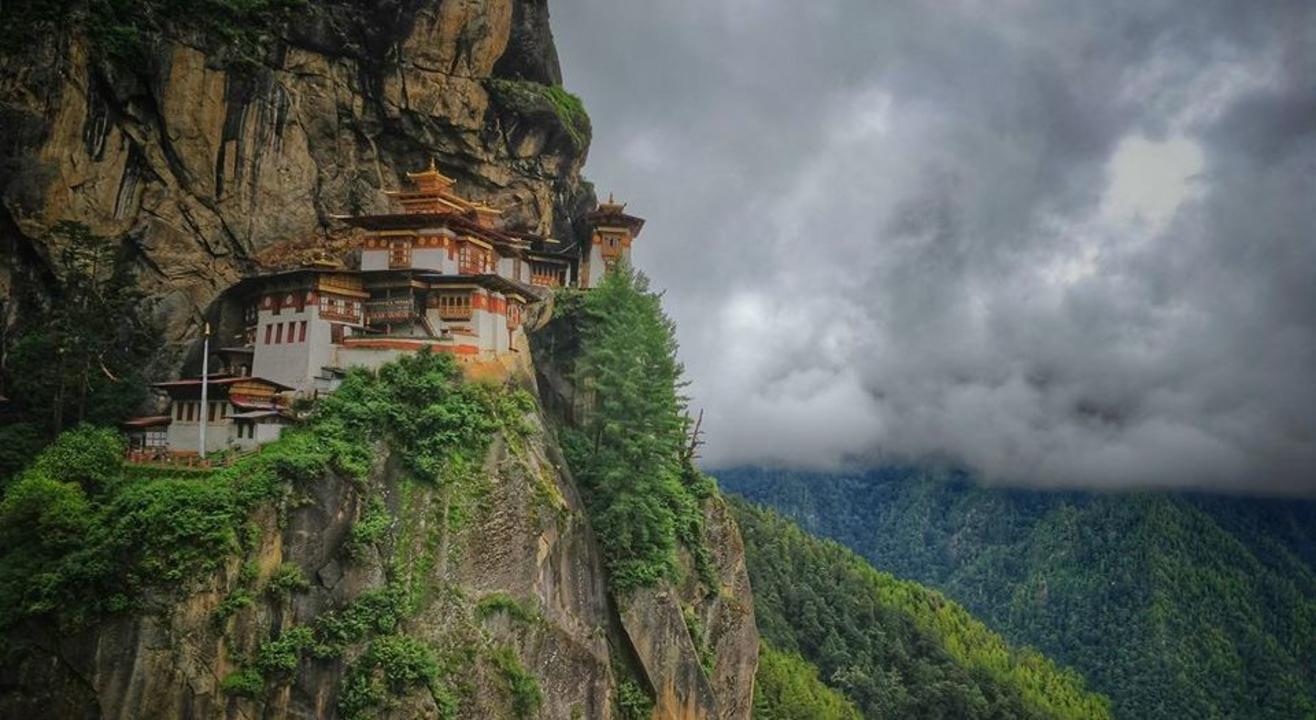 Experiences
Bhutan Cultural Experience and Hiking Trip | Plan The Unplanned
September 29 - October 7 | 9AM
About
A Backpacking trip to Bhutan by Plan the Unplanned on October 27. For more details, click here
The Land Of Thunder Dragon" - as it is rightly called, Bhutan is a little Himalayan hamlet that has gained the title to be the "Happiest Country". And you shall feel the vibes of happiness all around you - as soon as you'll entire Bhutan. With lofty Himalayan mountains, gusty rivulets crossing the valleys, the aroma of Momos and Datshi in the air, colorful prayer flags and huge Dzongs - Bhutan can never fail to mesmerize the visitors. This 7 - days road trip through the towns and countrysides of Bhutan will let to see the country's diverse sides. Witness the popular Tsechu Festival, visit the numerous old forts and hike up to one of the highest monasteries in the world - and you shall return back home, being a lot more happier!
Here's the Brief Itinerary
Meeting Point:
Phuentsholing/Jaigaon - Immigration Office (We need to take permit to enter Bhutan so we need to be at Phuentsholing/Jaigaon by 29th Sept as the immigration office is located there, the timing for which are 9 am - 5 pm). The trip starts next morning on 30th Sept - 9:00 am.

Day 01 / 30th September: Arrive at Phuentsholing (Transfer to Thimphu)


Phuentsholing can be rightly called as the Gateway to Bhutan and as soon as you'll cross the border, you'll be able to feel the difference in the air! Immigration procedure to be completed and drive to Thimphu, the capital town of Bhutan with an en-route stop at Chuzom, the confluence of Thimphu and Paro Rivers.

Overnight stay at the hotel in Thimphu.
---
Day 2 / 1st October: Explore Thimpu
The day will start with a village walk, followed by a visit to the Buddha Point (where one of the highest Buddha statues in the world stands) and later, we'll take a tour of the Takin Reserve (Takin - Bhutan's national animal), Tashichho Dzong, and the Voluntary Artists Studio Thimphu, an institution where children receive formal education in the art of traditional painting, sculpting, and woodcarving.
Overnight stay at the hotel in Thimphu.
---
Day 03/ 2nd October: Thimphu Tshechu Festival
Perhaps Holi is the most colorful festival that you've seen till date, but we can bet that Tsechu is far more colorful than that!
Today, we'll watch the glorious dance festival, which is also Bhutan's National Festival, at the Dzong.
Overnight stay at the hotel in Thimphu.
---
Day 04/ 3rd October: Punakha (Thimphu – Punakha)
Today, post-breakfast, we shall head towards Punakha by car, crossing the Dochula Pass (one of the highest points in Bhutan). On our way, we will stop at Lobesa Village to visit the Divine Madman's Monastery-Chhimi Lhakhang, famously known for its fertility shrine. We'll visit the impressive Punakha Dzong as well.
Overnight stay at the hotel in Punakha.
---
Day 05/4th October: Punakha Sightseeing
Today, we'll go for a short hike to the Khamsum Yulley Namgyal Chorten standing out on a beautiful ridge above the Punakha valley. It is a 30-40 mins hike from the suspension bridge. We'll also get to see some unique Buddha statues and the beautiful Thangka painting done by the locals.
Overnight stay at the hotel in Punakha.
---
Day 06/ 5th October: Paro (Punakha-Paro)
We shall head out for Paro from Punakha today, It'll be another beautiful journey crossing the Dochula Pass, and then, if you are lucky enough to have a clear sky, you can get a quick glimpse of the Chomolhari Mountains, one of the highest Himalayan mountains in Bhutan.
After reaching Paro, we'll also visit the Paro Dzong and the National Museum of Bhutan on this day.
Overnight stay at the hotel in Paro.
---
Day 07/ 6th October: Paro (Taktsang Hike)
Today would be a lovely day, as you'll hike up to see one of the most gorgeous monasteries in the world! It'll take around 2 hours to reach the Taktsang Monastery, also known as Tiger's Nest, as a myth reveals that Guru Padmasambhava rode to this monastery on a Tiger's back, who then took rest there in a dark cave below the monastery!
We'll also visit Kyichu Lhakhang, one of the oldest temples in Bhutan.
Overnight stay at the hotel in Paro.
---
Day 08/7th October: Depart
After breakfast at the hotel, drive to Phuentsholing.
Trip ends.
---
Accommodation in Rooms (Twin/Triple Sharing Basis) (30th September - Oct 6th)
Breakfast and Dinner (Buffet)
Transportation pick/drop and local sightseeing
Guide Charges
Pick and drop is from Phuentsholing and to Phuentsholing only

Monuments fee
Beverage (Drinks)
Lunch on all days
Any flight tickets are not included(for Paro/Bagdogra)
For pick up and drop from India (Bagdogra/Siliguri) charges will be extra.

It is mandatory to reach Phuentsholing on/by 29th September 2017

You need to carry Original Passport and 5 Passport size Photographs

Personal expenses are to be borne by you

Travel Insurance isn't required for your trip to Bhutan

Currencies of INR 10, 20, 50, 100, and 500 can only be used! 2000 INR notes will not work in Bhutan. You can also exchange currency while in the country

Pick up from Bagdogra can be arranged for an extra cost

Alternatively, one can take a Bus from Siliguri to Phuentsholing. The timing of the bus is 2 PM and it would cost about INR 150- 250/person

If anyone is taking a flight directly to Paro, transport can be arranged at no additional cost. You should just inform us about your timing and plan so that we can arrange everything accordingly
For booking enquiry you can call us at: 9035182699, 9428909952
Option 1:
There are a lot of ways to reach Bhutan. But the best way what we would recommend it, take a flight till Bagdogra and from there take a cab/bus till Phuentsholing/Jaigaon.

Option 2:
Also, you can take a flight directly to Paro. The permits can be taken care in Paro itself.

Other options

For pick up and drop from India (Bagdogra/Siliguri) charges will be extra(If you're a group of 3-4 people, we can arrange a cab for you.)
People need to reach Phuentsholing/Jaigaon by 29th September 2017. On the 30th morning, all of us will be meeting at the immigration office from where the trip starts. The stay for 29th needs to be taken care by the customer.
Passport along with 2 xerox copy
5 passport size photo
Rucksack (Just stuff your things in!)
Small Back Pack(20-30 ltr)
2 water bottle – 1 litre each (Hydration is much needed.)
Torch/Headlamp (It'll be really dark at night.)
Portable charger (You might just want to keep your phone aside, but then, selfies toh banta hai!)
Deodorant (You shouldn't stink!)
Energy Food ( Chocolate bars, Electrolyte drinks – Glucon-D, etc ) (You can carry some extra - we don't mind to share!)
Raincoat / Bag cover (Of course, you don't want your rucksack to get all wet!)
Flip-flops (Just to laze around.)
First Aid Kit (along with personal medicine as per your requirement)
Toilet kit
Towel (Oh! We believe in saving water.)
8000/- INR (Booking Fee) is not refundable.
If you have paid the total amount that is 24999/- before 24th September 2017 and cancel for any reasons, the trip then there would be a 50% refund
If you cancel the plan after 24th Sept – No Refund.