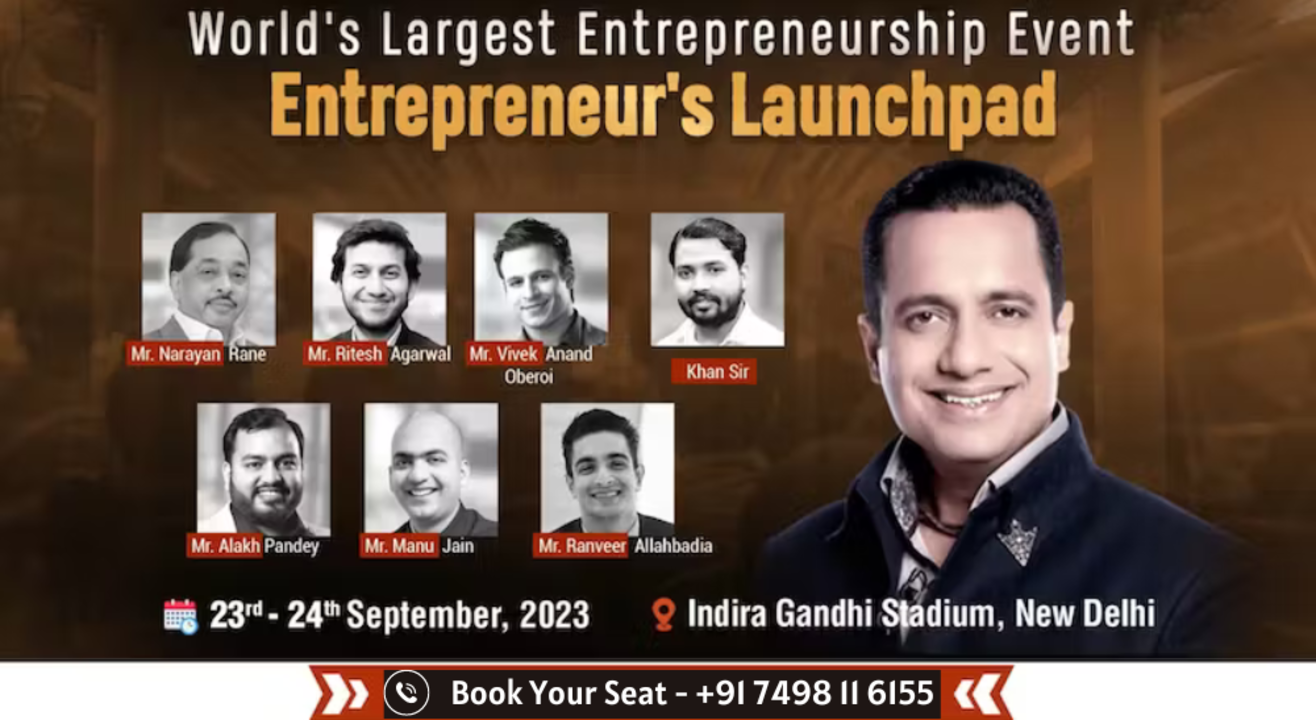 Entrepreneur Launchpad Orientation Program By Dr. Vivek Bindra
Event Guide
For Age(s)
Family Friendly
Language
Hinglish, Hindi, English
Masterclass
Learn from an expert
Invite your friends
and enjoy a shared experience
Entrepreneur Launchpad Orientation Program By Dr. Vivek Bindra
Event Guide
For Age(s)
Family Friendly
Language
Hinglish, Hindi, English
Masterclass
Learn from an expert
Invite your friends
and enjoy a shared experience
Event Guide
For Age(s)
Family Friendly
Language
Hinglish, Hindi, English
Masterclass
Learn from an expert
Invite your friends
and enjoy a shared experience
🎉 Free Orientation Webinar: Explore Entrepreneur Launchpad Event 🎉
📅 Date: Sunday, September 10th , 2023
🕛 Time: 12:00 PM - 01:00 PM (IST)
🌐 Online Webinar
📞 Phone: +91 7498 11 6155
Are you ready to unlock unparalleled opportunities for your entrepreneurial journey? Join us for an exclusive and insightful orientation webinar hosted by the visionary Dr. Vivek Bindra, the force behind the upcoming Entrepreneur Launchpad Event.
🚀 Event Highlights:
🔹 Event Preview: Get an insider's peek into India's Largest-Ever Entrepreneur Launchpad Event scheduled for September 23rd-24th, 2023. Discover what's in store for budding entrepreneurs, seasoned business owners, students, and working professionals.
🔹 Speaker Insights: Gain a sneak peek into the wisdom that awaits you at the main event. Dr. Vivek Bindra will share key takeaways from the exceptional lineup of speakers, ensuring you're prepared to harness their knowledge effectively.
🔹 Interactive Q&A: Have burning questions about entrepreneurship, growth strategies, or career transitions? Engage directly with our host, Dr. Vivek Bindra, and get insights that can shape your entrepreneurial path.
🔹 Networking: Connect with like-minded individuals who are passionate about entrepreneurship. Share ideas, aspirations, and build valuable connections during this interactive online session.
🔹 Event Overview: Learn about the varied ticket options available for the Entrepreneur Launchpad Event, including their benefits and exclusive offers. Whether you're aiming for a Silver Seat or the VIP Elite Seat, this session will help you make an informed choice.
🎁 Complimentary Access: This orientation webinar is completely free of cost, allowing you to explore the opportunities awaiting you at the Entrepreneur Launchpad Event.
📝 How to Join:
Simply register for the free orientation webinar by clicking on the following link: https://bit.ly/3P0sY2D
Don't miss out on this chance to kickstart your entrepreneurial journey with the right insights and connections. Reserve your spot now and get ready to embark on an exciting path to success!
For any inquiries or assistance, feel free to contact:
Shubham Gautam - Event Coordinator
📞 Phone: +91 7498 11 6155
See you at the orientation webinar! 🌟
The orientation webinar program is designed to provide in-depth insights into the upcoming Entrepreneur Launchpad Event. While the main event is a paid event, the orientation webinar is offered free of cost. It serves as a valuable opportunity for individuals to gather comprehensive details about the Entrepreneur Launchpad Event, including its agenda, speakers, sessions, and more.


Registration Instructions:
The orientation webinar program is open to anyone interested in attending the paid Entrepreneur Launchpad Event.
To register for the free orientation webinar, visit the provided link: Orientation Webinar Registration.
Please note that while the orientation webinar is free, the Entrepreneur Launchpad Event itself is a paid event with various ticket categories offering different levels of access and benefits.
Attending the orientation webinar will provide attendees with a deeper understanding of the event's content, structure, and the value it offers to participants.
Entrepreneur Launchpad Orientation Program By Dr. Vivek Bindra
Event Guide
For Age(s)
Family Friendly
Language
Hinglish, Hindi, English
Masterclass
Learn from an expert
Invite your friends
and enjoy a shared experience