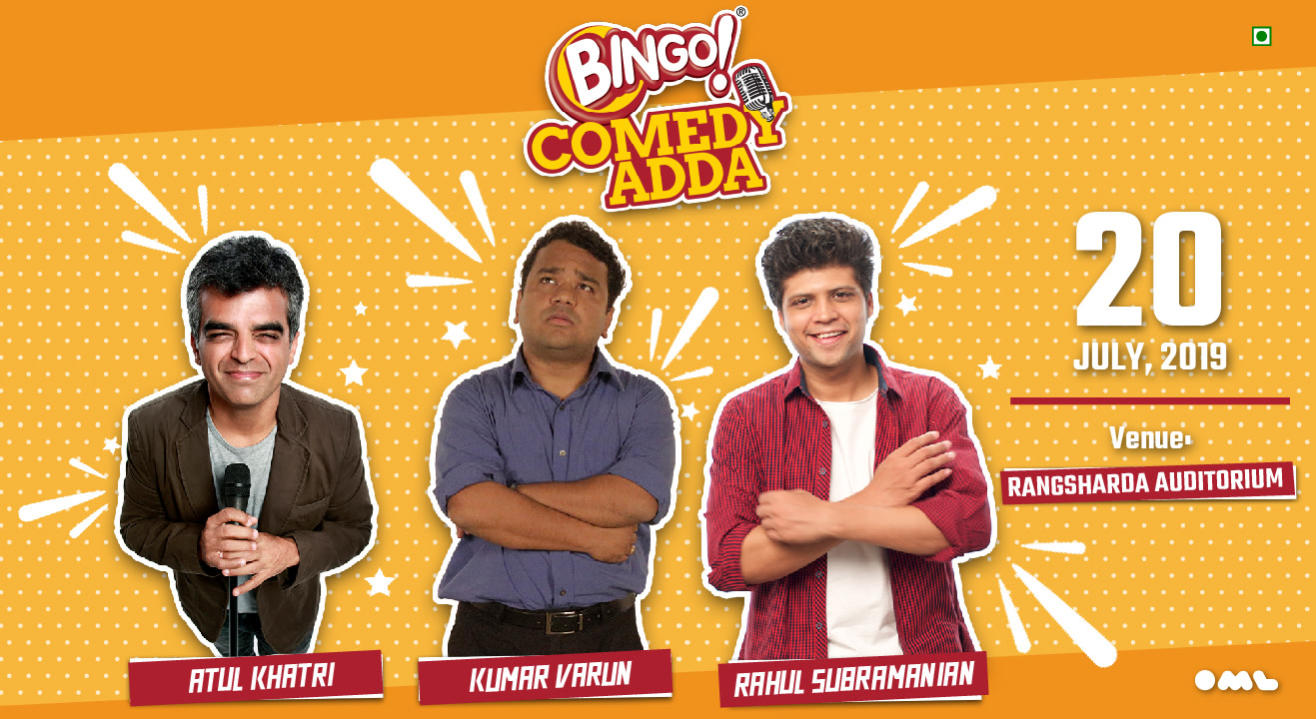 Comedy
Bingo! Comedy Adda, Mumbai
About
Bingo! Comedy Adda, a night with some of India's biggest comedians who come together to guarantee you an evening full of laughter and make you fall off your chair to ROFL.
Atul Khatri
Can businessmen be funny? Yes. Meet Atul Khatri, a middle-aged businessman-turned-comedian who now makes a living making people laugh harder than they ever have. A former member of one of the country's leading comedy collectives, East India Comedy, Atul has often been spotted on their YouTube series like EIC Outrage, and specials such as EIC vs Bollywood. Bringing his 40+-year-old perspective with every show, he performs regularly at comedy clubs and does private shows in India and abroad. The comedian has showcased his skills at the prestigious Utrecht International Comedy Festival in the Netherlands and Belgium, and at the 8th Annual Hong Kong International Comedy Festival in 2014. CNN-IBN recently rated him as one of the Top 20 Comedians in India to Watch Out For, post winning the competition CEOs Got Talent.

Rahul Subramanian
Rahul Subramanian is a brand-manager-turned-comedian who realized a little too late in life that he was too redundant for the corporate world. Since this realization, he has been a regular at all the leading comedy venues in the country, and is currently touring his one hour solo titled Kal Main Udega. If you are someone who enjoys humour with a message then Rahul's comedy is made just for you, only disclaimer being you've to come up with a message of your own as Rahul has none to offer. This Mumbai-based comedian has been performing since 2014, as he broke into the scene by winning stand up competitions like Virgin Pants and Canvas Laugh Club (All India open-mics) and also the first ever YouTube Comedy Hunt (sketch video competition) along with his friend Kumar Varun for their channel Random Chikibum. When he is not doing stand up, or acting in videos by Random Chikibum or All India Bakchod, you will see him pursuing his hobbies which include seeing, waiting, and getting stuck in traffic, all things that help him write better jokes and sketches that make you go "that's happened to me too!"

Kumar Varun
Kumar Varun is a member of Random Chikibum, a comedy collective with fellow comedian Rahul Subramanian. Self-described as "a group of over-enthusiastic, furniture-loving, animal-agnostic, clingy individuals on a mission to make no sense", they won the Comedy Hunt on YouTube in 2015, and have a popular office-humour series, Random Daftar, as part of Laughter Games on YouTube. Kumar is a popular feature of several AIB sketches, and has recently forayed into stand-up comedy.


Venue
Hotel Rangsharda
Hotel Rangsharda, Krishna Chandra Marg, Bandra West, Near Lilavati Hospital, Bandra West, Mumbai, Maharashtra 400050