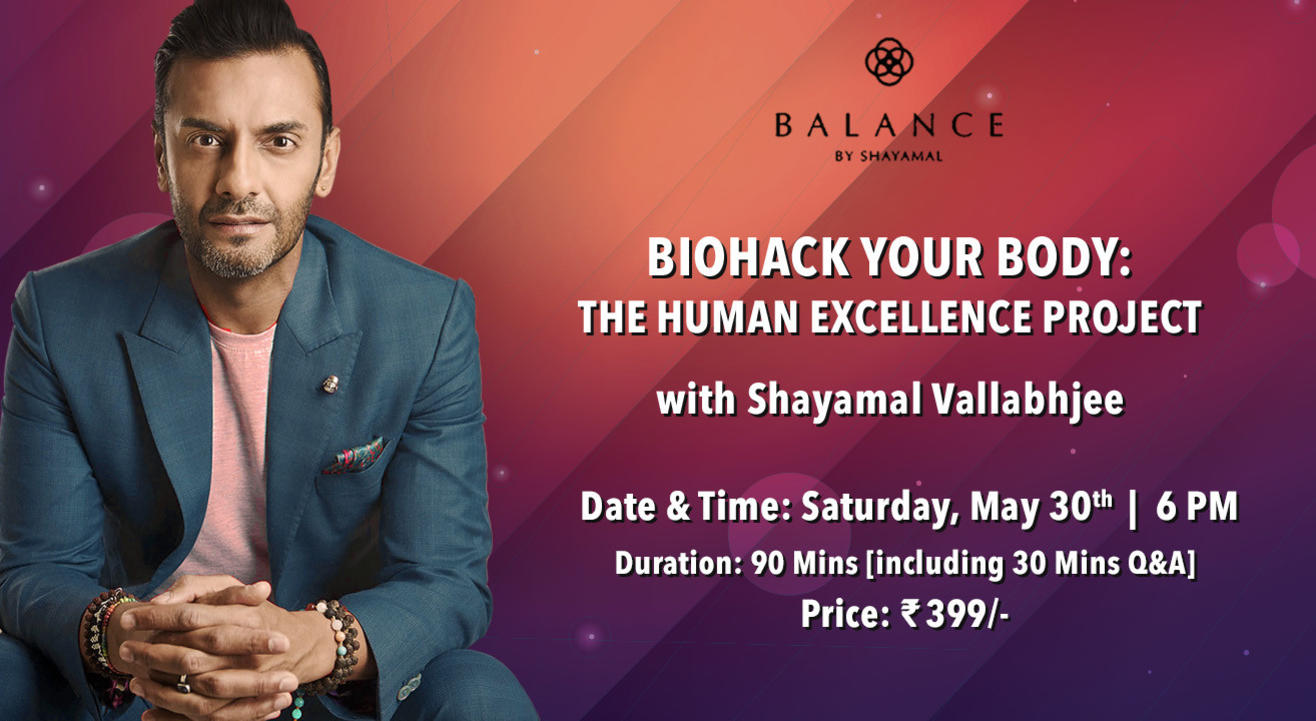 BioHack Your Body | The Human Excellence Project with Shayamal Vallabhjee
Invite your friends
and enjoy a shared experience
Invite your friends
and enjoy a shared experience
About the Event
The Human Excellence Project is a four-part MasterClass series on hacking and optimising the four pillars of an individual's peak performance potential.
- Body
- Mind
- Relationships
- Environment
This chapter will cover 'Body' - biohacks, tools, tips, science, references - coming from 20 years of coaching and practical research, plus learnings from working with prominent athletes.
The session will include:
1. What is BioHacking?
2. The Secret to Longevity
3. The Art and Science of Training
4. Immunity Boosting Tips and Tricks
5. 30 min Q&A.
About Shayamal Vallabhjee:
Shayamal is a High Performance Coach to CEOs, Elite Athletes, Organisations, Celebrities. He is a Sports Scientist and a Psychologist and one of Asia's leading experts on wellness and human excellence.
Over two decades, he has helped individuals unlock their mental, physical, and emotional potential through an emphasis on performance and perspective.
Shayamal has worked with the likes of Sachin Tendulkar, Amitabh Bachchan, Fortune 500 Leaders and Olympians. He is an author of four books on Sports Science & Motivation and is a Motivational Speaker.
Shayamal founded the Heal Institute - a Sports Medicine and High Performance centre in Mumbai.
About Balance by Shayamal:
Balance by Shayamal is a culmination of two decades of optimising the body and mind. Shayamal has put together his domain expertise, deep knowledge and experience to present health products, courses and content. Shayamal believes nothing summarises it better than the word - Balance.
Follow Shayamal on:
Instagram: https://www.instagram.com/shayamal/
Facebook: https://www.facebook.com/ShayamalVallabhji/
Twitter: https://twitter.com/shayamalv
Please write to info@balancebyshayamal.com at the earliest to reserve your spots and if you want to book private sessions for your teams, companies, or groups.