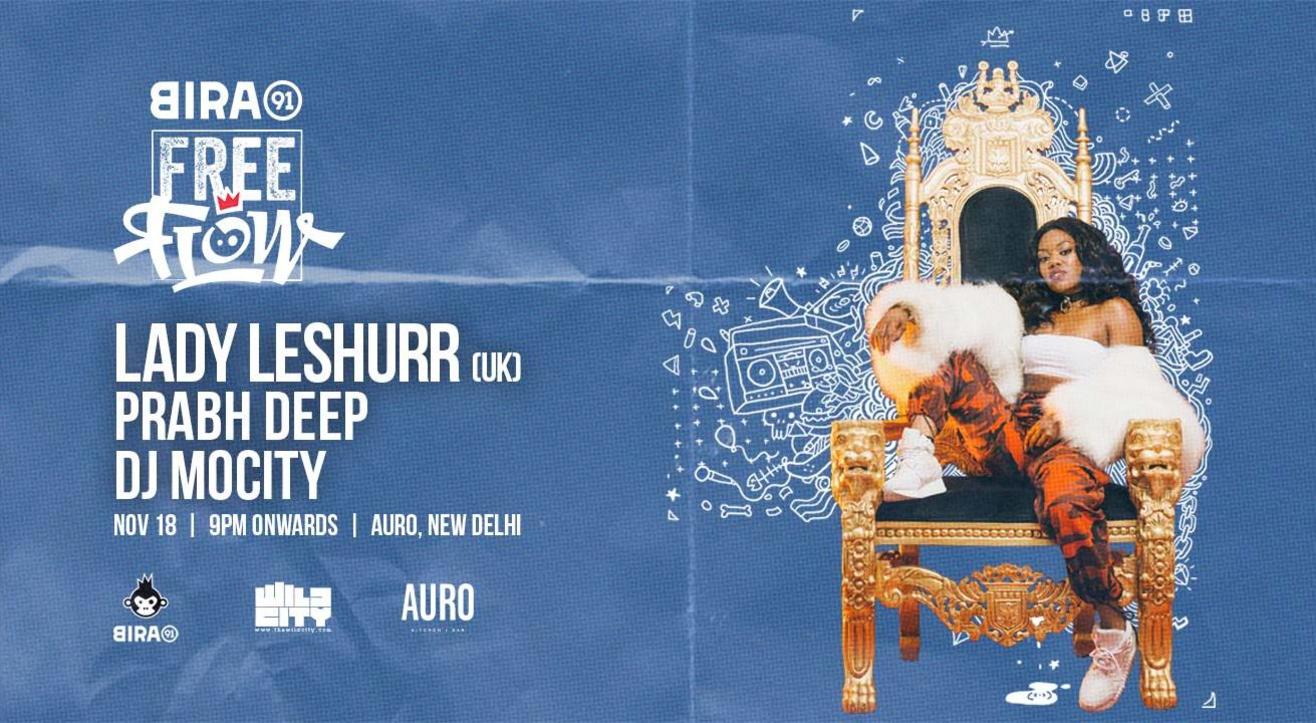 Music
Bira 91 FreeFlow ft Lady Leshurr, Prabh Deep & DJ MoCity
Auro Kitchen & Bar, Delhi
300 (Inclusive of 1 Bira 91)
About
From rap to b-boying to graffiti and fashion, Bira 91 FreeFlow aims to become the one-stop resource for all things hip-hop in India. As an art form, hip-hop's journey has taken it from an expression of the embattled South Bronx to being the defining symbol of popular culture worldwide. Hip-hop is bold and irreverent, cross-cultural and community centric, much like the Indian beer brand.
Lady Leshurr is one of the UK's most exciting rappers, known for her ingenious freestyling that combines mischief, wit and expert comic timing. Having come into the limelight with her Queen's Speech YouTube series (currently at fifty million views on YouTube, and counting), Lady Leshurr is the new queen of British rap. Lady Leshurr's music is packed with witty asides, fast and furious put-downs and a tongue-in-cheek aesthetic that resonates with a playful brand like Bira 91.
Born Melesha O'Garro, Lady Leshurr has sold out shows from New York to Brixton, and attracted the attention of international hip-hop heavyweights like Timbaland, Erykah Badu, and Busta Rhymes.

Supporting Lady Leshurr on the three-city tour will be one of India's most exciting hip-hop talent, Delhi-based rapper Prabh Deep, who has just released his debut album, Class Sikh, to glowing reviews. Prabh Deep is widely acknowledged as one of the best underground MCs in the country. Born and brought up in Tilak Nagar, Prabh's music paints a vivid picture of growing up with unemployed, dissatisfied youth addicted drugs.

Joining the tour will also be acts that have been long standing supports of hip-hop in the country or are inspired by it. DJ MoCity is an award-winning selector, promoter, MC and co-founder of South Asia's first online community radio, Boxout.fm and joins Bira 91 FreeFlow in Delhi at Auro on November 19.
Venue
Auro Kitchen & Bar, Delhi
31, 2nd Floor, DDA Shopping Complex, Aurobindo Place Market, Hauz Khas, New Delhi - 110016