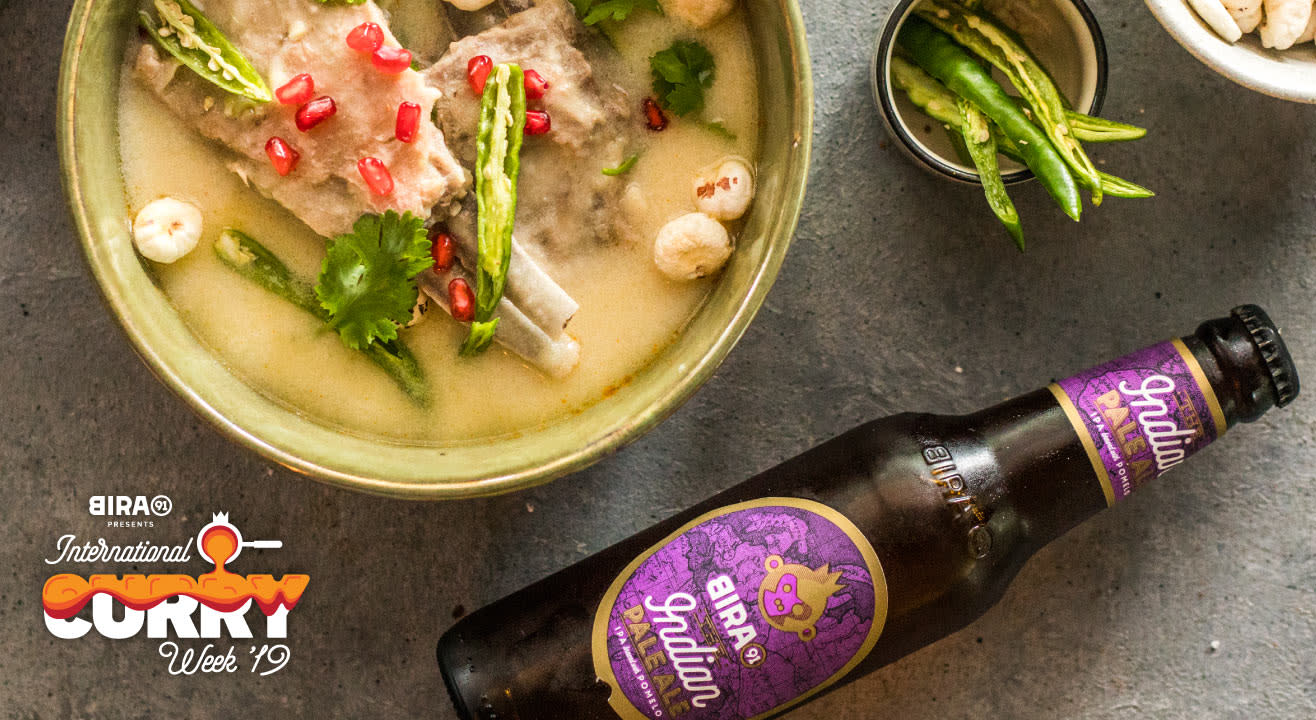 Food
Bira 91 International Curry Week 2019!
7 cities, 100 restaurants - a playful celebration of all things curry. Dig into a bowl already, with the Bira 91 IPA to go on the side!
If there was a dish we had to pick as our best friend, it'd be curry. You can count on it anytime, anywhere! Whether you're eating a grand dinner or having a meal at home, curry makes everything taste special. Green, red, masala or sweet, sour and spicy - "So many curries, so little time!" What makes it so good, is that it's been reimagined in so many different ways that you'll always fall in love with it, or should we say you'll probably get curried away with it!

Discovered in India, and reimagined across the world. Curry can be found globally in various avatars. Be it the shores of the Caribbean, the curry shops of London, the food counters of Sichuan, the Bratwursts of Berlin, the Pho stands of Vietnam or the Kaeng Kari street vendors of Thailand - curry ensures you've got one meal covered for sure, on your trip abroad.


This year Bira 91's International Curry Week is back with more colour, more flavours and more cities. Happening across Delhi, Mumbai, Bengaluru, New York, London, Singapore & Hong Kong - join in this year, as International Curry Week 2019 will bring chefs and curry lovers together to celebrate culture, curries and flavor. The chefs will curate a custom menu with curry-centric entrees, which will be paired with the newly launched Bira 91 IPA brewed with Pomelo.
Got Curry? From the 5th to the 20th of October, here's where you can go dig in:

If you're in Delhi, keep calm and curry on to these restaurants -
Fig and Maple | Kampai | Foxtrot | Mahabelly | Dhaba (Estd. 1986) | Coast Café | Ping's Café Orient | FIO Cookhouse & Bar | Indian Grill Room | Impromptu | The Oberoi's Gurgaon - Amaranta | The Trident Gurgaon - Cilantro | Whisky Samba | Kofuku | Ek bar |



We're leaving in a curry, but we'll see all of you from Mumbai here -
Uno Mas | Neel - Tote on the turf | Gymkhana 91 | Hyatt Regency - Stax | Novotel - Sampan | Radisson - Liquid lounge | The Wine Rack | Harry's



Bengaluru! Get to that IPA and head here -
Nevermind - Bar & Social | Salt - Indian Restaurant Bar & Grill | The Reservoire | Blu Petal- Sultans of Spice | The Fisherman's Wharf | Pebble | Barley and Grapes Café | Uru Brewpark | Hyatt Centric - The Bengaluru Brasserie | Misu - St Marks Road | Asean - 13th floor | Asean - On the edge | Asean - Ebony | The Chancery Hotel - Matsuri | Radisson Blu - Shao | Punjab Bistro | Sanchez Taqeria & Cantina | Sriracha Robata & Contemporary Pan-Asian| Taj Vivanta - Terracotta | The Taj West End - Mynt | Hilton - Ministry of Food | Sheraton Grand - InAzia | Sheraton Grand - Chime | Dhaba (Estd. 1986) | Shiros
Subscribe to receive our newsletter!
Find the best experiences happening out there in your city or enjoy handpicked content while sitting comfortably at home. Paytm Insider is your go-to place to figure out what to do today!