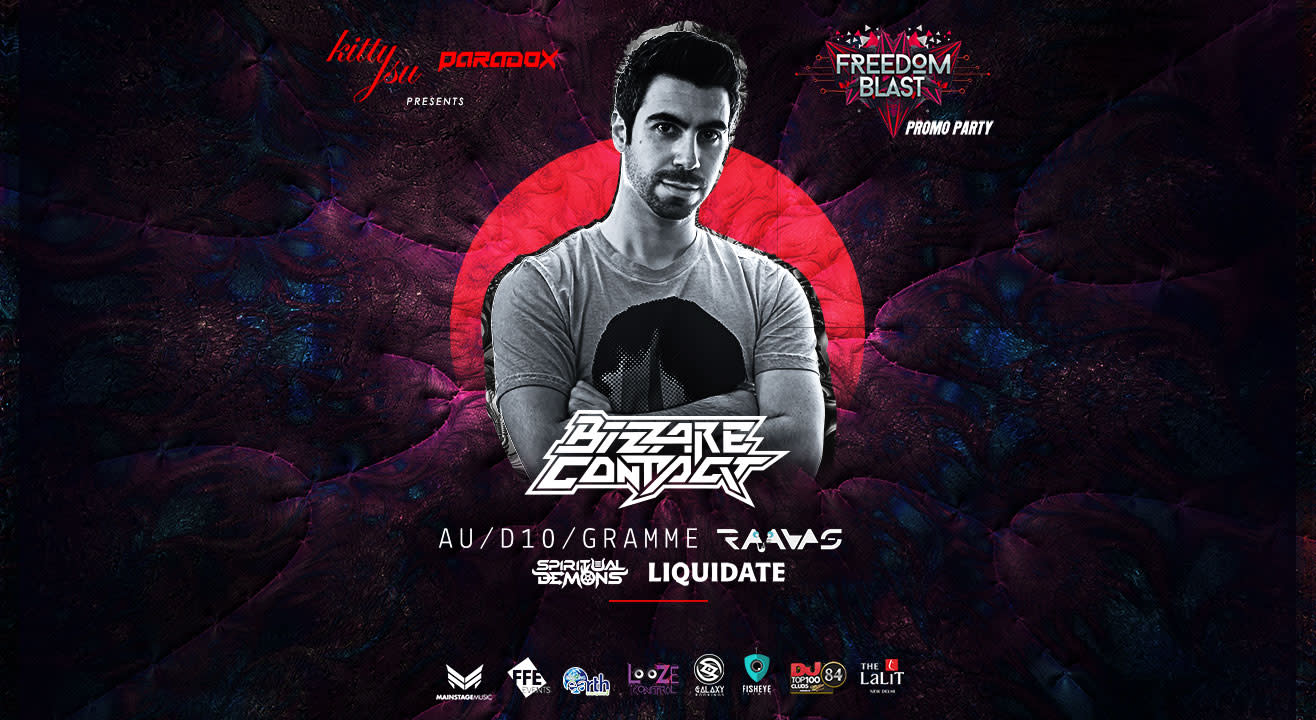 Music
Bizzare Contact at Kitty Su
About
Bizzare Contact is the high energy, full-on Psytrance alias of Didy Ezra, born in 1985 in the sunny city of Dimona, located in southern Israel.


Starting at the early age of 13, Didy has been continually producing a wide variety of different psychedelic music styles. In 2004, after being completely captivated by Psychedelic Trance, he joined Com.Pact Records - one of Israel's most legendary full-on Psytrance labels from that era. His debut album, "Plastic Fantastic" was released in April 2004 on Com.Pact Records. The album was a wild success, and Didy began performing around the world in destinations including Japan, Brazil, Mexico, all over Europe, & of course his home country, and one of the great international Psytrance hubs, Israel.


The very next year, Didy & Visual Paradox (aka DJ Bog, owner of Com.Pact Records) formed the new group, "Visual Contact." Their debut album, "La La Land" was released in October 2005, and received raving reviews from all over the world. Over the next several years, Didy released an endless number of singles, remixes, and collaborations, on an assortment of EPs and compilations - making him one of the most ubiquitous and respected names in the Psytrance world. Bizzare Contact has become synonymous with massive cutting-edge production, huge, modern melodic leads, and earth shaking funky rhythms and grooves that keep dancers moving non-stop. The combination of all of these ingredients creates the unique sound that Didy has become known for - a sound that is undeniably engaging, playful, uplifting, driving, and serious, all at the same time!


His unique talent in the studio has led him to collaborate with many artists including Vini Vici, LOUD, Vibe Tribe, Phanatic, Spade, Electro Sun, Ultravoice, Azax Syndrom, Sesto Sento, Aquatica, Perplex, Pixel, Visual Paradox, Ferbi Boys, Mystical Complex, and many others. His music has been featured on many of the most revered labels in Psytrance including: Doorn (Spinnin), HOMmega, Nano, Mainstage, Com.Pact, FinePlay, Noga, Alchemy, Utopia, Phonokol, and many others. In 2012, Didy, along with Stas (aka Vibe Tribe) opened Mainstage Records, a brand new label based out of Israel, focusing on today's cutting edge sounds in Psychedelic Trance music. In 2013, Didy, along with Eddie (aka "Mystical Complex") formed the new group, "Royal Flush" - allowing them room to branch into lower BPM, progressive Psytrance. This new group turned out to be a blessing for each of their solo projects, as the new musical territory and experimentation led both artists outside of their comfort zones. This has allowed their solo projects to evolve in new and unexpected ways, with their newest music possibly being the best music that either artist has ever made. This is all leading up to a brand new Bizzare Contact album for 2017 with lots of surprises, and experiments in sound design, ready to take listeners to new spaces they have yet to visit.


So prepare to be dazzled and amazed, because a Bizzare Contact is coming your way!
Bizarre Contact
Audiogramme
Raavas

Listen to Bizzare Contact's Vertigo!
Venue
Kitty Su, Delhi
Kitty Su, Near Modern School, Barakhamba Rd, Fire Brigade Lane, Connaught Place, New Delhi, India