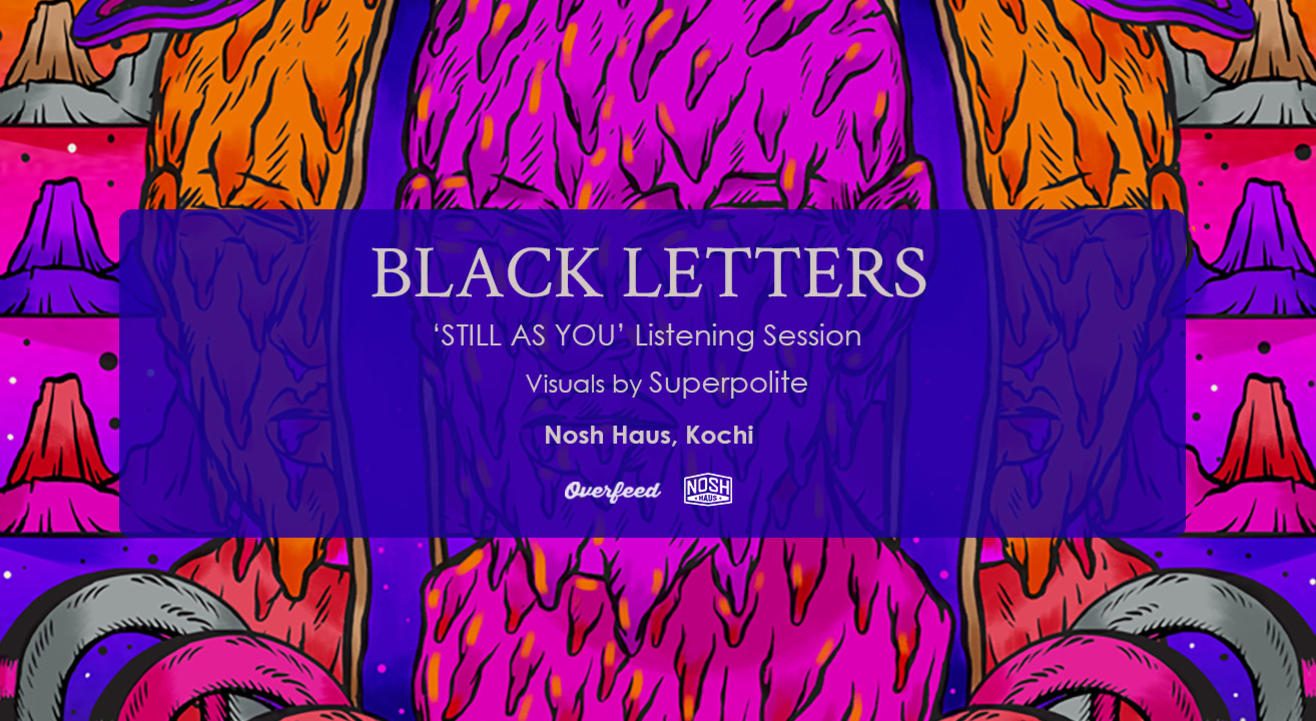 Music
Black Letters Album Listening Session at Nosh Haus | Overfeed Records
About
About
Black Letters present their inward, cerebral music from their highly anticipated forthcoming album 'Still As You' through an audio-visual experience at Nosh Haus.
Black Letters
Black Letters is an Alternative Rock quartet from Bangalore, India. They bring soul-shaking sounds inspired by various forms of Rock and Electronic music with underlying emotions of semi-classical Indian music in a way that makes for an inward, cerebral, and cinematic experience. Their new album 'Still As You' is available for pre-order now and due for release on Nov Their debut album 'Shapes on the Wall' is one of the most well received modern rock albums in the country. Black Letters have been featured in over 50+ international indie radio stations like Croydon Radio, Amazing Radio, EGH Radio, Uckfield FM , The shift Radio, across UK, US & Australia. Since then they have taken a turn from their previous arena rock style to an electronic dream pop influenced sound with their EP "Petrichor" which was released in 2015 which was rated as one of the best EPs of the year by Rolling Stone Magazine.
Superpolite
Superpolite is the audio visual project of producer, visual artist & multi instrumentalist Harikiran Menon. Based out of Kochi, Superpolite's music is an absorbing mix of electronica, chill-wave, house & ambient music which comes out as an EP in Oct on Overfeed Records.
Venue
NOSH HAUS
Thomas Aykareth Square, Opposite Metro Pillar No 106, Companypadi, Thaikkatukara P. O, Companypadi Junction, Choornikkara, Aluva, Kerala 683106
GET DIRECTIONS