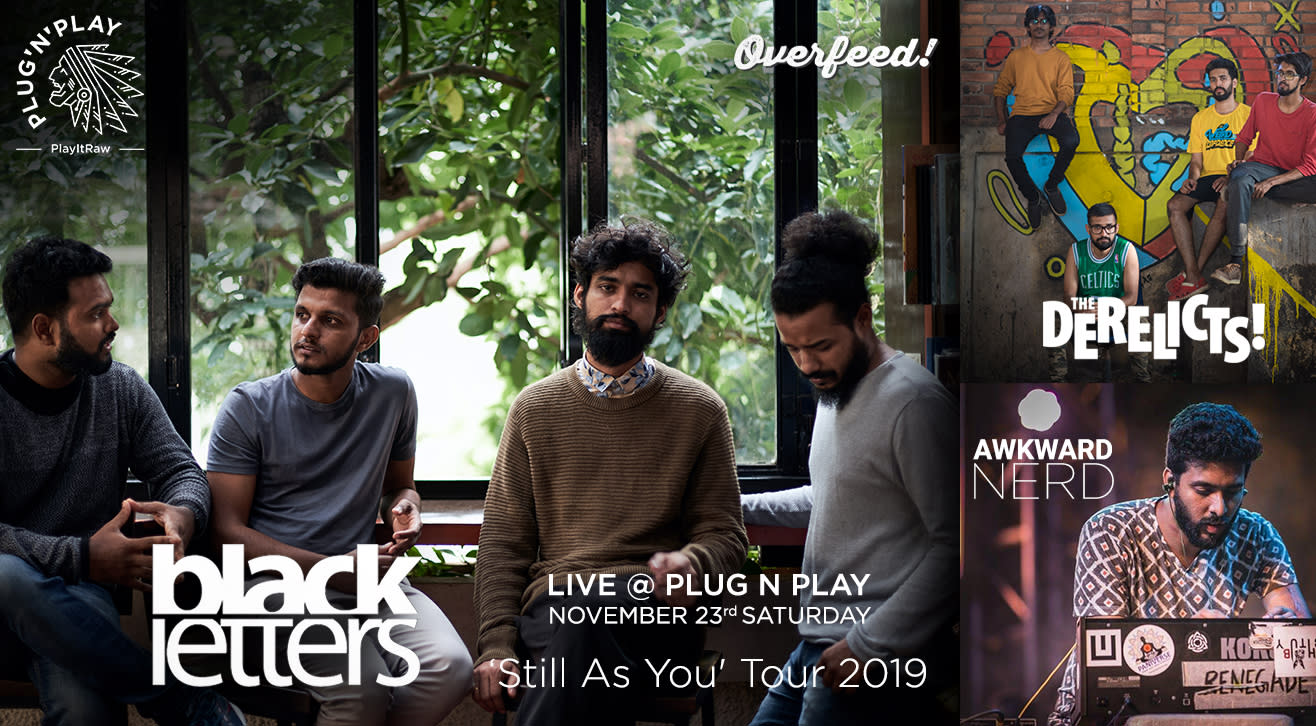 Black Letters : Still As You Tour 2019 with The Derelicts & Awkward Nerd
Invite your friends
and enjoy a shared experience
Invite your friends
and enjoy a shared experience
About the Event
Black letters :Still As You Tour 2019
Black Letters is an alternative/electronica act from Bangalore, India. Their debut album 'Shapes on the wall' is one of the most well received modern rock albums in the country. Black Letters have been featured in over 50+ international indie radio stations like Croydon Radio, Amazing Radio, EGH Radio, Uckfield FM , The shift Radio, across UK, US & Australia.
Since then they have taken a turn from their previous arena rock style to an electronic dream pop influenced sound with their EP "Petrichor" which was released in 2015 which was rated as one of the best EPs of the year by Rolling Stone Magazine. Having toured across the country and played many major festivals, Black Letters completed writing and recording their highly anticipated album "Still As You" that comes out November 22nd 2019. The first single & music video from the record was released on Overfeed records to both critical and public acclaim.
Visual imagery is an integral part of all Black Letters live shows alongwith the band's infectious energy on stage as they play improvised and different versions of much of their released material.
Hailing from Kochi, India, The Derelicts is an Alternative/Disco/Electronic band which has been described by listeners and critics alike as a band with unique sonic textures. The band was formed in November 2016, after Sreekanth and Ashwin decided to quit folk rock outfit 'Thakara'. They soon asked long time friend Sabarish to play guitars. In quick succession Biju Karthik joined them in January 2017, to complete the line up.


Awkward Nerd is the latest and newest avatar of The Derelicts! & former Thakara synthesizer player, Ashwin Nath. This is how he satisfies his urge to make electronica and house music. The music he plays is all minimal, also solely made using two instruments, his Native Instruments Maschine and his ever-trusty MS-20 mini. Every live performance is different as improvisation has a huge role to play in this project.
The idea behind the project was to make magic within limitations. Artists these days can have a million tracks on a DAW only limited by their computers processing power. Awkward Nerd wanted to limit himself to 8 tracks on the Maschine and see what comes up, cuz he believes the best art comes out of limited resources. The crowd plays an important role in his live performances as the length of each song, each jam is dictated by how the crowd is taking it all in, skill sets gained from his DJ roots.
Instead of releasing a studio album, a live album is what is going to be the first release of Awkward Nerd. That's unlike most electronic artists, as electronic music and live these days are not words that go hand in hand.
Plug N Play
2nd Floor Kurikkal Building, Metro pillar No 398, Nethaji Nagar, Edappally Next to Lulu Mall, Above Monqo and Body Art Studio, Nethaji Nagar, Edappally, Ernakulam, Kerala 682024
GET DIRECTIONS