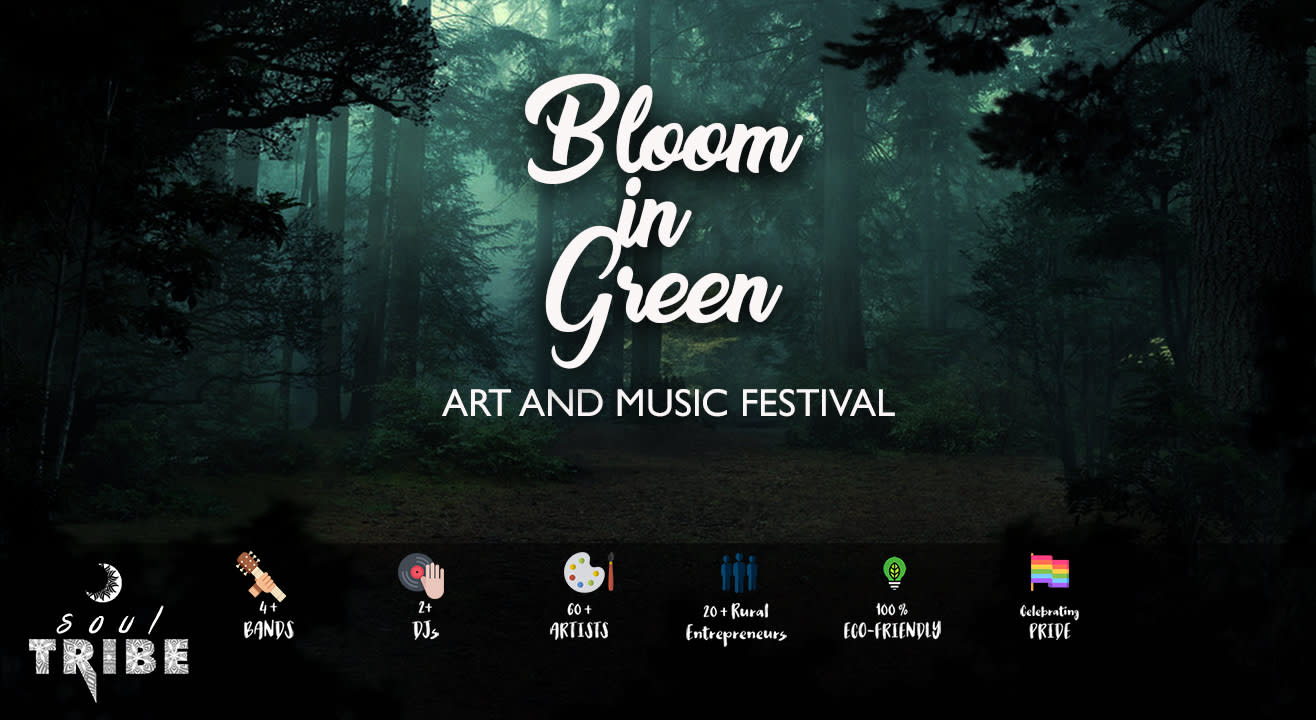 Experiences
Bloom in Green Festival
November 17, 18, 19 | 10 AM
About
Bands | Acts | Workshops | Community Sessions | Story telling Sessions | Cycling | Camping|
Bloom in green or BIG festival is a three days art and music festival which happens in Agumbe, the Malgudi Town of Karnataka. It is an eclectic mix of music, art and personal growth and is organized by Soul Tribe Community which is based out in Bangalore. The vision of the company is to build a thriving community which work for both personal transformation and steering the transformation of culture toward sustainability through art and music.
The new edition of BIG festival is expecting a footfall of nearly 350 participants who camps at the venue for three days. The age group of the participants is expected to be spanning from 21 to 35 yr. The event will have various art workshops painting, dream catcher making and hula hooping etc. and sustainablilty oriented workshops like up-cycled art making etc. and live music band performance in the nights.
Day 1 Lineup | 17th November
Performances
When Chai Met Toast
Black Letters
Madras mail the Band
Flaw and order
Easy Wanderlings

Workshops
Acrylic Finger Painting Workshop
Dream Catcher Making Workshop
Upcycled Art Making from Plastic Workshop
Hula hooping Workshop
Story Telling Workshop by SWS
Slack-lining Workshops
Live Painting Act
Open Mic Sessions
Fire Acts
Midnight Jamming Session around Bonfire.
Day 2 Lineup | 18th November
Performances
Schn
Moh
Sonu Sebastian
Spanda Project

Workshops
Hand Pan First Touch Workshop
Yoga Workshop
Upcycled Art Making from Fabric Workshop
Urban Nomading Workshop by Niyog Tales
Stories Worth Sharing Session
Interactive Drum Circle Contemporary Dance Workshop
Contact Improvisation Workshop

Organic Instrumental Act
Midnight Jamming Session around Bonfire.
Bloom in Green Art and Music Festival :- Venue video
How can we commute from Bangalore to the venue?
We have arranged a transportation with extra cost. Call to 9663712223 for more details.
Also one can take a bus in KSRTC or Redbus ( only 2 buses) to Agumbe. You have to step down at Guddekeri which is 7 km before Agumbe. Follow our signs to the venue or take an auto.

How can we commute from Kochi and different places to the venue?
One can take a bus or train to Udupi. You have private and transport buses running from Udupi to Agumbe every half an hour. The last bus is at 6.30 PM.

Can Children Attend the festival?
There are no age restrictions to the event. Under 16's must have a valid ticket and be accompanied by a ticket holder over 18. ( No unaccompanied under 16's are allowed on site)

Are we allowed to bring food/drink into the festival?
Food and Drinks are not allowed to bring your own. You can get the same from the venue as well since there will be stalls for food and drinks at the venue.

Are there any ID requirements?
You will require a form (Passport/Driving Licence) ID to purchase alcohol if you are lucky enough to look under 25.

What is the size of tent?
(Refer to the Gallery)

What is not allowed onto the festival site?
Gas bottles, canisters or similar-Animals
Goods for unauthorised trading
Weapons-Chinese/sky lanterns
Generators
Illegal substances, legal highs or herbal highs