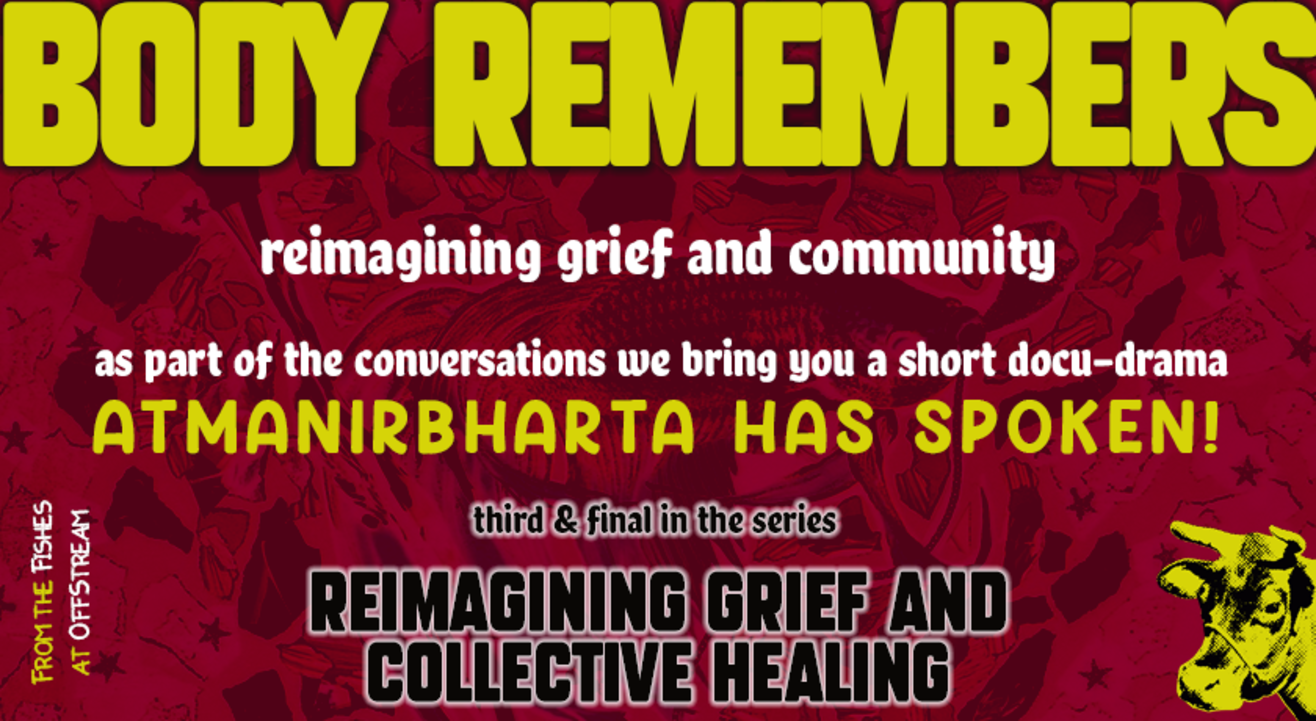 Body remembers: reimagining grief and community
Enjoy this event from your home
Event Guide
For Age(s)
Family Friendly
Interactive show
Be a part of the show
Invite your friends
and enjoy a shared experience
Body remembers: reimagining grief and community
Enjoy this event from your home
Event Guide
For Age(s)
Family Friendly
Interactive show
Be a part of the show
Invite your friends
and enjoy a shared experience
Event Guide
For Age(s)
Family Friendly
Interactive show
Be a part of the show
Invite your friends
and enjoy a shared experience
Body remembers
reimagining grief and community.
How do we reimagine a shared future in the post-covid world?
A question we as artists are asking in the hope to build a truly inclusive community where resilience isn't powering through grief but acknowledging it and holding space, and ensuring there is no life lost to apathy. Resilience is not pretending everything is fine, it is acknowledging and addressing structural issues beyond tokenism.
Come join us as we have these conversations with activists and artists on what's possible.
In the third & final in this series on reimagining our post-covid world: Reimagining grief
Reimagining grief also means reimagining belonging. Grief has become increasingly individualised especially in the time of social and physical distancing due to Covid. We have two artists Indu Lalitha Harikumar and Diya Naidu who will explore processing the collective, unacknowledged grief that lies in our bodies. Indu and Diya will step outside the individual coping mechanisms or religious ritualised processes that are inaccessible to many of us.
Indu has the internet to thank for the space she has found and created for conversations. Indu is an artist and storyteller. She tells stories of body, desire, love, and belonging. She has authored and illustrated children's books, and has written for major media houses across the world. Her art has been exhibited globally at Kunsthalle Bremen, Germany, The Biennial of Illustrations, Bratislava 2013-14, and the Kochi Muziris Biennial 2015.
Diya is a performance maker, choreographer, contemporary dancer and performer based in Bangalore, India. She founded the Citizens of Stage Co Lab, a collective of movement artists that aims to create a more sustainable and community connected dance ecology. She has been awarded the Youth Award for Performing Art (Kolkata Centre for Creativity), the Jury Award by Prakriti Excellence in Contemporary dance awards and the Robert Bosch Young choreographers award. Her work traverses into gender divides, feminism and patriarchal invasions - how they somatically penetrate our beings and how "intimacy' is a way to heal from them. 'Intimacy' is also her tool of resistance against divisive and binary energies.
Come join us for this third and final session of reimagining as we look at grief and belonging.
As part of these conversations, we welcome you to a screening of a short Docu-drama "Atmanirbharta has spoken", because a radically different future is possible only when we memory keep the present.
by the Fishes at OffStream
P.S All collections from ticket sales will go to the activists and artists to support their work.
Body remembers: reimagining grief and community
Enjoy this event from your home
Event Guide
For Age(s)
Family Friendly
Interactive show
Be a part of the show
Invite your friends
and enjoy a shared experience