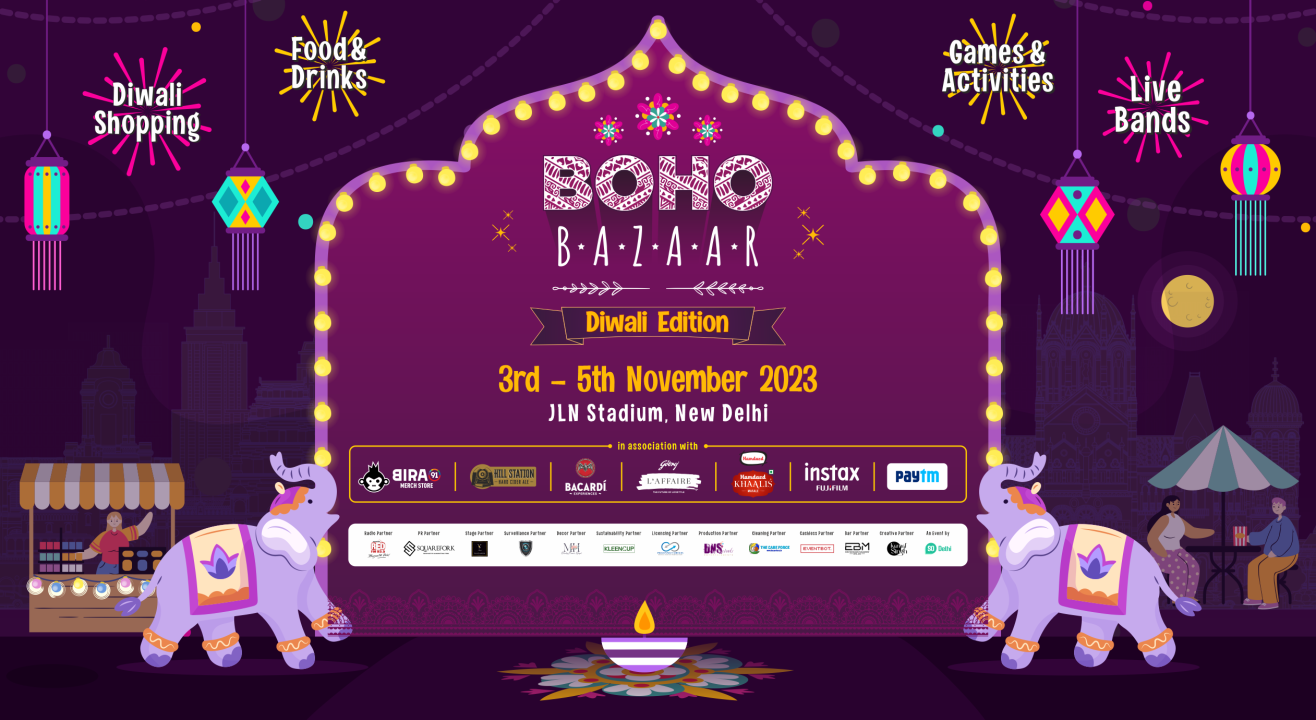 Boho Bazaar - The Epic Flea Market : Diwali Edition
November 3 - 5 | 12 PM Onwards
JLN Stadium Gate No. 2, Delhi
Invite your friends
and enjoy a shared experience
Boho Bazaar - The Epic Flea Market : Diwali Edition
November 3 - 5 | 12 PM Onwards
JLN Stadium Gate No. 2, Delhi
Invite your friends
and enjoy a shared experience
Invite your friends
and enjoy a shared experience
Get Ready for a Magical Experience at Boho Bazaar - The Ultimate Diwali Bonanza! 🌟
Are you ready to immerse yourself in a world of wonder? Boho Bazaar 5.0 is back with a bang for a special Diwali edition that promises an extraordinary celebration with 250 Shopping Stalls, 50 Food Vendors, Incredible Artist lineups and IG-worthy photo ops.
🛍️ Shopaholics Rejoice: With over 250 shopping stalls to explore, you can shop for unique treasures, one of a kind gifting options and must-have Diwali items!
🍔 Calling All Foodies: Indulge in mouthwatering dishes from 50+ food vendors that will transport you to the bustling streets of India.
🎨 Art and Entertainment Galore: Experience the mesmerizing glow of Diwali with traditional diyas and beautifully lit installations. Enjoy live music, dance performances and workshops like pottery & embroidery.
PS- There's also a dedicated entertainment zone for kids!
💅 Get Creative: Take a break from all the shopping and feasting to hit-up activities like face glitter, hair braiding, nail art, calligraphy & more.
✨ Diwali Extravaganza: Don't miss out on surprise giveaways, exclusive discounts & lucky draws throughout the festival. We're going all out for Diwali!
Join us for 3 days of shopping, food, music, culture, and the enchanting spirit of Diwali.


ARTIST LINE UP:
MAIN STAGE:
Day 1:
Yash Jain
Kashh
Avinash Gupta
Himalayan Routes
Swaraag
Sulabh Nagpal
Sid K
Day 2:
Frazy Live
Kshitij Anand
Taqdeer Collective
Aakhira
Shaheen Salmani Live
Pranav Chandran
Kunaaal Wason with his band NASYA.
Day 3:
Aanchal Bisht Live
Young And Alive
Ahsaas
Dinero Ash
Sejal Morris
Twin Strings
Sharvi
Kamal Khan
ACOUSTIC STAGE:
Day 1:
Shivam Pandita
Suraj Live
Kajal Live
Anurag Live
Yakeen Band
Day 2:
Budh Live
Rahul Aryan live
Aatif Live
Hitesh live
The Machine Gun
Day 3:
Zaid Live
Rishabh Srivastav Live
Mani Das Live
Rishabh Dhawan Live
Frazy Live
FaQs:
Q: What time do the gates open?
A: Gates will open at 12 PM and shuts at 10 PM.
Q: What is the entry Gate no.?
A: Entry is from Gate no. 2 of JLN Stadium.
Q: Is re-entry into the venue allowed?
A:Re entry not allowed.
Q: Is there a minimum age requirement for the event or is it family friendly?
A: Children of age 8 and above need to purchase the ticket to attend the event.
Q: If it is a family friendly event, please mention the age limit, above which a ticket needs to be purchased?
A: Yes family friendly, However, Children of age 8 and above need to purchase the ticket to attend the event.
Q: Is parking available at the venue?
A: Paid Parking will be available at Gate no. 6
Q: Will food & alcohol be available at the venue?
A:Yes, Food & beverage stalls will be present at the venue. Alcohol will only be allowed to customers who are above 21+ age and have a LDA band.
Q: At what time will the event start?
A: 12 PM onwards
Q: At what time will the event end?
A: Around 10 PM
BOHO BAZAR - THE EPIC FLEA MARKET | 3rd Edition After Movie
JLN Stadium Gate No. 2
Jawaharlal Nehru Stadium, Pragati Vihar, New Delhi, Delhi 110003
GET DIRECTIONS
Boho Bazaar - The Epic Flea Market : Diwali Edition
November 3 - 5 | 12 PM Onwards
JLN Stadium Gate No. 2, Delhi
Invite your friends
and enjoy a shared experience