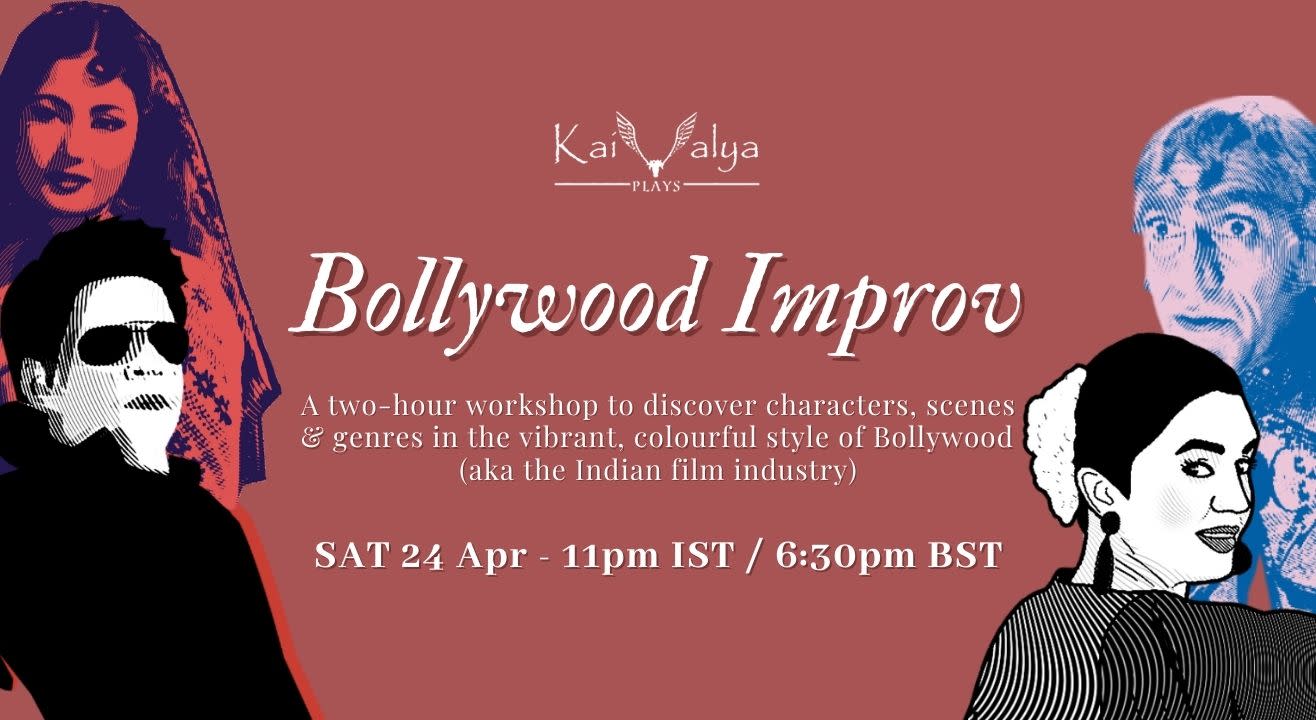 Bollywood Improv - Online Improv Theatre Workshop
April 24 | 11PM - April 25 | 1AM
Enjoy this event from your home
Event Guide
For Age(s)
Family Friendly
Masterclass
Learn from an expert
Invite your friends
and enjoy a shared experience
Event Guide
For Age(s)
Family Friendly
Masterclass
Learn from an expert
Invite your friends
and enjoy a shared experience
About the Event
About this Event
Kaivalya Plays presents
Bollywood Improv
Blown away by the opulence and choreography of a big Bollywood production? Ever pictured yourself running through a mustard field towards your dream partner? Do you wake up in the night convinced you were separated from your twin at birth and your whole life is a lie? If you answered yes to any of the previous questions you may either have an entirely over productive imagination or you're obsessed with Bollywood. Either way, the best thing to do is live out your dreams and join Bollywood Improv!
Date: Saturday April 24th
Time: 6:30PM BST / 7:30PM CEST / 11PM IST / 1:30PM ET
Location: Zoom (Meeting link will be emailed on the day of the workshop)
Duration: 2 hours
What is this improv workshop about:
Bollywood Improv is inspired from the countless familiar twists, tropes and songs you will find in any masala movie from Bombay. Two twins separated in their youth while visiting the Maha Kumbh Mela who grow up to be a cop and a gangster in a cat and mouse game with enough song breaks is not an uncommon plot for a Bollywood movie. No other genre can match the sheer divine delirium of playing out a scene with such ludicrous possibilities. What grounds a Bollywood scene are the status and relationships that motivate characters into action, adventure, love and loss. For example, it was evidently a rule of 70s Bollywood that the movie could not climax until the leading character's unwed sister and blind/ill mother were kidnapped by a moustached villain. Where would we be without a heroic final act? No Bollywood story ever feels completely unfamiliar, but it certainly doesn't resemble its inspiration enough to be called a "tribute". Improv allows you to take a 2 hour Bollywood movie and cycle through some of the most fun and silly fun.
In this 2-hour session, the facilitator will give you a background of Bollywood tropes, add tropes that allow for a gender blind approach to Bollywood storytelling, give you a chance to sing and dance, and put on a Bollywood show that could rival even the most award-winning dramas of all time.
After this workshop you will be able to:
Use status effectively and believably in scene work
Sing and dance in a scene for no apparent motive
Create complex relationships that lead to satisfying pay offs
Feel comfortable exploring an ornate, opulent, imaginary world
Requirements:
The class is open to anyone. The facilitator will ask you to stand and move for several exercises but these exercises will be adapted for anyone with different needs. Dress comfortably and keep a bottle of water within reach.
Suitable for improvisers and actors with any level of prior experience.
About Your Facilitator
Varoon P. Anand is Delhi's most experienced Improv trainer and performer. Beginning his career under the guidance of Danielle Miles, of Fortetheatre UK, he co-founded Improv8 at Panama's renowned Theatre Guild of Ancón in 2008. In Delhi, Varoon began teaching Improv in 2012 through Kaivalya Plays, the theatre company he founded, and in 2014 formed CueLess Improv, the capital's most prolific team of short-form improv performers. Varoon trained in Laban Movement with Gilles Chuyen in 2013. Varoon continued training in improv with teachers including Saif Ali, of Batlahouse theatre, learning and collaborating from 2015-16. In 2018, in collaboration with the Goethe Institut / Max Mueller Bhavan and medical practitioners, Varoon created Unravel, an improv show about mental health. Along with being the Artistic Director of Kaivalya Plays, CueLess Improv, and El Clavileño (India's only Spanish language theatre group). As of 2020, Varoon has trained more than 200 performers in spontaneous improvisation, facilitated workshops for over 500 people in improvisation for mental wellness and collaborated with institutions like Embassy of Spain, Embassy of Argentina, Embassy of Ecuador, Indian Habitat Centre, Little Theatre Group (LTG), Oddbird Theatre & Foundation amongst others. He continues to explore new ways to present and teach the techniques of improv, along with his other specialties.
About The Organizer
Kaivalya Plays is a Delhi-based performing arts and improvisational theatre company. Their artistic training is grounded in spontaneous improvisation, lying at the intersection of short-form improvisations (for performances and workshop) and applied improvisation (with a focus on mental healthcare, business, education, training). Their improv group CueLess improv was one Delhi's first improv teams and became the training ground for a generation of improv performers and heads of new teams. In late 2018, Kaivalya Plays created Unravel, an interactive theatre production produced under the Refunction theatre grant by the Goethe-Institut / Max Mueller Bhavan. The play brings conversations about mental health to the fore, with the ensemble using improv theatre and audience suggestions to devise the final performance on the spot. Their work has been featured widely across India and the world. Since the 2020 lockdown, they have moved our improv practice entirely online. In the last one year, they have hosted 15 applied improv workshops, 50+ open-space sessions, 6 online improv shows digitally – with a cumulative engagement of 2000+ individuals – and they are constantly figuring out newer formats to make improv more accessible and available. From a dedicated Wednesday weekly jam to Improv for Language jams in four different tongues, Kaivalya Plays is pushing the boundary of improv theatre in India (and beyond!)