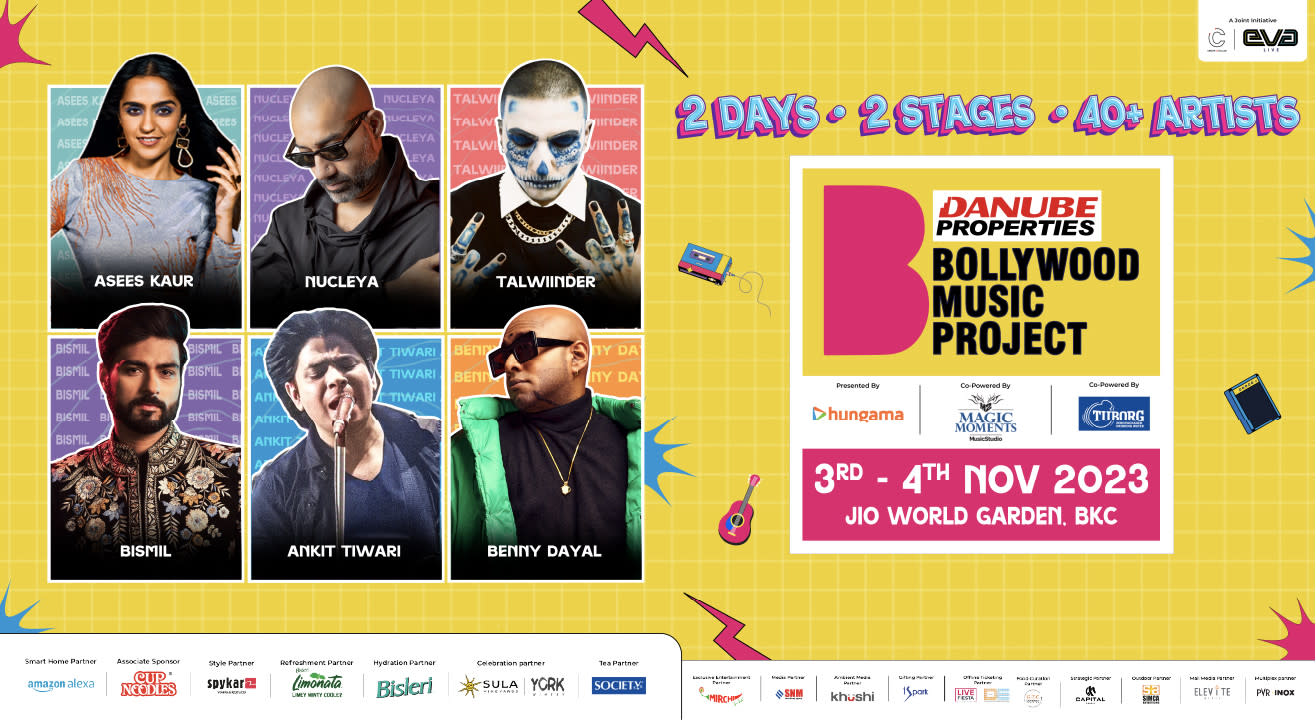 Bollywood Music Project 2023
November 3 - 4 | 3pm Onwards
Invite your friends
and enjoy a shared experience
Bollywood Music Project 2023
November 3 - 4 | 3pm Onwards
Invite your friends
and enjoy a shared experience
Invite your friends
and enjoy a shared experience
BMP has established itself as India's premier and largest live Bollywood music platform, renowned for its ability to seamlessly integrate music and entertainment to create an enchanting experience for the audience. At BMP, a dynamic stage is set, bringing together a convergence of the legendary Bollywood maestros, promising emerging talents, and the boundary-pushing artists of all times.
The 6th Edition of BMP aims to call upon Bollywood enthusiasts from across the country to showcase an immersive experience. The festival will feature an extensive lineup of artists, including renowned playback singers, music composers, and instrumentalists. So get ready to experience India's biggest Bollywood Dhamaal..
Artist Lineup -
1. Vishal-Sheykhar
2. Badshah
3. Farhan Akhtar
4. Nucleya
5. Bismil
6. Asees Kaur
7. Benny Dayal
8. Talwiinder & NDS
9. Madhur Sharma
10. Dino James , Ashwin Adwani, Suzonn , The Spindoctor
11. Sushant Divgikar
12. Srushti Tawade & Charan
13. Nakash Aziz + Apar Shakti Khurana + Dhanashree
14. Sashwat Singh + Nikhita Gandhi
15. Osho Jain
16. Anusha Mani & Sangeet Haldipur
17. Varun Jain & Unnati Shah
18. Anumita Nadesan
19. The Konkan Collective
20. Avanti Nagral
21. Sahana Naresh
22. Dikshant
23. Vicky & Tejas
24. ChordFather Production-
Rutvxk, Ruaakayy, Nabeel Zubair
25. Amit Gupta
Artist lineup subject to organizer's discretion.
Exclusive Offline Ticketing Partner
LiveFiesta
9619272554 , 9821261553
Frequently Asked questions
Q: What time do the gates open?
A: 2 pm
Q: Is re-entry into the venue allowed?
A: No
Q: What is the minimum age to buy the tickets?
A: 5 + age needs the ticket for the entry
Q: Is parking available at the venue?
A: Yes
Q: Is the venue wheelchair accessible?
A: Yes
Q: Will food & alcohol be available at the venue?
A: Yes
Q: At what time will the event start?
A: 3 Pm
Q: At what time will the event end?
A: 10 pm
Q: Is there a designated smoking area?
A: Smoking not allowed inside the venue.
Aftermovie - Bollywood Music Project 2019
DAY 1



DAY 2



Jio World Garden
Plot No: RG1A, G Block, Bandra Kurla Complex, Bandra East, Mumbai, Maharashtra 400051
GET DIRECTIONS
Bollywood Music Project 2023
November 3 - 4 | 3pm Onwards
Invite your friends
and enjoy a shared experience