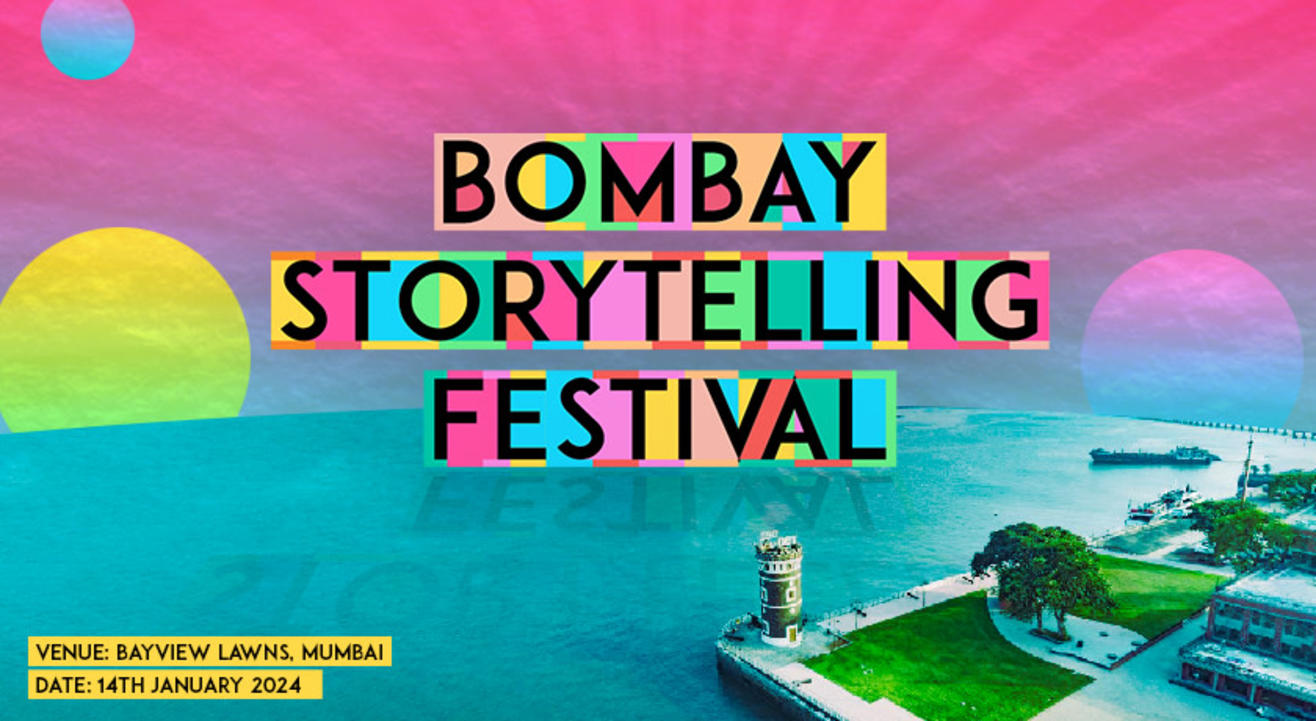 Bombay Storytelling Festival
Event Guide
Language
Hinglish, English, Hindi
Celebration
Fun times ahead
Invite your friends
and enjoy a shared experience
Bombay Storytelling Festival
Event Guide
Language
Hinglish, English, Hindi
Celebration
Fun times ahead
Invite your friends
and enjoy a shared experience
Event Guide
Language
Hinglish, English, Hindi
Celebration
Fun times ahead
Covid 19 Safety Measures
This event adheres to the following

Health & safety measures
Hand Hygiene Stations
Sanitisation before the show
Invite your friends
and enjoy a shared experience
Covid 19 Safety Measures
This event adheres to the following

Health & safety measures
Hand Hygiene Stations
Sanitisation before the show
In a world of changing tides and fleeting connections, if there's one thread that binds us all together, it's stories. That's what we, as Humans of Bombay, have always believed. That's why, for the first time ever, we decided to dedicate a day to not just telling, but EXPERIENCING stories!
From the moment you enter, you will be swept up into an immersive experience through beautiful art installations, charming music performances, delicious culinary adventures, and the real stories that bind us – with activities like The Storyteller's Stage, Human Library, Open Mic, and Panel Discussions. And at the end, you will return home with stories waiting to be told on your lips, fond memories in your heart, and a sense of oneness with the community embracing your soul.
Welcome to the Bombay Storytelling Festival – celebrating culture, art, music, and the spirit of our community… stories!
When: 14th January, 2024
Where: Bayview Lawns, Mumbai
*Ticket required for kids above 3 years!
Priya Malik
Storyteller/Poet


Meet Priya Malik, the poet, the performer, and the storyteller extraordinaire!



Indian Ocean
Indie music band


The maestros of music who have defined fusion rock in India



Rohan Joshi
Comedian


The writer and comedian who has been making us laugh for years now



Uorfi Javed
Actress/influencer


The bold, the beautiful and the iconic – Uorfi Javed. She's unapologetically herself, and her spirit is like one you've never seen before!



Trinetra
LGBTQ Activist/Actor


Meet Trinetra, who was the first trans doctor in Karnataka, and now she's made the leap into acting with her debut – Made in Heaven S2!



Prajakta Koli
Youtuber/actor


The YouTuber-turned-actress who's taken the world by story with her MostlySane humour, aka Prajakta Koli!



Bhavesh Bhatia
Entrepreneur


Bhavesh Bhatia is an entrepreneur who has never let his visual impairment be a barrier!



Sheetal Agarwal
Medical Clown


Meet the medical clown who spreads joy for a living, Sheetal Agarwal!



Piyush & Sushil
LGBTQ Couple


Piyush and Sushil, who fell for each other as two men in their 30s, and now two decades later, are still deeply, madly in love!



Raman Negi Trio


Meet Raman Negi – a musical maestro who's not afraid to steer away from the 'conventional'.



Amandeep Singh


Amandeep Singh, a storyteller whose simple words and heartfelt shayari will make you fall deeply in love!



Dhruv Sehgal


Dhruv Sehgal – the actor, writer, and director extraordinaire – who's best known for his work in 'Modern Love Mumbai' and 'Little Things'!


Bayview Lawns
Princess Dock, Mumbai Port Trust, Mazgaon, Mumbai, Maharashtra 400009, India
GET DIRECTIONS
Bombay Storytelling Festival
Event Guide
Language
Hinglish, English, Hindi
Celebration
Fun times ahead
Invite your friends
and enjoy a shared experience