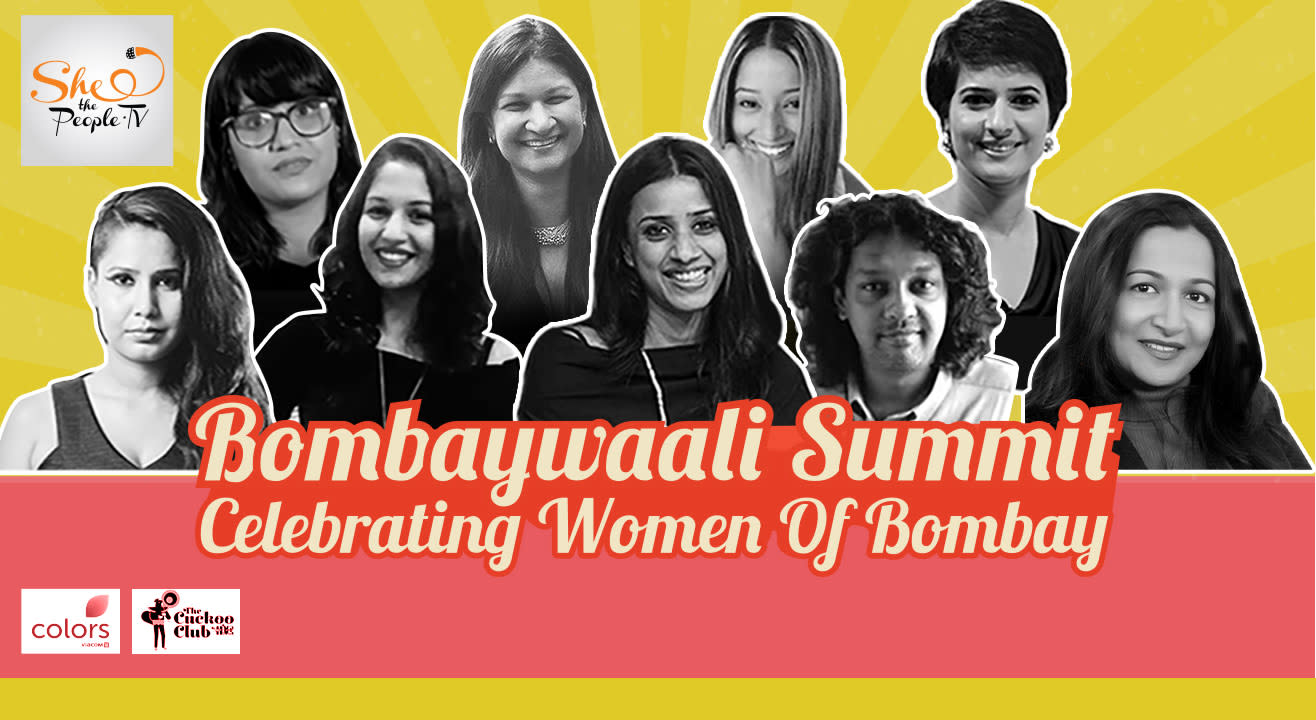 The Cuckoo Club, Mumbai, Mumbai
Step out and enjoy this event
Invite your friends
and enjoy a shared experience
The Cuckoo Club, Mumbai, Mumbai
Step out and enjoy this event
Invite your friends
and enjoy a shared experience
Invite your friends
and enjoy a shared experience
Bombaywaali by SheThePeople is a celebration of women who built the city of Mumbai – intellectually, philosophically, financially, spiritually and literally. A celebration of Mumbai past, present and the future, this is a series of engaging conversations with women who observe and storify this city.

Over the past years, we have had conversations with powerful and driven women who exemplify the spirit of the city. Pooja Dhingra, Bachi Karkaria, Shobha De, Tasneem Mehta, Sonal Holland, Richa Chhada, Priyanka Chaturvedi, Tisca Chopra, Malishka, Miss Malini, Mahabanoo Mody Kotwal, Gul Panag and many, many more wonderful, fiesty women who speak their minds and speak it loud.

The Bombaywaali Summit brings together an evening of engaging discussions with some of the women who are the drivers of the cultural and social scene in this city, from food to pop culture to music to entertainment. The panels focus on food, music, entertainment and we also discuss the burning topic of the moment, #MeToo. The panel on women driving the food scene in Bombay is moderated by Antoine Lewis, eminent food writer and has Gauri Devidayal of The Table and Magazine Street Kitchen, Chef Sanjana Patel, Executive Pastry Chef at La Folie Patisserie and Anisha Rachel Oomen editor and co-founder of Goya Journal. Our second panel on Women making music on stage and behind it curated and moderated by the very fab Nirmika Singh, editor, Rolling Stone has Youtube superstar Vidya Vox, manager extra ordinaire Lily Ahluwalia and Entertainment lawyer, Priyanka Khimani. The fab duo behind BooksOnToast Sharin Bhatti Nair and Anuya Jakatdar curate a panel on women turning their passion into content with Mae Thomas, indie music podcaster Maed in India, Sakshi Juneja founder of Gaysi and the super popular Youtuber Prajakta Koli. Women breaking barriers on screen has producers Rangita Pritish Nandy, Ashvini Vardi, film maker Shikha Makan with writer Jaya Misra and is moderated by Kiran Manral. Founder, Shethepeople, Shaili Chopra moderates the next discussion with screenwriter Vinta Nanda, Sushant Singh, Actor and General Secretary CINTAA, journalist Janice Sequeira and actor Saloni Chopra. An evening of powerful and engaging conversations that provoke, stimulate and inspire, these are conversations you can't miss.
6PM - Opening Note: Shaili Chopra
6PM - 6:30PM - Panel 1: The Women Driving Bombay's Food Scene
Moderator: Antoine Lewis
Speakers: Gauri Devidayal
Chef Sanjana Patel
Anisha Rachel Oomen
6:30PM - 7PM - Panel 2 : Women in Music: On Stage and Behind it
Curated by and Moderator:Nirmika Singh
Vidya Vox
Lily Ahluwalia
Priyanka Khimani
7PM - 7.15PM - Poetry Performance
7.15PM - 7.45PM - Panel 3 : Bombaywaali – Books on Toast Panel
Turning your passion into content
Curated by and Moderators:Anuya Jakatdar and Sharin Bhatti
Mae Thomas
Prajakta Koli
Sakshi Juneja

7:45PM - 8.15PM - Panel 4: Breaking the Barriers on Screen
Moderator:Kiran Manral
Ashvini Yardi
Rangita Pritish Nandy
Jaya Misra
Shikha Makan
8:15PM - 8:45PM - Panel 5: Where to from #MeToo
Moderator: Shaili Chopra
Speakers:
Vinta Nanda
Sushant Singh
Janice Sequeira
Saloni Chopra
The Cuckoo Club, Mumbai
5AA, Pali Hill Road, Next to Candies, Bandra West, Mumbai, India 400050
GET DIRECTIONS
The Cuckoo Club, Mumbai, Mumbai
Step out and enjoy this event
Invite your friends
and enjoy a shared experience