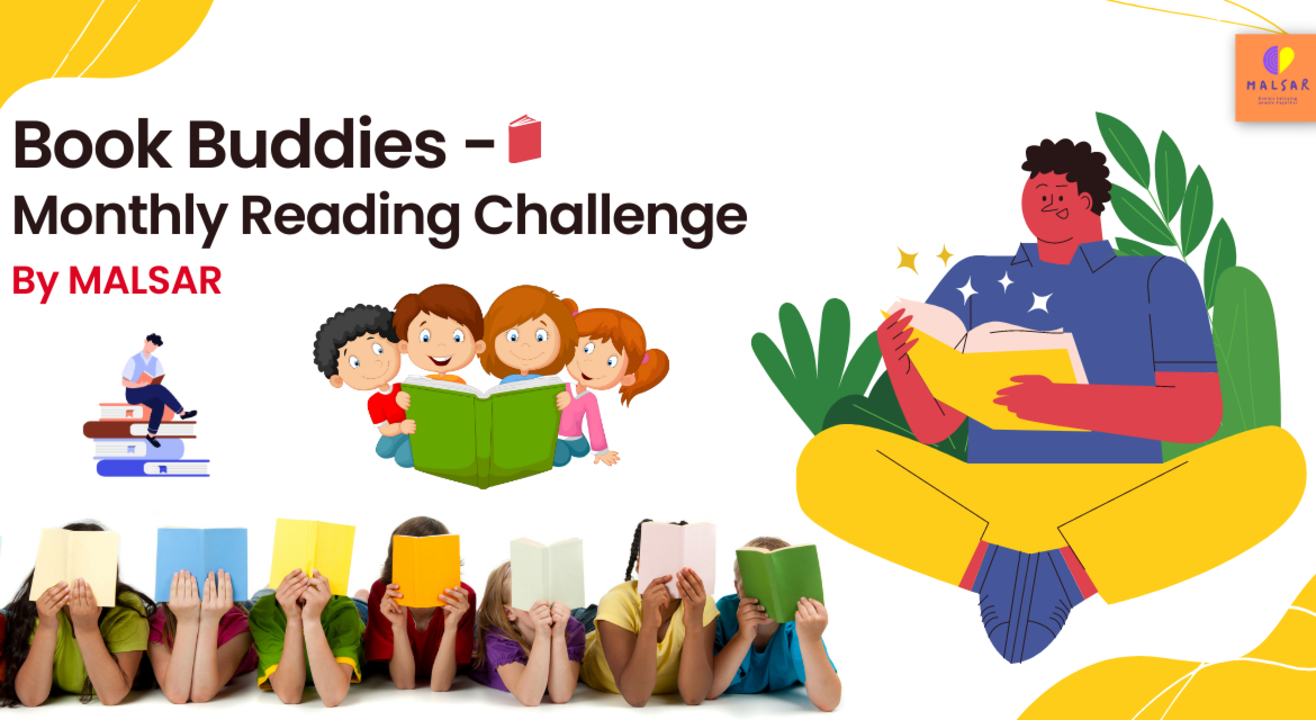 Book Buddies - Monthly Reading Challenge
February 1 | 5PM - March 1 | 11AM
Enjoy this event from your home
Event Guide
For Age(s)
Family Friendly
Invite your friends
and enjoy a shared experience
Book Buddies - Monthly Reading Challenge
February 1 | 5PM - March 1 | 11AM
Enjoy this event from your home
Event Guide
For Age(s)
Family Friendly
Invite your friends
and enjoy a shared experience
Event Guide
For Age(s)
Family Friendly
Invite your friends
and enjoy a shared experience
Book for month February : The Psychology of Money
Why Should You Participate:
If you want to build a habit to read a book every month.
Reading books improves memory and cognitive function
The person who reads too little has no advantage over the person who can't read at all.
Book Buddies - Monthly Reading Challenge
'Book Buddies' by MALSAR is a virtual book club that brings readers together from all over the world to share love of reading. The club hosts a Monthly Reading Challenge where we challenge you to pick up a book every month and get lost in its pages.
On the first of every month, the book club decides on a book to read. Club will have a private WhatsApp/FB group where you can discuss the book with other participants and share your thoughts and insights. At the end of each month, club will host a quiz to test your knowledge and understanding of the book. The winners will get a shoutout on social media and certificates, so be sure to study up!
To participate, simply register and commit to reading a book a month, every month!
What's your book for the month?
FAQ
Ques: How do I participate in the challenge?
Ans: Register here, our team will add you to the private WhatsApp/FB group by 1st of every month.
Ques: When will I be added to the Club WhatsApp/Facebook Group ?
Ans: On 1st of the month, we add all the newly signed up members to the FB/WhatsApp group.
Ques: Will the Books (E-Book or Hard Copy) provided by the Club for monthly challenge?
Ans: Club will decide the name of the monthly book and will announce the same to all challengers. However the Book either E-Book or hard copy needs to be arranged by reader himself/herself.
Ques: Can I choose any book I want for the challenge?
Ans: Monthly challenge book is decided by Club organizers. You can suggest, and we consider members suggestions while selecting the book, however final decision lies with the organizers completely.
Ques: When the Book for monthly reading challenge will be announced?
Ans: On 1st of every month.
Ques: What happens if I don't meet my reading goal for the month?
Ans: If you don't meet your reading goal for the month, that's okay! The challenge is meant to be fun and motivating, not stressful or competitive. You can simply try again next month.
Ques: I have some other query ?
Ans: Contact us on WhatsApp https://wa.me/message/FWMGXTPN5VRYM1
For queries contact us:
WhatsApp: https://wa.me/message/FWMGXTPN5VRYM1
Call: 9045382866
Email Id : admin@malsar.in
Terms & Conditions:
Tickets once booked cannot be exchanged or refunded
These terms and conditions are subject to change from time to time at the discretion of the organizer
Recording of quiz or content of the event is not permitted. Strict action will be taken against those who break these guidelines.
The time and date of the show may vary. In this case, the organiser will share the revised date and/or timing at the earliest.
Book Buddies - Monthly Reading Challenge
February 1 | 5PM - March 1 | 11AM
Enjoy this event from your home
Event Guide
For Age(s)
Family Friendly
Invite your friends
and enjoy a shared experience