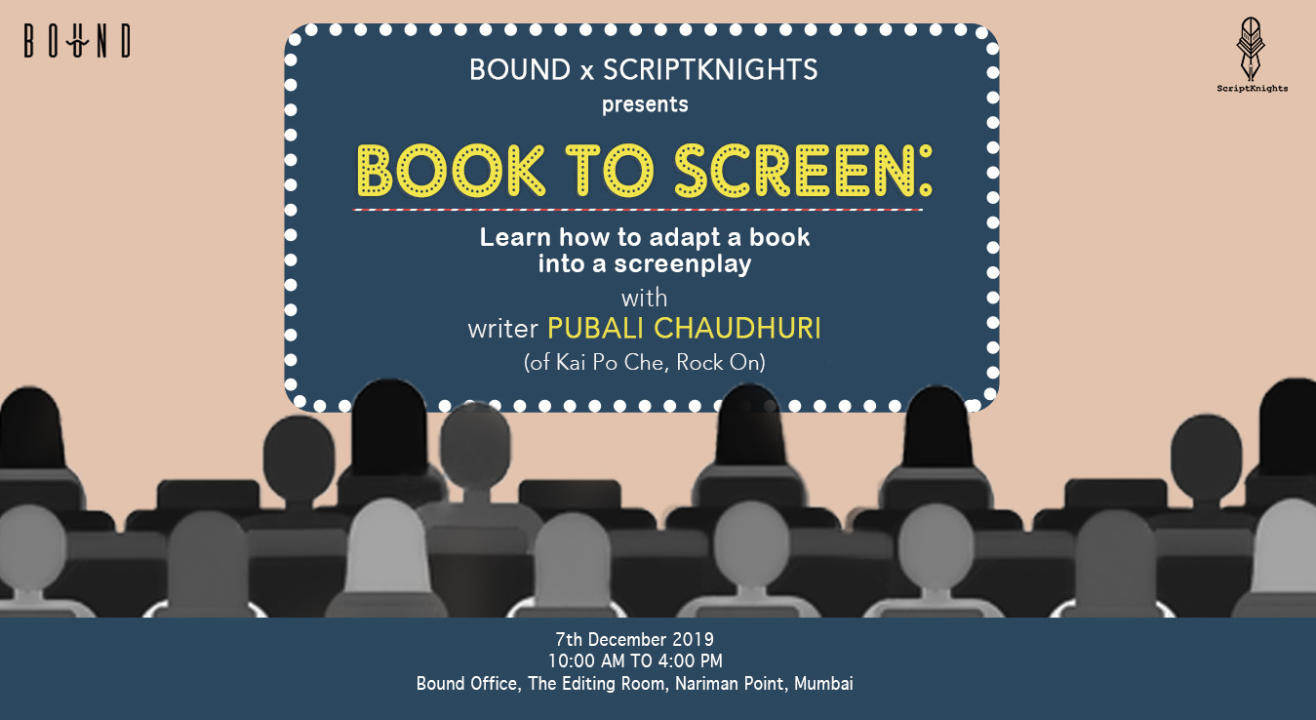 Screenwriting : A Workshop with 'Kai Po Che' and 'Rock On' Writer Pubali Chaudhuri
The Editing Room, Bound Office
Invite your friends
and enjoy a shared experience
Invite your friends
and enjoy a shared experience
About the Event
About
Join us for 'Book to Screen'- an interactive workshop on converting a book to a screenplay from 10 am to 4 pm on the 7th of December.
We all have our favourite TV shows and films and more often than not they are adaptations of novels and short stories.
Have you always wanted to know what happens behind the scenes of famous adaptations?
Then this workshop is for you because it will be conducted by industry stalwart Pubali Chaudhuri who won the Filmfare award for Best Screenplay for 'Kai Po Che'.
Pubali will walk you through the process of converting a book into a film, share tips and lessons and also talk about her journey in the industry.
This experience is designed for those who are curious about the process of converting a book into a screenplay, looking for creative confidence and techniques of storytelling that would work on the screen as well.
You will get an opportunity to interact with creative, like-minded people and gain from different experiences and insights!
Mentor:
Pubali is a senior writer, whose films were critical darlings as well as success at the box office. She also adapted the famous Indian novel '3 Mistakes of My Life', into one of the biggest hits of the decade. She won the Filmfare award for Best Screenplay for 'Kai Po Che'. Besides this, she also comes from a strong academic background - she is former Head of Department, Screenwriting Department, FTII Pune.
Takeaways:
- Learn how to write a screenplay from scratch
- Learn how to understand the author's vision
- Use your own vision to convert the book into a screenplay
- Interact with writer Pubali Chaudhuri
- Discuss techniques to make the novel's core characters stand out in every scene
- Gain the confidence to make revisions and edits to drafts
- Share and discuss examples of good adaptations
- A warm, intimate and experiential learning environment
- Lunch, a sea view and lots of fun!
About Bound:
A literary company that aims to encourage everyone to explore their inner creativity, we celebrate storytelling and believe in the power of immersive experiences. We plan week-long retreats in the most beautiful locations, where you can focus on your writing, and create long-lasting bonds with others in your community. We also conduct in-city workshops and discussions to ensure that you have the best advice and audience for your work. We offer editorial services and writing coaching through which we hope to sharpen writers' skills. It is our hope that our participants grow and eventually return to become teachers at BOUND.
About Scriptknights:
ScriptKnights was started by two screenwriting postgraduates from Film & Television Institute of India, Pune in March, 2014. In the past, we have provided screenwriting services to Fox Star India, S Spice studios, Miditech, Studio 52, Kahani world, CNNIBN, NFDC, Matchbox Films, Kavit Films, Digitalis. We are India's first full service screenwriting agency. Scriptknights provides quality script reading and development services at par with international standards. We have done professional coverage of more than 300 feature film screenplays for various production houses and studio. Along with that Scriptknights is helping clients write that next video that might just go viral.
The Editing Room, Bound Office
The Editing Room, Bound Office, 20th Floor, Nirmal Building, Nariman Point
GET DIRECTIONS