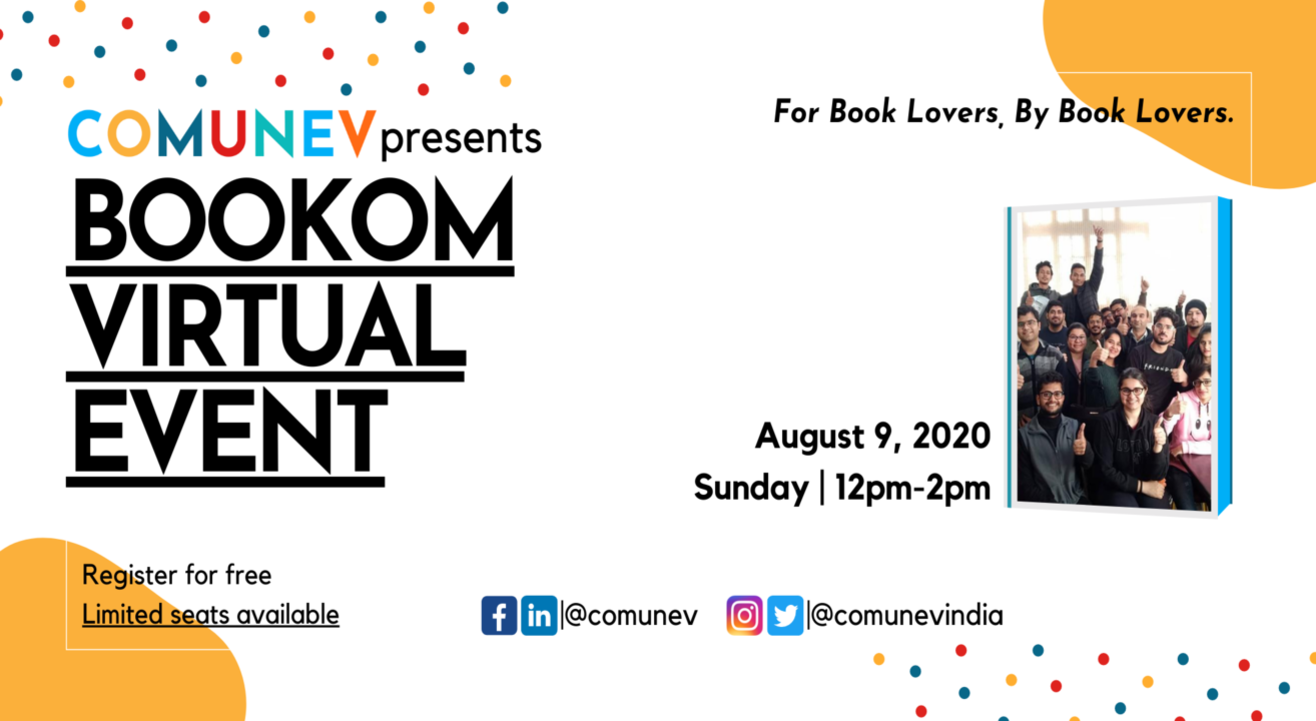 Bookom Virtual Networking Event
Invite your friends
and enjoy a shared experience
Invite your friends
and enjoy a shared experience
About the Event
Are you passionate about going all the way out in search of new subjects to explore?
Are you an avid reader and book lover who wants to see what path you can open for yourself by diving into the ocean of knowledge of books?
Are you searching for a platform or reading clubs where you can share your ideas and get some captivating ideas?
If yes then we have the perfect event planned out for you.
What will happen in the event?
The event comprises of the following three sessions-
Session 1:- Speaker Session And Q&A round
Our Speaker will give you all you need to know about writing books and subjects that you can read about, followed by your interest, and will also share some insights regarding the event.
Session 2:- General Discussion
Here, attendees will be given a chance to introduce themselves and tell everyone about the book they are reading and planning to read. This way they can interact with other participants also.
Session 3:- Networking Session
A networking session is a session where everyone will get to interact with each other.You can share your thoughts on books , why you love them, how books shaped you into a better human being, who is your favourite author and so on.


About Us
Bookom is a community by Comunev which aims to bring together people who share a common passion towards book reading and want to discover themselves through the unparalleled knowledge that books can provide them. We work in order to provide such enthusiastic readers a platform where they can exchange their ideas and great source of information for their upbeat mind.
We as a community believe the unimaginable possibilities one can open for themselves by not only reading but also by recollecting all the thoughts, one had come across till now, in one space. It's unimaginable to think of a space without books, as we have come a long way in our life owing to the guidance bestowed upon us through evergreen books.
We hereby present to you this event where you can get answers to all of your questions and will be delighted to share the room with the people who share the same passion and zeal as you, Bookom by Comunev is a community which is giving it's all to make a network of like-minded people to uphold each other and thrive for some unprecedented avenues for exploring the possibilities.


What Bookom stores for you?
Helps you to create a habit of book reading .
Helps you to become a part of a similar community .
Helps you to be more savvy when choosing a book of your interest.
Provides you with some insights on how to manage your bookshelf.
Helps you to get some refreshing ideas about the book you want to write.
Takes you to the world of books.


Our Social Media Handles
Facebook- https://www.facebook.com/bookomindia/
LinkedIn- https://www.linkedin.com/showcase/bookom/
Twitter- https://twitter.com/bookomindia
Instagram- https://www.instagram.com/bookomindia/


FAQs-
-What is the purpose of Comunev India?
It's a company that helps in connecting like-minded people.
-What is Bookom?
It is a community for book lovers and it conducts meetings in Delhi-NCR.