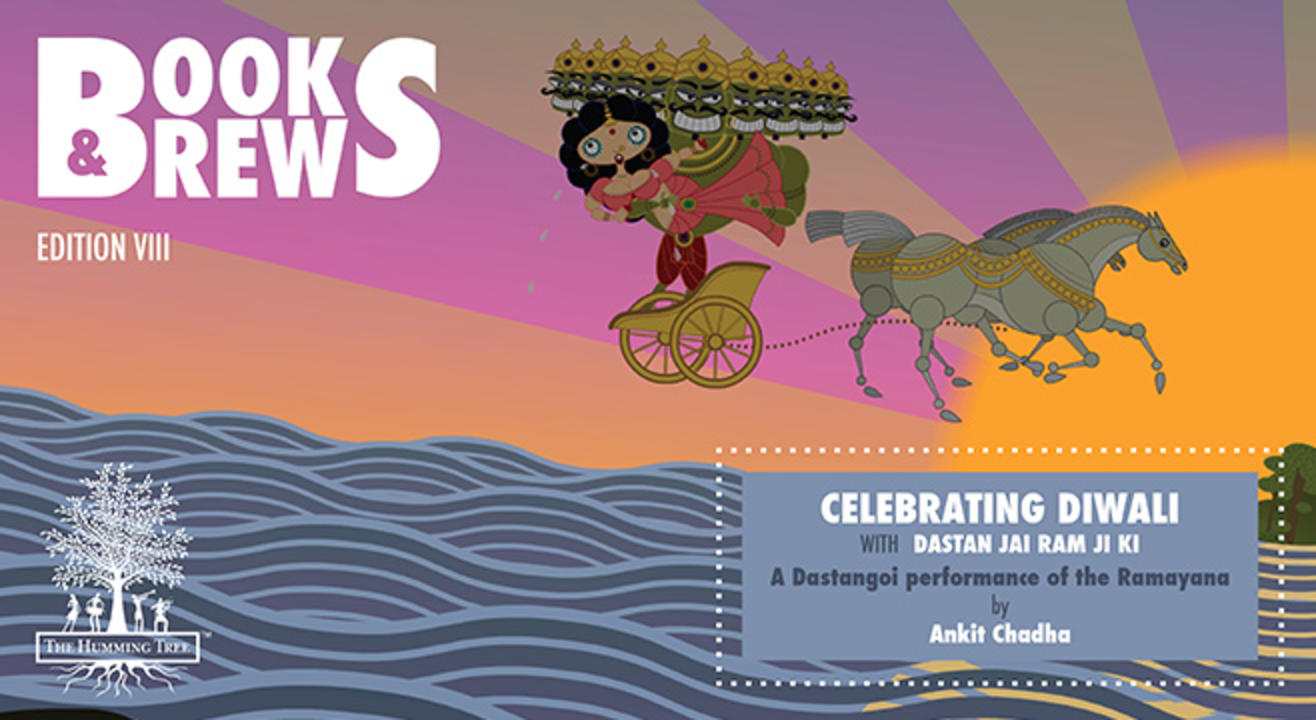 BOOKS & BREWS Celebrating Diwali with Dastan Jai Ram Ji Ki - A Dastangoi performance of the Ramayana by Ankit Chada
The Humming Tree, Bangalore, Bengaluru
Invite your friends
and enjoy a shared experience
BOOKS & BREWS Celebrating Diwali with Dastan Jai Ram Ji Ki - A Dastangoi performance of the Ramayana by Ankit Chada
The Humming Tree, Bangalore, Bengaluru
Invite your friends
and enjoy a shared experience
Invite your friends
and enjoy a shared experience
Largely based on AK Ramanujan's essay, '300 Ramayanas', this dastangoi presentation showcases the importance of the scholar's works for the understanding of India's histories and cultures. The adaptation starts with tracing the journey of AK Ramanujan, and merges into various folk tales that display how multiple narratives circulate in the world in place of a singular one.
Dastan Jai Ram Jee Ki was devised in light of the decision of the Academic Council of Delhi University to exile AK Ramanujan's scholarly essay, '300 Ramayanas' from the Undergraduate syllabus of the University, and in appreciation of the vast range and depth of AK Ramanujan's intellectual contributions.
Going with the spirit of the story, this adaptation is an ever expanding presentation. Ankit Chadha has added folk tales from various Ram Katha traditions as and when he has heard them.
About the artist:
Ankit Chadha, a writer and storyteller, has been working to revive Dastangoi since 2010. His writing varies from biographical accounts of personalities like Khusrau, Kabir, Rahim, Dara Shikoh and Majaaz Lakhnavi; to modern folk tales on corporate culture, internet and mobile technology. Ankit also works for young audiences, and has worked on Urdu storytelling of children's classics including Alice in Wonderland and The Little Prince. He is the author of the national award winning book for children, "My Gandhi Story" and the recently released "Amir Khusrau - The Man in Riddles".
About Dastangoi
Dastangoi, the lost art of storytelling, developed around the adventures of an Arab hero - Amir Hamza, in 8th century AD. These stories became very popular in the 19th century North India. With the demise of Mir Baqar Ali, the last known exponent of the art form, in 1928, the form also died with him. The modern revival is an effort of two gentlemen, SR Faruqi, the noted Urdu litterateur, and Mahmood Farooqui, who conceived the modern format of the art form.
Language: Hindustani/Urdu
Duration: 1 hour (with introduction)
Suitable for 12+
Performed by Ankit Chadha
Adapted and Directed by Mahmood Farooqui
The Humming Tree, Bangalore
1st Floor, 12th Main Road, Indiranagar, Bangalore
GET DIRECTIONS
BOOKS & BREWS Celebrating Diwali with Dastan Jai Ram Ji Ki - A Dastangoi performance of the Ramayana by Ankit Chada
The Humming Tree, Bangalore, Bengaluru
Invite your friends
and enjoy a shared experience