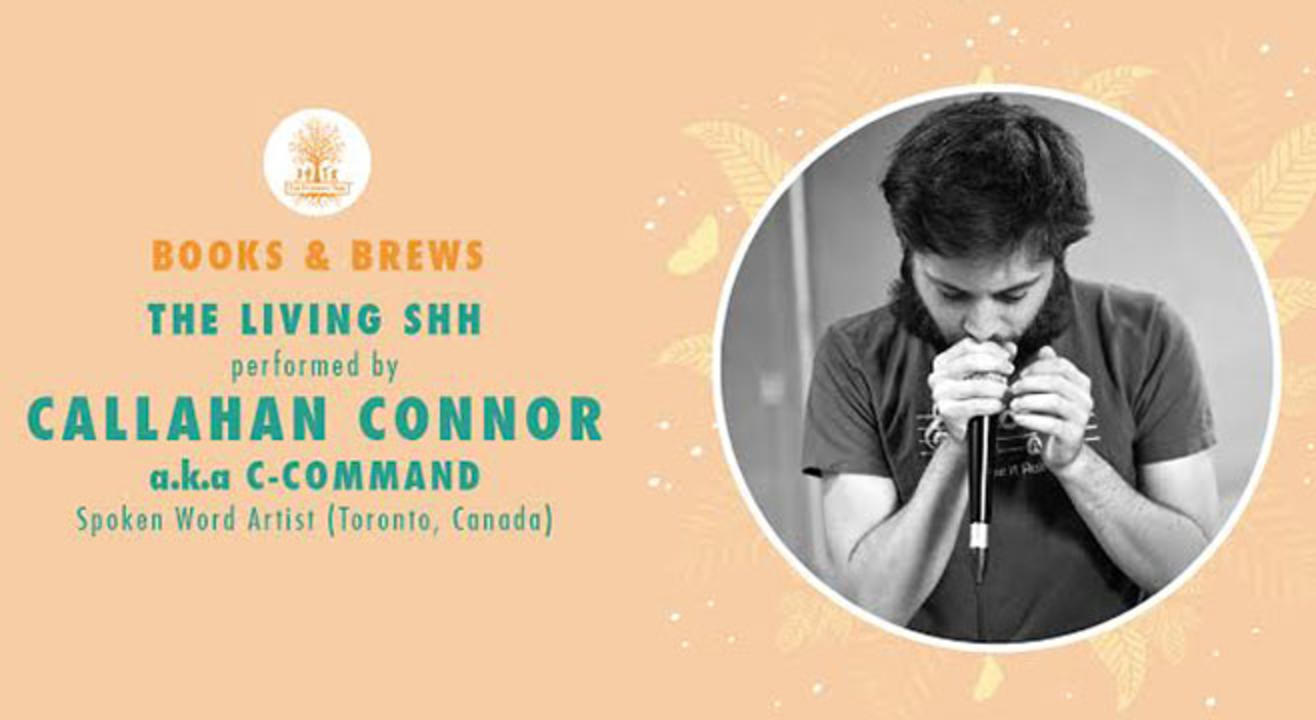 Books & Brews II : 'The Living Shh' by C-COMMAND (spoken word artist / Canada)
The Humming Tree, Bangalore, Bengaluru
Step out and enjoy this event
Event Guide
Spoken poetry
Spoken poetry: Inspired by a freestyle rap in a lucid dream, The Living Shh is a one-man spoken word, physical theatre and a psychedelic odyssey
Performer C-Command
Performer C-Command: Callahan Connor (a.k.a. C-Command) is a spoken word artist based in Toronto and Pune. You can see some of C-Command's work by searching for him on YouTube
At Humming Tree
At Humming Tree: Happening at Bangalore's favourite gig venue
It's free
It's free: That right. Cash or cards won't be needed
Invite your friends
and enjoy a shared experience
Books & Brews II : 'The Living Shh' by C-COMMAND (spoken word artist / Canada)
The Humming Tree, Bangalore, Bengaluru
Step out and enjoy this event
Event Guide
Spoken poetry
Spoken poetry: Inspired by a freestyle rap in a lucid dream, The Living Shh is a one-man spoken word, physical theatre and a psychedelic odyssey
Performer C-Command
Performer C-Command: Callahan Connor (a.k.a. C-Command) is a spoken word artist based in Toronto and Pune. You can see some of C-Command's work by searching for him on YouTube
At Humming Tree
At Humming Tree: Happening at Bangalore's favourite gig venue
It's free
It's free: That right. Cash or cards won't be needed
Invite your friends
and enjoy a shared experience
Event Guide
Spoken poetry
Spoken poetry: Inspired by a freestyle rap in a lucid dream, The Living Shh is a one-man spoken word, physical theatre and a psychedelic odyssey
Performer C-Command
Performer C-Command: Callahan Connor (a.k.a. C-Command) is a spoken word artist based in Toronto and Pune. You can see some of C-Command's work by searching for him on YouTube
At Humming Tree
At Humming Tree: Happening at Bangalore's favourite gig venue
It's free
It's free: That right. Cash or cards won't be needed
Invite your friends
and enjoy a shared experience
"... If you like to laugh and make strange noises with a strange man in a dark room with a microphone you'll enjoy The Living Shh." -Plank Magazine
"... it's fun, furious, wonderfully trippy, smart, exciting and expertly performed!" - Fringe veteran Martin Dockery
Inspired by a freestyle rap in a lucid dream, The Living Shh is a one-man spoken word, physical theatre, psychedelic odyssey. Follow C-Command across a densely rhythmic rhyme-scape to the secret places deep inside where surreal ideas flutter, fuse, and explode. This quest for knowledge is dizzying, but laughter and music are constant companions.
With 14 and up, coarse language and sexual content, enjoy a riveting hour-long performance.
Callahan Connor
Callahan Connor (a.k.a. C-Command) is a spoken word artist based in Toronto and Pune. In 2012, he graduated from Concordia University with a B.F.A. in Theatre Performance, and over the years has played a variety of villains, heroes, and madmen. He has been acting professionally since 1995. In the summer of 2011, he studied at the National Academy of Chinese Theatre Arts, learning warrior-clown techniques in Chinese Opera. More recently he has been exploring the dramatic possibilities of performance poetry. As C-Command, he has competed in poetry slams across Canada, placing 2nd in the country at the Canadian Individual Poetry Slam Championship in Vancouver 3 years ago. One year ago, he was honoured to join in a music and writing residency at the Banff Centre for the Arts. He debuted his one-man show 'The Living Shh' at the 2015 Vancouver Fringe Festival, and is very excited to be bringing it to Bangalore for its India debut! You can see some of C-Command's work by searching for him on YouTube.
The Humming Tree, Bangalore
1st Floor, 12th Main Road, Indiranagar, Bangalore
GET DIRECTIONS
Books & Brews II : 'The Living Shh' by C-COMMAND (spoken word artist / Canada)
The Humming Tree, Bangalore, Bengaluru
Step out and enjoy this event
Event Guide
Spoken poetry
Spoken poetry: Inspired by a freestyle rap in a lucid dream, The Living Shh is a one-man spoken word, physical theatre and a psychedelic odyssey
Performer C-Command
Performer C-Command: Callahan Connor (a.k.a. C-Command) is a spoken word artist based in Toronto and Pune. You can see some of C-Command's work by searching for him on YouTube
At Humming Tree
At Humming Tree: Happening at Bangalore's favourite gig venue
It's free
It's free: That right. Cash or cards won't be needed
Invite your friends
and enjoy a shared experience