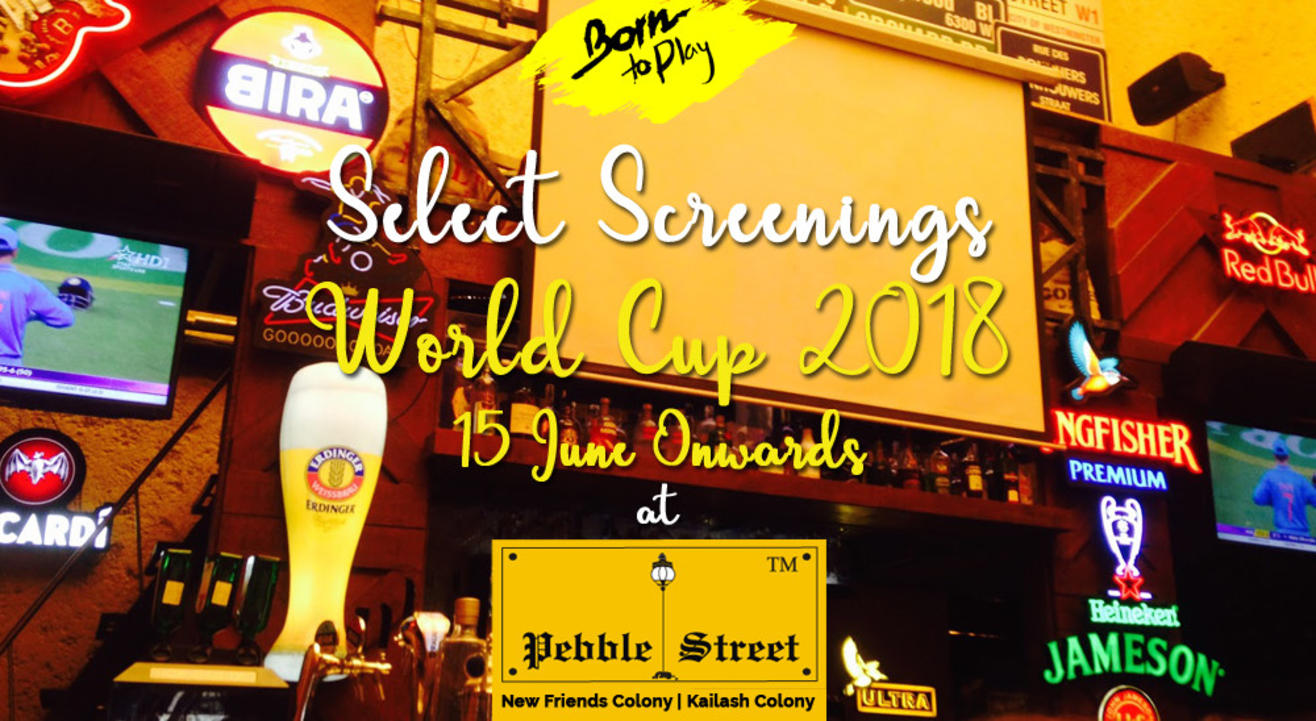 Screening
Born To Play Screenings- Football World Cup 2018
About
Catch the Live Screenings of the Complete Season of the Football World Cup 2018 organised by Born To Play at one of the Best Sports Bars in Delhi NCR. Watch your favourite teams battle while gorging on exquisite hors-d'oeuvres and beverage of choice. Brace yourself for an unparalleled luxury experience coupled with the madness of fellow Football Enthusiasts.
Pebble Street has been serving patrons at 2 locations New Friends Colony - since October 1998 and Connaught Place, New Delhi since October 2014. Portrayed in the form of a street, with a distinct European feel, Pebble Street serves the best of Continental, Italian, Tex-Mex, Asian and Indian delicacies. Exuding a warm quintessential casual diner ambiance, Pebble Street strives to provide its guests with a complete dining-out experience. Thus, the emphasis is not just limited to serving good food, but encapsulates a whole gamut of services vis-à-vis good food, exotic bar drinks and groovy music, amidst a pleasant ambience; thereby providing an avenue for wholesome entertainment.
Born To Play India- Born To Play is an endeavour, brought out to change the way you look at sports. A first of its kind initiative, Born To Play reconstructs sports as we know it, and hopes to bring you delight through the medium of sports.
We strive to bring out the competitive spirit in people, irrespective of their gender or age. We aim to make sports an essential part of everyones routine and not just an option. Making available, various sports to the people of all strata and introducing sportsmanship as something to apply in our day to day lives is one of the prime driving forces of our venture. To create a never before seen era of sporting culture we:
- Host weekly events near you
- Organise events for independent institutions/bodies
- Organise annual league championships
Therefore, if you think of sports, think of us.
Third-Place Play-Offs

Saturday, July 14/7/2018
- Belgium vs England (7:30pm)

FINAL

Sunday, July 15/7/2018
- France vs Croatia (8:30pm)
Venue
Pebble Street
Community Center, Building No 8, Community Center, 8, Block A, New Friends Colony, New Delhi, Delhi 110025