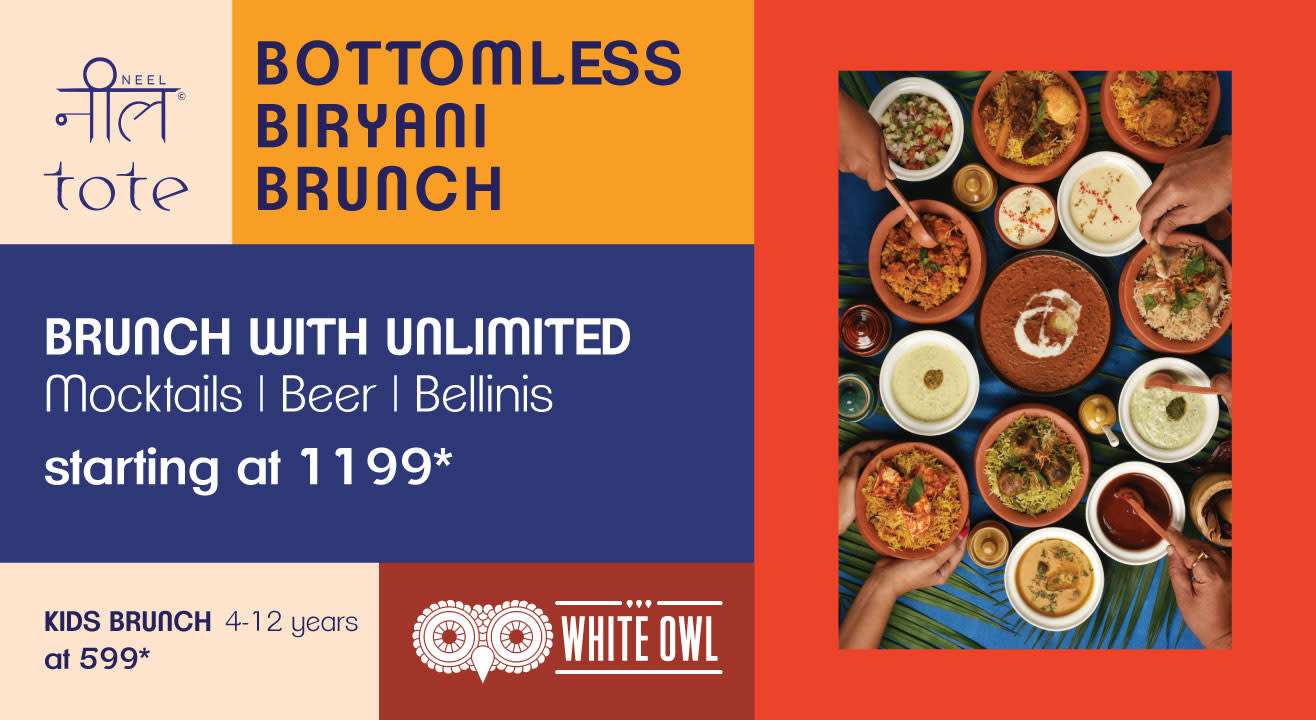 Brunch
Bottomless Biryani Brunch at Neel
Neel - Tote On The Turf, Mumbai
About
Neel – Tote on the Turf is all set to introduce a legendary unlimited Bottomless Biryani Brunch menu to make your highly anticipated idyllic lazy Sundays even more special!
Indulge in an extensive menu featuring starters & succulent kebabs like the Paneer Char Bagh, Murgh Kalimiri Tikka, Ghosht ki Shikampuri, Achari Prawn Samosa, Basnu Singhada ki Galowti among other scrumptious options.
Get ready to be wowed by biryanis ranging from the Teekhi Paneer Lucknowi Biryani & Chutney Wale Kumbh Ki Biryani to the Charminar Mutton Biryani & Prawn Malvani Barley Biryani among others. Paired with traditional accompaniments like the Burhani raita, Kasundi & Rosemary raita, Kabul ki Dal, Mirch ka Salan, this is your quintessential pre-siesta feast. End the meal with a curated selection of delectable desserts.
Make your languorous Sundays a boozy affair with the attractively priced Beer & Bellini packages available at Neel – Tote on the Turf.
The little ones can enjoy customized options like Chocolate Milkshakes, Fries, Mini Samosas, Chicken Fingers Poutine and Mac & Cheese with a Butter Chicken Topping or a Lays Magic Masala Crumb.
The sinfully fun menu doesn't end there, children can choose from a wide range of decadent desserts like, Kulfi Falooda, Brownies & Ice Cream and Cupcakes paired with an assortment of toppings!
Gather your friends & family and head to Neel, Tote on the Turf for a masterfully executed gastronomic experience.
Menu:
Starters Vegetarian:
Paneer Char Bagh
Basnu Singadha ka Galouti
Dakshini Aloo
Palak, Makai & Cheese Samosa
Starters Non - Vegetarian:
Murg Kalimiri Tikka
Gosht Ki Shikampuri
Parsi Chicken Farcha
Achari Prawn Samosa
Accompaniments Vegetarian:
Burhani Raita
Kasundi & Rosemary Raita
Kairi & Pudina Raita
Plain Curd
Kachumber
Kabul ki Dal
Mirch ka Salan
Accompaniments Non - Vegetarian:
Tar Korma
Biryanis Vegetarian:
Teekhi Paneer Lucknowi Biryani
Kathal ki Kerala Biryani
Chutney wali Kumbh ki Biryani
Biryanis Non - Vegetarian:
Charminar Mutton Biryani
Doodhiya Murg Biryani
Prawn Malvani Barley Biryani
Desserts:
Kulfi Falooda
Chocolate Brownie
Cupcakes
Kids Menu:
Vegetarian Starters
Fries / Smileys Poutine
Paneer Tikka
Mini Samosas
Non - Vegetarian Starters
Fries / Chicken Fingers Poutine
Reshmi Kabab
Mini Samosa
Mains Vegetarian:
Taftan Pizza/Sliders
Mac & Cheese (Lays Magic Masala Crumb)
Mains Non - Vegetarian:
Taftan Pizza/Sliders
Mac & Cheese (Butter Chicken Topping)
Desserts:
Kulfi Falooda
Chocolate Brownie & Ice cream
Cupcakes
Assorted toppings-
Gems, Oreo, Sprinkles, Peanuts
Venue
Neel - Tote On The Turf, Mumbai
Mahalaxmi Racecourse, Mahalaxmi, Mumbai 400011
GET DIRECTIONS