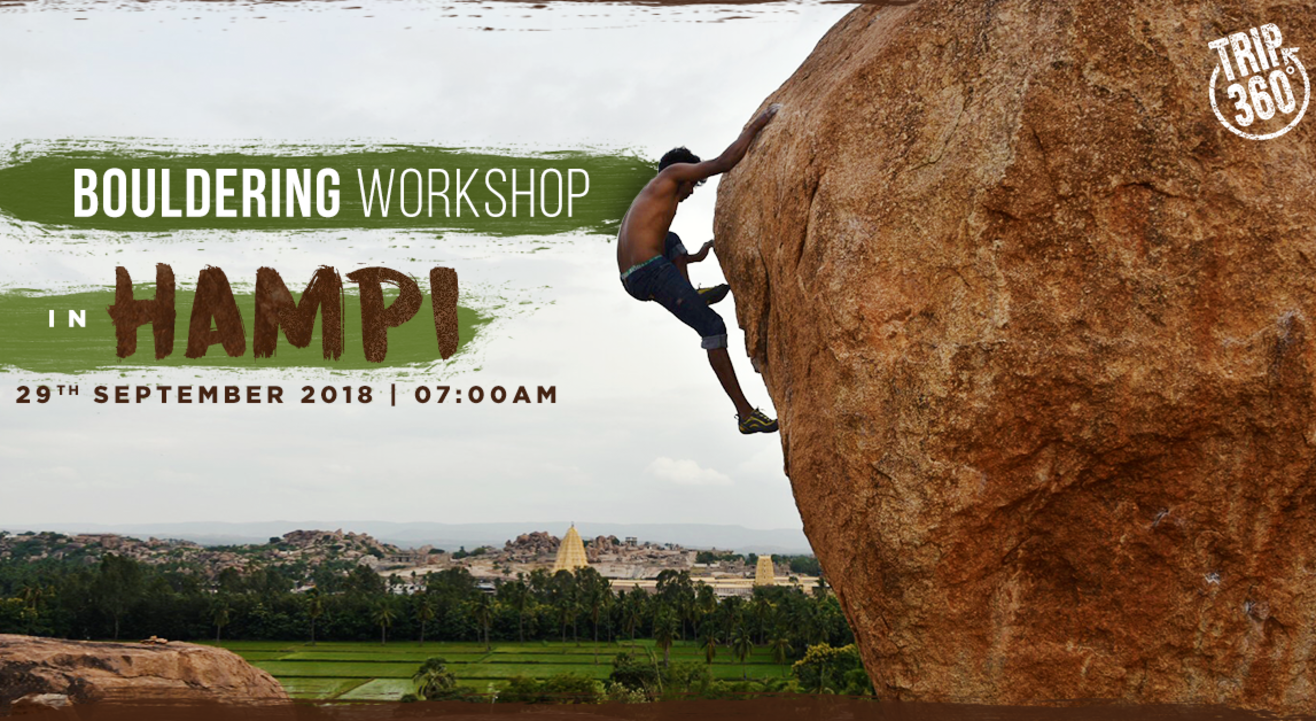 Adventure
Bouldering Workshop in Hampi
Hampi Campsite ( Exact location will be shared post booking )
About
Hone your skills against this most unique and peculiar landscape, dotted in every direction with ruins of temple complexes and giant boulders that took shape over millions of years - a breathtaking setting that is sure to inspire amateur and seasoned rock-climbers alike!
Trip 360's Bouldering Workshop in Hampi, is designed to cater to your adventurous spirit and gives you a nudge in the right direction towards the sport of rock-climbing. From introductory sessions on bouldering, slack-lining and top-roping equipment to rock-climbing workshops and more, the 2 day event is sure to get your adrenaline pumping.
You can also make the most of your time by exploring the caves, cycling through the culturally rich town and climbing atop Matanga or Hamakuta Hill to witness a glorious sunset.
Day 1:
7.00 Meet at the Campsite
7.30 Freshen Up
8.30 Breakfast
9.00 Introducing Bouldering equipment and the group
9.30-12.30 Bouldering workshop at famous Rishemuke Plateau
13.00 Break for lunch
14.00 Introducing Slackline Equipment
14.30-16.00 Slackline Workshop
16.00-18.00 Nature Walk through the forest and Exploring the caves (Cosmic Cave, Little Cave and Aeroplane Cave)
18.30 Campfire at Campsite
20.00 Dinner
21.30 Setting up camp

Day 2:
5.30 Sunrise at campsite
8.30 Breakfast
9.30 Introducing Rock-climbing/ Top-roping equipment
10 Top Rope Rock-Climbing Workshop
12.30 Lunch at camp
13.30 - Cross the river for guided bicycle tour of the ruined architecture of Hampi
17.30- Climb up Matanga Hill or Hamakuta Hill for sunset
01 night camping with meals
Bouldering workshop
Slacklining workshop
Introduction to rock climbing
Cycling to the Architectcural ruins in Hampi
Hike up to sunset point
Nature walk along with cave exploration.
Anything else not mentioned in Inclusions
Personal expense
Cost of transportation to reach the campsite
Any additional activities or sightseeing.
Personal medicines
Camera, phones and chargers
An Inquisitive Mind
Water Bottle
Drinking or smoking is not allowed in the bungalow premises. You are expected to carry your own yoga mats for hygiene purposes. Stay will be on sharing basis. Single room supplement will be charged extra. We require a minimum of 06 participants to conduct this retreat. We reserve the right to cancel the departure if minimum group strength is not met. In such case, full refund of the paid amount will be initiated.
15days before the trip full refund
7days before the trip 50% refund
After 7 days no refund.
Smoking and Drinking are strictly prohibited
A minimum of 6 Participants are required to conduct this trip. If the minimum group strength is not met, we have the right to cancel the event and initiate full refund of the amount paid.