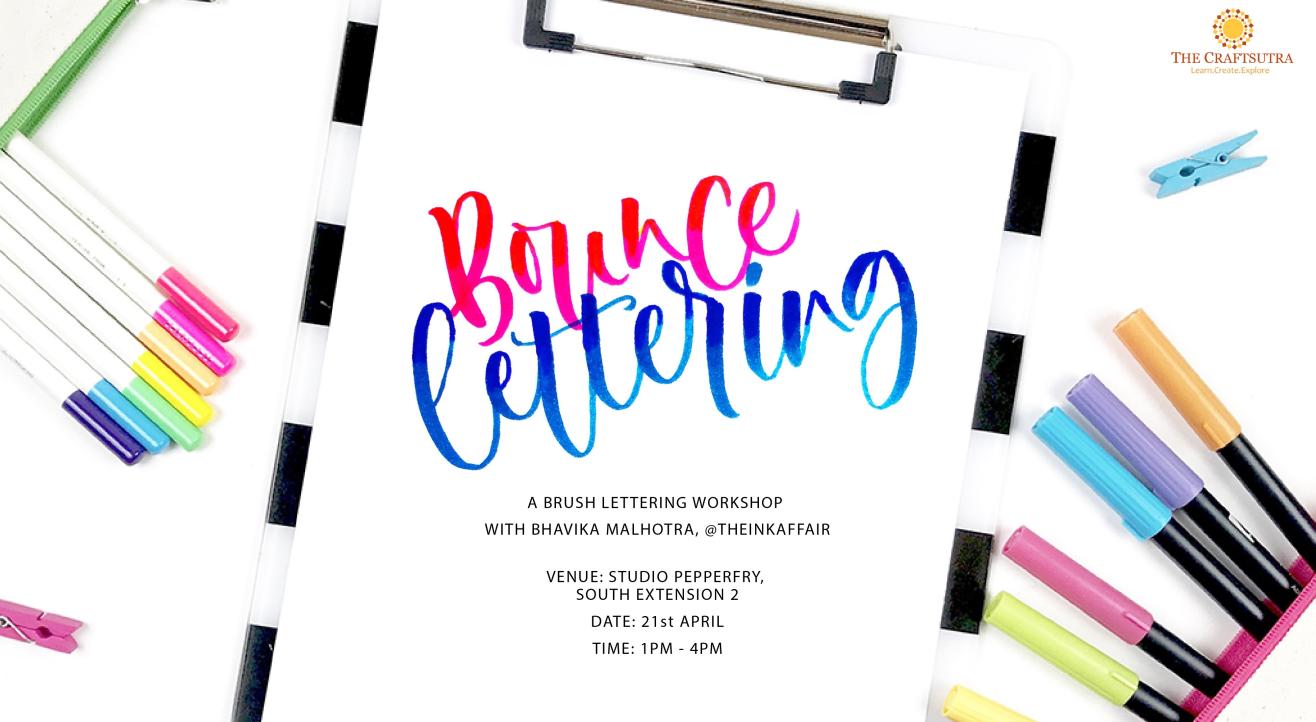 Art
Bounce Brush Lettering Workshop
Studio Pepperfry, South Extension
About
If you've been wanting to try your hand at brush lettering, and learn how to add that perfect bounce to your letters, this workshop is for you! Join us for a fun bounce lettering workshop mentored by expert calligraphy artist Bhavika (Instagram @theinkaffair). In this beginner class you'll learn all the basics of brush lettering
- how to hold the pen,
- basic pen strokes,
- connecting letters to form words,
- And how to make them bounce:
- the best letter combinations, when to and when not to add bounce
You'll also test out your new skills at the end of class by designing your very own quote!
You will receive a personal kit that includes everything you need to get started.
Note:
- This is a beginner workshop so previous knowledge of lettering is NOT required
- Brush lettering is different from modern calligraphy/pointed pen calligraphy. In this workshop, we will learn to use a brush pen to mimic the effects of a calligraphy pen.
Date: April 21, 2019
Time: 1:00 pm - 4:00 pm
Venue: Studio Pepperfry, SouthEx-2, New Delhi
Price: Rs 1,799 (material provided)
No prior Arty experience is required.
**Limited seats available
About the artist:
Bhavika Malhotra (Instagram @The Ink Affair ) is a Delhi based calligraphy/hand-lettering artist turned font designer. She is a creative spirit with a penchant for bright colours, quirky, abstract patterns and a lot of hand-lettered goodness.
Who We Are?
'The Craftsutra' is a platform for people to engage in Arts, learn and acquire a new skill, meet and bond with like minded people. We believe that anyone can create Art and look forward to offering you the opportunity to paint, create, learn and explore art in a way like never before.
We invite people who are even vaguely interested in art to participate in a myriad of workshops. From paint parties to mandala-making to clay sculpting, tie-and-dye, and even glass cutting, these crafts get-togethers are held across the city and at different venues.
The idea is to collaborate together, chill with like-minded folks and obviously, harness some painting/crafting talent.
To know more about us find us on Facebook/Instagram @TheCraftsutra
Venue
Studio Pepperfry, South Extension
No. D14, 2nd Floor, Above Croma Retail, South Extension Part II, Block D, South Extension II, New Delhi, Delhi 110049