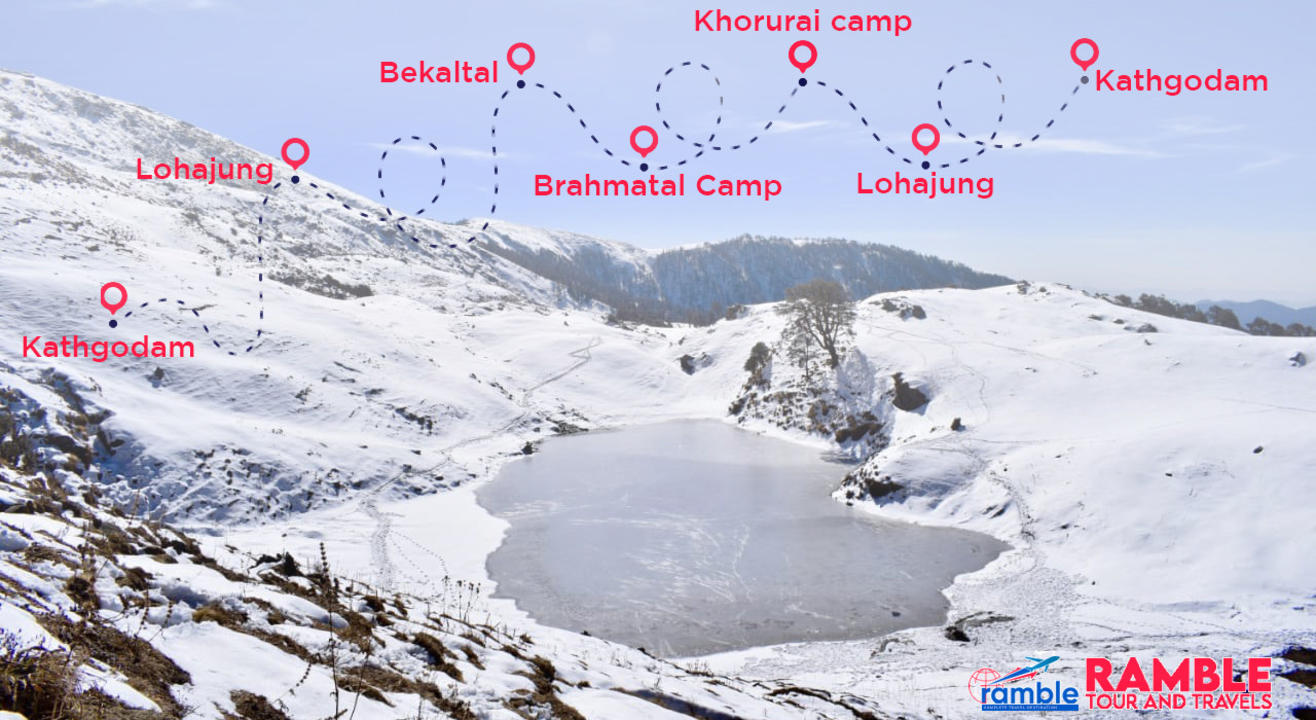 Covid 19 Safety Measures
This event adheres to the following

Health & safety measures
Social Distancing
Temperature Checks
Face Masks Required
Limited Capacity
Contactless Service
Organisers wear masks
Registered on Aarogya Setu
Hand Hygiene Stations
Sanitisation before the show
Invite your friends
and enjoy a shared experience
Covid 19 Safety Measures
This event adheres to the following

Health & safety measures
Social Distancing
Temperature Checks
Face Masks Required
Limited Capacity
Contactless Service
Organisers wear masks
Registered on Aarogya Setu
Hand Hygiene Stations
Sanitisation before the show
Brahmatal Trek lies inside the Himalayas of Uttarakhand at an altitude of 3734 Meters and it is best if executed in January and February on the time of height winters.
Moreover, on this trek get exciting views of towering Himalayan peaks – Mt. Trishul and Mt. Nanda Ghunti with different snow-blanketed mountains.
The stunning area Brahmatal stands in between excessive snow-included peaks which collectively make an outstanding sight. On the opposite hand, the meadows continue to be covered in snow.
So, consequently, it seems to be the most extremely good iciness Trek In Uttarakhand. And, also a first-rated Skiing destination.
What makes this tour very interesting
No high-altitude mountain sickness due to coming near to the forest region. And this is an easy trek as compared to others.
The trail isn't that abrupt and sheer in comparison to different treks. So, beginners, families, and students can easily try this trek.
You were given to see such a lot of heavenly bodies at one location like the panoramic view of the Himalayan ranges, meadows, lakes, pine forests, an extraordinary variety of flora and fauna surpassing via bona fide Garhwali history and Kumauni and valleys of Chivalric mountain ranges
During the wintry weather season, this fascinating Brahmatal trek remains protected in snow and the white sheet of snow makes it appear to be a magical wide snow-land.
Itinerary
Day 01
Pickup from Kathgodam railway station and Drive to Lohajung
Total distance: 210 km – 9/10 Hours journey
Altitude: Lohajung – 7,599 ft (2,316 m)
We will start a 09-10 hours long journey from Kathgodam to Lohajung. En-Route we will stop for our Breakfast, Lunch, and Tea Break.
Our car will pass through the Kumaon and valleys region of Shivalik mountain ranges. The street takes you via picturesque forests and curves with terrific mountain views inside the backdrop.
We will drive a windy and curvy road toward Lohajung from Deval village.
After reaching Lohajung check-in to the tourist rest house, after dinner take a deep sleep which will prepare you for the next days.
Day 02
Lohajung to Bekaltal Trek
Altitude: 7,600 ft (2,316 m) to 9,689 ft (2,953 m)
Time taken: 5 hours trek, 5.8 km
Trek gradient: Moderate; soft climbing through forests on well-defined trails
Water sources: Carry sufficient water. You can refill your water bottles after 3 hours into the trek, where we will stop for our lunch
Trek towards Lohajung's upper region, the trail is a marked properly stone-paved path. Pass through a forest with homes at the side. We will reach Mandoli village after a short while by continuous Hiking.
After ascending enter the Kail valley with two rivers Pindari and Kail. Ahead are water pipes that are used to deliver water to Lohajung. Halt for a while and trek further, now witness some houses along with the trees of Rhododendrons which are together referred to as Budla.
Cross a flow over a bridge and rest at Begum. Ahead of the Navali Bugyal will capture all of your attention.
Now, after crossing one greater stream and an hour ascent you will attain "Gujrani".
Multiple streams are found in this area, the water is apparent and smooth if you want you may also replenish the bottles.
Trek for one and a half-hour more to reach Bekaltal, a lake with grassy shores which might be best for camping. This lovely lake lies amidst the wooded area of Oaks. Come across one greater pristine lake named "Khopdaliya". Pitch your tents beside the lake, await the delicious meals to be served, and after having dinner sleep quite simply to your tents.
Day 03
Bekaltal to Brahmatal Camp Trek
Altitude:9,689 ft (2,953 m) to 10,440 ft (3,182 m)
Time taken: 5-6 hours Trek, 7 km
Trek gradient: Moderate. Soft ascent for an hour brings you to a meadow where you then a step-by-step descent to Brahmatal.
Water sources: Carry 2 litres of water from Bekaltal Camp. You can't refill your water bottles as there are no Water sources on the way
The trek to Brahmtal starts simply when you depart the campsite, trek through the forests of Rhododendrons and Oaks. Crossing this section will lead you to a meadow and from right here a slow ascent will lead you to the top.
Reach the high point and start the descent till you stumble upon Brahmatal. An extraordinary high altitude glacial lake that stays frozen in winters.
Throughout the trek Almora and Nainital aspect valley may be visible, Mt. Nanda Ghunti and Mt. Trishul also can be seen from a few points.
The campsite is at a little distance from Brahmatal Lake and is without a doubt visible but if there's a certain change in climate and if there is heavy snowfall then will camp at Khabekhal.
After crossing the forest area we will reach the campsite. Set up your tents and after having food rest of the day is free. Overnight Stay at Camp
Day 04
Summit Day: Brahmatal Camp to Brahmatal top summit to Khorurai camp
Altitude: 10,440 ft (3,182 m) to 12,250 ft (3,734 m) and on to 9,640 ft (2,938 m)
Time taken: 8 hours trek, 7.5 km
Trek gradient: Moderate; Moderate climb to the ridge followed by a flat walk and then steep descent.
Water sources: Carry 2 litres of water from Brahmatal Camp. You can't refill your water bottles as there are no Water sources on the way
The trek on these day is an ascending one, you are going to reach an altitude. Start trekking and after one hour attain Chota Jhandidar.
Chota and Bada Jhandidar will lead you to the top, the trail isn't straightforward however zig-zag and fenced by means of valleys from each side.
Crossing the steep climb will take around 2-3 hours.
Brahmatal Top gives the fetching view of the Himalayas and the clear blue sky makes its appearance adorable. From the pinnacle Mt. Trishul and Mt. Nanda Ghunti perspectives are a good deal clearer than the previous day, they appearance magnificent.
The panorama attractions of Himalayan mountain stages are sufficient to leave you awestruck.
Now, descend and move in the direction of the Khorurai camp.
Reach there in three hours by crossing the dense Forest section. Set up your camps, have food, and retire for the night.
Day 05
Khorurai camp to Lohajung trek
Altitude: 9,640 ft (2,938 m) to 7,600 ft (2,316 m)
3-4 hours trek, 3 km
Trek gradient: Moderate.
Water sources: Carry sufficient water. You can refill your water bottles on the way.
We will reach at Lohajung in 2 to 3 hours by hiking approx. 3 km.
Reach Malling in half an hour. Now, some homes on the slopes come into sight. Follow the stone made course regularly used by the villagers.
After reaching Lohajung. check-in to a pre-booked hotel and after Dinner experience your overnight stay.
Day 06
Lohajung to Kathgodam
After Breakfast The certificates will be given and after some beautiful photos, we will start the scenic drive from Lohajung to Kathgodam you will reach Kathgodam at 6 to 07 pm evening