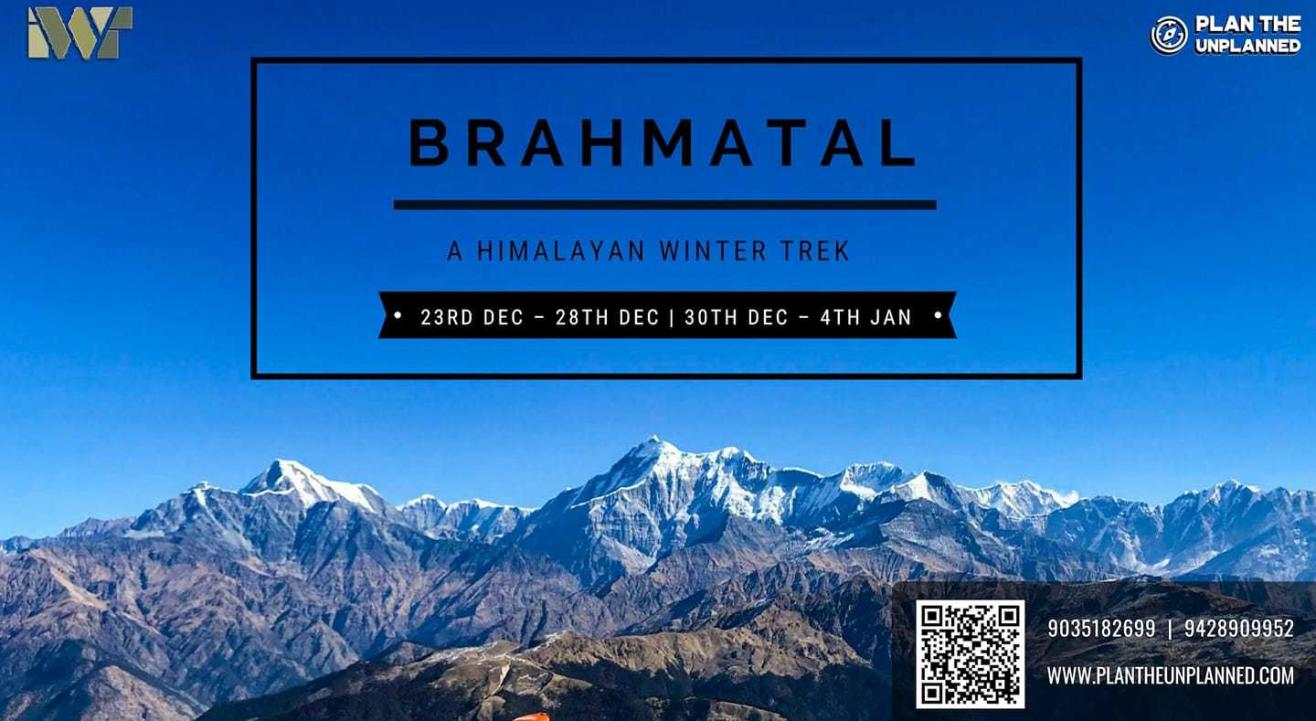 Brahmatal Trek | Plan The Unplanned
Step out and enjoy this event
Invite your friends
and enjoy a shared experience
Invite your friends
and enjoy a shared experience
About the Event
Plan The Unplanned in association with IWasThere brings you one of the finest Himalayan Winter treks out there suitable for those looking to attempt their first Himalayan trek as well as the more experienced trekkers looking for a quick Himalayan getaway.
Winters being extreme in the Himalayas makes it difficult to access the higher reaches of it during the peak winter months starting from November-December to end of March. During this time, Himalayas receive a lot of snowfall which makes a lot of treks inaccessible. It is the same very reason which makes Brahmatal Trek a unique affair as this is among those rare treks nestled in the Garhwal Himalayas during that period wherein the trekkers can tread through snow and indulge in a magical experience.
This trek offers varied experiences as we walk through the dense Oak and Rhododendron forest for the most part of the trek but the trek also offers the trekkers with an opportunity to walk on snow-covered meadows along with camping next to Bekal Tal. The surroundings of the high altitude Brahmatal lake is serene and on a clear day, one can see the perfect reflection of mountains in it. The trek also offers majestic views of Mt. Nandagunti and Mt. Trishul from the highest point on the trek and a panoramic view of other Himalayan peaks. Add to the fact that this is a fairly easy trail with most parts of the trek in the treeline in a gradual ascend which makes it accessible for beginners by reducing the chances of altitude sickness and you can select this to be your first adventure in the Himalayas. Two beautiful lakes, thick Oak and Rhododendron forest and majestic mountain views from the top is a recipe to make it a perfect winter trek in Garhwal Himalayas.
Type: High Altitude Trekking
Region: Garhwal Himalayas, Uttarakhand
Highest Altitude: 12,200 Ft.
-Transport: Non AC coach from Kathgodam to Lohajung on Day 1 and back on Day 6.
- Accommodation: Homestays or lodges on arrival at Lohajung on Day 1 and Day 5. Camping
in tents on all the days during the trek on twin/triple sharing basis.
- Meals: All meals since arrival at Lohaung till the dinner on Day 5.
- During the trek - Breakfast, Lunch, Evening Snacks and Dinner will be provided. The food
will be vegetarian and eggs may be provided. Tea will be a part of breakfast and evening
- An expert and experienced Trek Leader.
- Professional and experienced local trekking guides.
-Any other permits that may be required.
- Accommodation at Kathgodam
- Any charges for carrying still/video cameras etc.
- Soft drinks, bottled water, beverages, etc.
- Personal expenses like tips, telephone calls, laundry, etc.
- Trekking equipment like trekking bag, shoe, trekking pole etc.
- Any meals/services not mentioned above
- Any costs arising out of unforeseen circumstances like landslides, roadblocks, bad weather,
-Food during the transit from Kathgodam to Lohajung and back is not part of the itinerary to
give our trekkers an opportunity to indulge in some local cuisine. Feel free to stop at many of the Himalayan Dhabas on Day 1 and Day 6.
Health & Fitness Requirements:
All participants are required to submit a medical certificate approved by a registered medical practitioner prior to the trek.
Apart from this we highly recommend you having an adventurous spirit and willingness to undergo the joys & hardships of outdoor camping, in addition to good physical and mental fitness, to completely enjoy the trek. If you suffer from severe muscular, chest, heart or bronchial ailments, we advise you against participating since most treks happen in remote areas with limited access to medical services & hospital facilities.
Our Trek Leaders are experienced mountaineers and we trust their judgements. If during the trek, the Trek Leader advises you against continuing on the trek, we request you to respect his judgement and follow his instructions.
For faster communication: +91 9035182699, +91 7760710005, +91 9428909952
DETAILED ITINERARY
Day 1: Kathgodam to Lohajung
Altitude : 7,650 ft
Drive Time: 10 Hrs
Lohajung is the base camp for the Brahmatal trek, for which we pick you up from Kathgodam at 6 AM. Kathgodam is well connected with Delhi and Dehradun via train, buses, and taxis. It will be a 10 hours drive through the beautiful hill station of Nainital – the city of lakes. The drive is along the course of Kosi River which later gives way to Pindar River thereafter, alongside a spectacle of snow-capped mountains. Most of the drive is in the beautiful serpentine roads of Kumaon before entering Garhwal and not before passing through some of the beautiful villages of this region. The last point to buy any provisions en route is Dewal. There is good connectivity of phone and internet along with ATMs. Some last minute shopping can be done here before heading towards the final journey for the day. The gain is considerable from Dewal to Lohajung through very narrow and curvy roads. It will mostly be foggy or rainy along with cold weather and certainly marks the true beginning of the wilderness. You reach Lohajung, our base camp – a little hamlet in Chamoli district in Garhwal Himalayas. On arrival at Lohajung, check in to a guest house or lodge for overnight stay. (Food during the transit from Kathgodam to Lohajung is not a part of the trek. Please stop over at many of the Himalayan Dhabas to relish local cuisine en route).
---
Day 2: Lohajung to Bekaltal
Distance: 6 KMs
Time: 5 Hrs
Altitude: 9,700 ft
Trek begins from Lohajung post breakfast, it will be a gradual ascend through the nearby villages until you are in the middle of the forest. The trail is serpentine with zig-zag paths throughout making it easier to climb. There are a few villages en route where the trekkers can refill their water bottles. Also, there are many water streams flowing on the trail and these springs can be used for stocking water. Soon, we will be crossing a confluence of 2 mountain rivers Kali and Pindari in the splendid green Kali Valley.
The next water point available is at a stream which we will be crossing via a notable wooden bridge which also acts as a landmark for the trekkers, this is at around 8500 ft. It is approximately 1-hour hike to reach our campsite from here. At Bekaltal, we will be served hot lunch at the campsite. Bekaltal lake is a 15 minutes walk from our campsite is surrounded by Oak trees and can be seen in semi-frozen condition during the winters. Evenings are reserved and are utilized by exploring the vicinity.
---
Day 3: BekalTal to BrahmaTal
Distance: 7 KMs
Time: 7 Hrs
Altitude: 10,500 ft
The start of the trek will be a steep ascend through the Oak and Rhododendron forest. This section of the forests is one of the densest and it is a nice setting to be walking under the shade of these trees before the sight opens up to the meadows of Telandi. This is certainly one of the most fun and adventurous section of the trek as winters fill these meadows with an abundance of snow and the trekkers need to plough their way through it to reach the Brahmatal campsite. The gradual ascend in the meadows will take you to the highest point of the day at 11,500 ft. From here the descend takes you to the BrahmaTal Lake. The campsite is set approximately 500 meters from the lake. Expect to see breathtaking views of the mighty Mt Trisul and Mt. Nandaghunti along with other Himalayan ranges in the distance. There are no water sources available today so it is necessary to carry sufficient water to last till the arrival at the campsite.
Brahmatal lake is only 500 meters away from the campsite.
---
Day 4: Brahmatal to Tilbudi via Brahmatal Pass
Distance: 7 KMs
Time: 8 Hrs
Altitude: 10,450 ft. to 11,250 ft.
Being the Summit day, expect an early start. We start our walk through the magical Oak and Rhododendron forests all the way until Brahmatal lake. On a bright sunny day, you with recall your science lectures about reflection and refraction due to the change in colours when the sun changes its angles.
After walking for a while and crossing the meadow, the final climb towards the pass begins. As soon as you reach the top you will be greeted with a magnificent view of Mt. Trishul and Mt. Nanda Ghunti, spend some time here and accept the fact that you are in real witnessing all of these and of course click some amazing photos for your collection. 180 degrees of Himalayan ranges will be visible from here. The descent will follow a different route towards Tilbudi from Brahmatal Pass, as we start our walk you will experience a panoramic view of distant peaks like Chaukhambha, Mandi, Mana, Nilgiri, Neelkanth, Trishul, Nanda Ghunti, Maitoli along with Tharali and Gwaldam(Places that you crossed on the way from Kathgodam) at a distance. As we descend further you reach our campsite for the night at Tilbudi.
---
Day 5: Tilbudi to Lohajung via Wan
Distance: 3.5 KMs
Time: 7 Hrs and 1 hour of drive
Altitude: 11,250 ft. to 7,650 ft. via 8,000 ft
We start our descend after our breakfast through the thick Oak and Rhododendron forests all the way till Chota Tilbudi, which is also our water source for our refills. We continue further for some time to reach the village, Wan. Here a vehicle will be arranged which will be dropping us to Lohajung where we retire in a Guest House.
---
Day 6: Lohajung to Kathgodam
Distance: 210 KMs
Time: 10 Hrs Drive
The taxi would arrive in the morning to drop the trekkers back to Kathgodam Railway station to continue with their return journey. It is always a good decision to start early in the mountains as the weather is very unpredictable. Onward journey from Kathgodam can be booked post 8 PM.
ADVISORY
Please be informed that trekking is an adventure activity and a lot depends on the weather conditions in the mountains. In case of bad weather or health issues of any trekker at any point during the trek, the trek itinerary will be changed by the Trek Leader after evaluating all the available options.
We make sure that our trekkers are informed at all the times and a common consensus be arrived after discussing with the participants, however, the decision of the Trek Leader will remain final.
Also, in case of any unforeseen circumstances like landslides or bad weather, we promise to provide services only for 7 days. It will remain the responsibility of the Trek Leader to get the trekkers back to safety irrespective of the number of days, however, the cost will be borne by the trekker themselves.
Please be clearly informed that we are committed to providing a safe, secure and a magical experience in raw nature and hence, smoking, drinking and littering is completely prohibited during the trek and on the campsites. People found to be indulging in any of the above activities will be abandoned from the group.
SAFETY
We take a lot of pride in providing the best safety standards to its trekkers while trekking along with supporting sustainable tourism.
Experienced Trek Leaders will be leading the group with a full-fledged first aid kit along with an oxygen cylinder. The Trek Leaders will also be carrying medication pertaining to high altitudes.