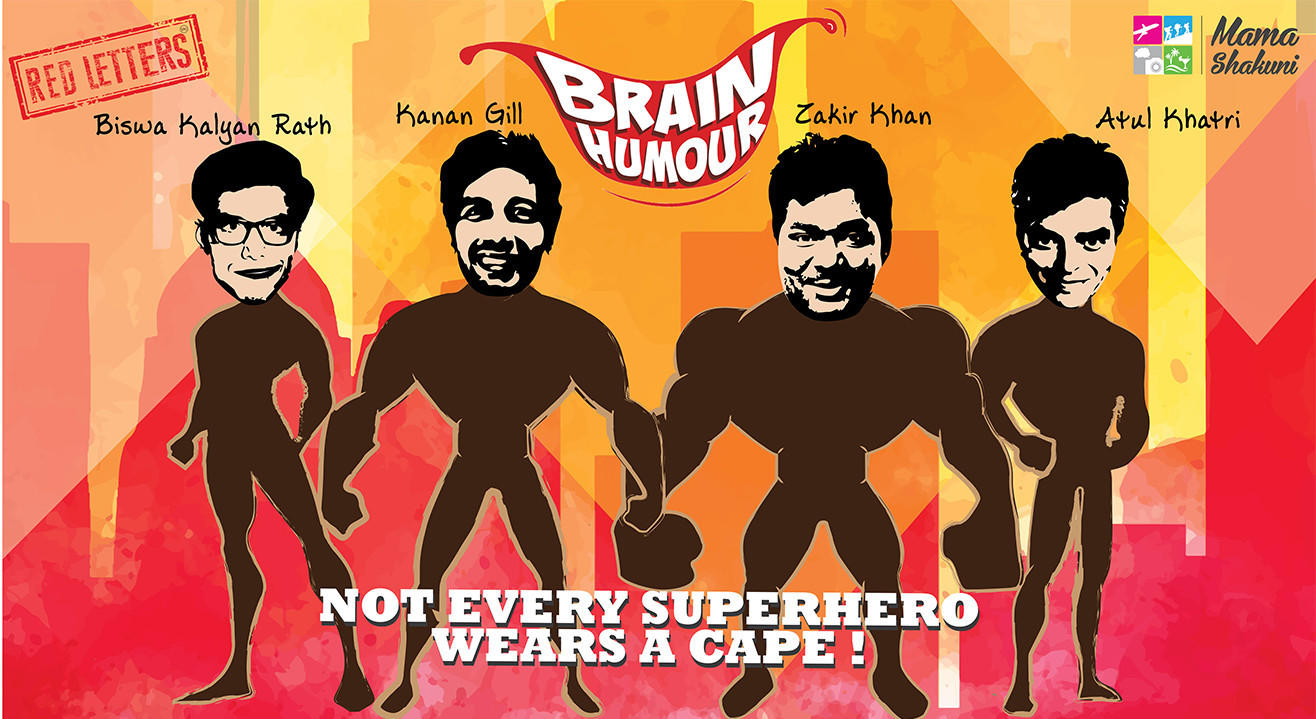 Comedy
Brain Humour: Stand-up by Biswa Kalyan Rath, Kanan Gill, Zakir Khan and Atul Khatri
Sri Shanmukhananda Chandrasekarendra Saraswathi Auditorium, Sion
About
If laughter is indeed the best medicine, then take a chill pill as four of the country's coolest stand-up comedians give you a dose of the giggles with their jokes and sketches at Brain Humour, a live stand up comedy event.
Biswa Kalyan Rath
Biswa's observational style of comedy can best be described as zany as he sarcastically rants about everyday social situations. Along with Kanan Gill, Biswa first made a splash on the Internet with the duo's Pretentious Movie Reviews. He now performs across the country and also posts experimental sketches on his YouTube page. Besides being a stand-up comedian, Biswa is a self-proclaimed philosopher, writer, actor, size-zero and banana enthusiast, blogger and an ex-IT professional.


Zakir Khan
Zakir Khan is one of the the brightest comedians in the country and was the winner of Comedy Central's hunt for Best Stand-Up Comic of India and Foster's LOL Evenings. A writer by day and a 'quintessential launda' by night, Zakir has won hearts and YouTube views all over the country with his charmingly endearing personality. A charismatic 'Confused Desi', he serves his take on modern India with a hard to resist rustic humour that'll have you nodding your heads and clapping as you'll relate to everything he says.


Kanan Gill
Kanan Gill is a writer, musician, stand-up comedian, actor, fitness enthusiast and India's Internet Boyfriend. He exploded onto the stand-up comedy scene by winning the Punchline Bangalore competition, and from there he went on to win the open-mic at The Comedy Store in Mumbai. He's done shows all over the country, leaving audiences everywhere in splits. He's most popular for his hilarious sketches and the Pretentious Movie Review series with fellow comic Biswa Kalyan Rath.
Atul Khatri
A 40+ guy (we're talking about his age, not IQ), Atul is part of one of India's top comedy collectives -- East India Comedy. He leaves his audiences laughing till they're sore with his personal brand of observational humor, full of digs at his community of Sindhis, dad jokes and relatable quips about middle aged folks trying to understand "youthz". He was one of the 3 finalists in the Melbourne International Comedy Festival contest which was recently held in Delhi and was rated by CNN-IBN as one of the top 20 comedians to watch out for.
Check out Zakir's Stand-up Comedy!
Venue
Sri Shanmukhananda Chandrasekarendra Saraswathi Auditorium, Sion
Plot No 292, Comrade Harbanslal Marg, Sion East, Mumbai, Maharashtra 400037