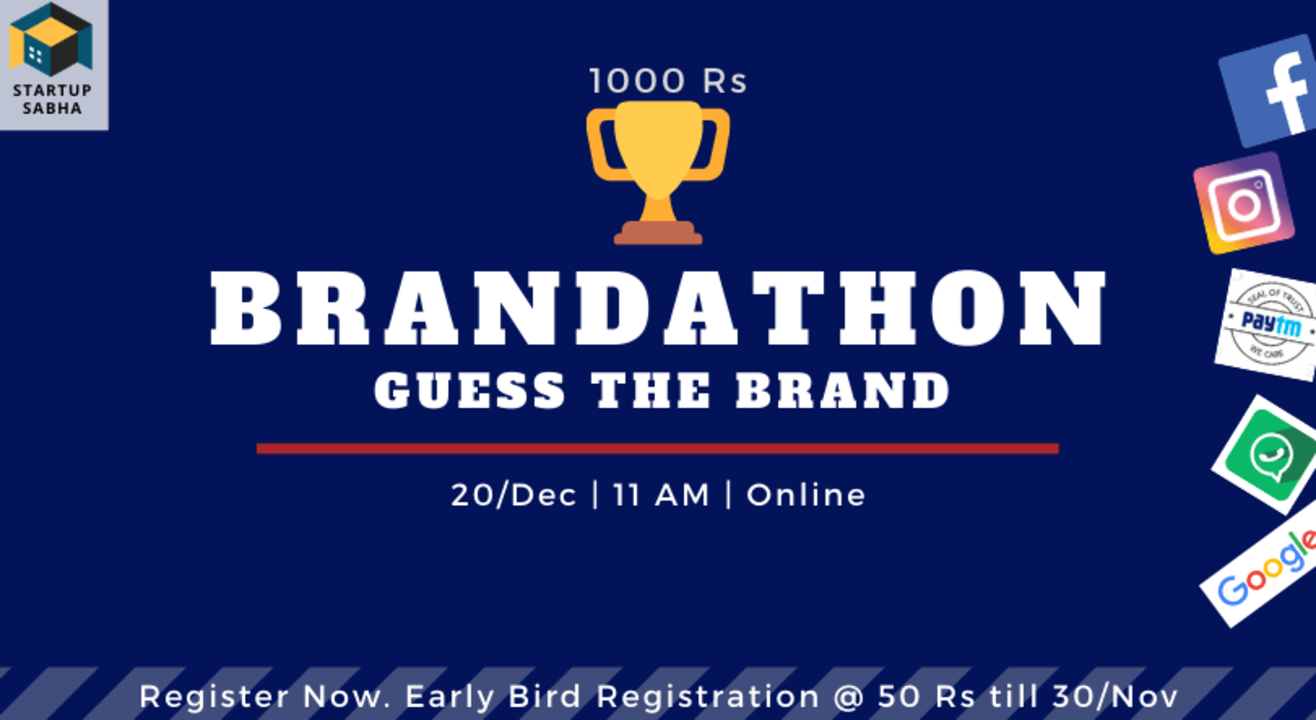 Brandathon by Startup Sabha - Winter Addition 2020
Enjoy this event from your home
Invite your friends
and enjoy a shared experience
Invite your friends
and enjoy a shared experience
About the Event
#More thought Provoking Questions #More Competition #More excitement #Compete among the Best
Brandathon concept was originally developed by Minna Törmälä a branding researcher at Oulu Business School for increasing brand awareness and knowledge among students, businesses, and professionals in a thrilling, competitive, and fun way.
Brandathon; Quiz is organized & sponsored by Startup Sabha a professional community of entrepreneurs and students. The winner of the contest will be awarded with a Certificate and a Cash prize of Rs 1000.
How it Works:
The contest (Quiz) is completely online and designed in a way that participants can experience the excitement and puzzling atmosphere of a real contest.
1. After registering for the contest you will receive a confirmation email.
2. Our team will add you in an online group (on Telegram) with all other participants for communication and coordination.
3. The contest comprises of 3 rounds: Pre-Lims Semi-Finals & Finals all 3 rounds will be conducted on 20th Dec itself.
4. In each round there will be 10~20 Questions and after each round the top 1/3rd participants (with maximum correct answers in lowest time) will go to the next round.
5. Difficulty of the questions will be increased with each passing round.
What is in it for you:
1. Winner of the final round will be awarded with a cash prize of Rs 1000 and he/she will be featured on the Linkedin page of Startup Sabha.
2. Digital Participation Certificate will be provided to all participants.
About the Organizer:
Startup Sabha: It is a professional community of Startups, entrepreneurs, students, and many more. It organizes events to encourage learning and networking among the society such as workshops seminar contests competition etc.
Follow here: https://www.linkedin.com/company/startupsabha
FAQ:
1. Who can Participate?
Ans - Any one and everyone can participate. There is no restriction.
2. What kind of questions will be asked?
Ans - Questions related to brand names tag lines logos etc. will be asked. Questions will be related to various industries: Auto FMCG Skin Care Software Social Media etc.
3. Is there any age restriction?
Ans - No
4. Will there be a practice session?
Ans - Yes we will conduct one practice session to make everyone familiar with the system.
5. Will a digital participation certificate be provided to everyone?
Ans - Yes
6. How will the winner receive the cash award?
Ans - Winner can choose any of these mediums: Paytm / G-Pay / NEFT.
More Questions: Feel free to contact us
Event Coordinator: Gagan / Shivangi
WhatsApp @ 9045379866 / 9045382866
Email Id : gagan@startupsabha.com / admin@startupsabha.com