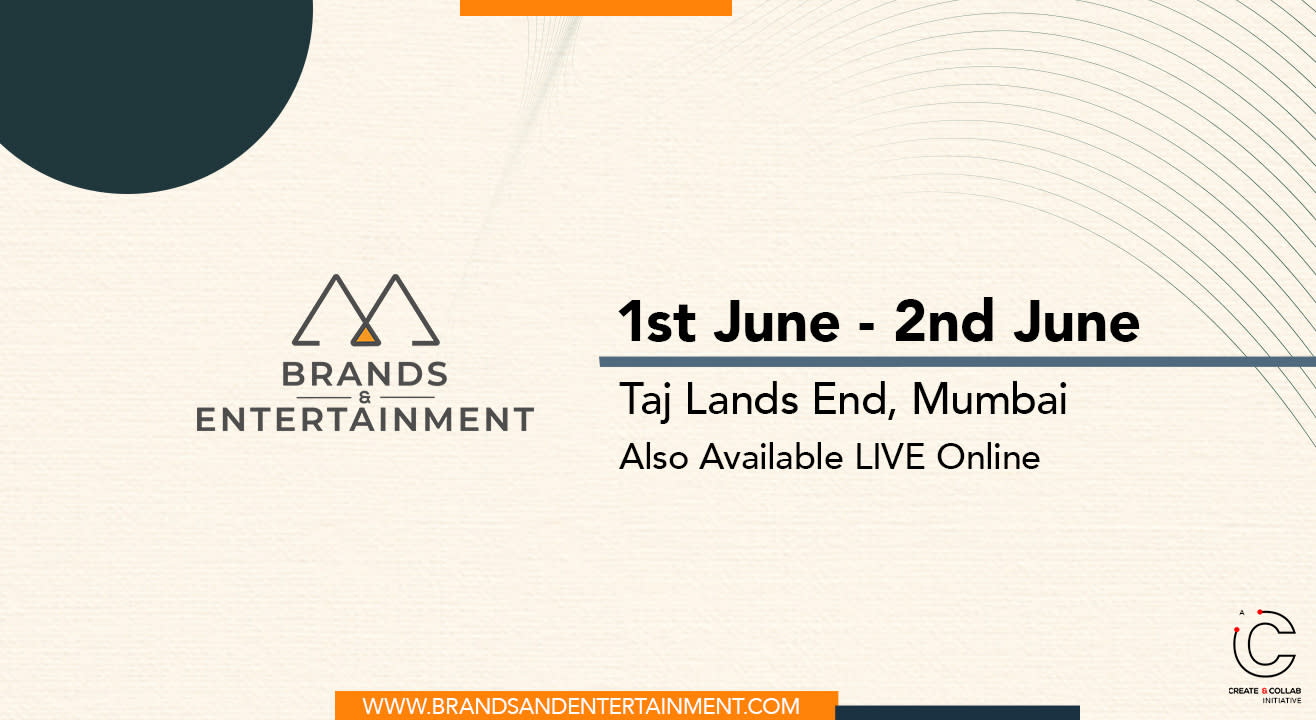 June 1 & 2 | 11AM - 6PM IST
Online & Taj Lands End, Mumbai
Step out and enjoy this event
Invite your friends
and enjoy a shared experience
June 1 & 2 | 11AM - 6PM IST
Online & Taj Lands End, Mumbai
Step out and enjoy this event
Invite your friends
and enjoy a shared experience
Covid 19 Safety Measures
This event adheres to the following

Health & safety measures
Social Distancing
Temperature Checks
Hand Hygiene Stations
Limited Capacity
Contactless Service
Sanitisation before the show
Proof of Vaccination Required
Invite your friends
and enjoy a shared experience
Covid 19 Safety Measures
This event adheres to the following

Health & safety measures
Social Distancing
Temperature Checks
Hand Hygiene Stations
Limited Capacity
Contactless Service
Sanitisation before the show
Proof of Vaccination Required
Brands & Entertainment brings the biggest creative curators and key decision-makers in the media landscape to collaborate and shape the future of branded content.
CONNECT, DISCUSS, DISCOVER.
WHO WILL BE THERE?
CMOs, CEOs, Brand Managers, Senior Managers & Marketing Managers of:
● Ad Agencies
● Artiste / Content Creators/Influencer
● Brands
● Creative Agencies
● Digital Media Agencies
● Events & Experimental Agencies
● Film Production Houses
● Gaming & E-Sports Platforms
● Marketing Agencies
● Music Labels
● PR & Marketing Agencies
● Radio Stations
● Short Video Platforms
● Social Media Platforms
● Technology Companies
● Television Channels
● Everybody connected with Brands & Entertainment.
2 days of Keynote Sessions, Panel Discussions, Path-Breaking Campaigns, Fireside Chats, Marketplace to Network and Brand Stories on the 1st June and 2nd of June 2022.
Q: How many people can attend the event on one ticket?
A: Each ticket allows a single individual to join the event from one device at a time. Both, mobile phones and computers are supported.

Q: Are there any discounts available for bulk bookings?
A: Discounts on bulk bookings of 30 tickets or more are available. Contact ticketing@brandsandentertainment.com to know more.

Q: When will the event schedule be released?
A: The event schedule will be released closer to the event. Day-wise schedule will be accessible by existing ticket holders only.


Hear from these industry stalwarts at Brands & Entertainment!
Aakash Shah
Founder, One Hand Clap


Aakash Shah, Founder of One Hand Clap and former host of parody account Bombay High Court, pathway to a successful media career began after multiple attempts at becoming a Chartered Accountant. He started his journey in Media with the page 'Unofficial: Bombay High Court,' a popular Facebook parody account that gained more than 300,000 followers. The humorous and comedic skits on the page earned him an opportunity at All India Bakchod, where he was the Head of Social Media, and successfully ran and managed the company's social media accounts. He also worked as a writer at ScoopWhoop. In 2019, he established One Hand Clap, a creative media agency that now works with clients such as Amazon Prime Video India, CoinDCX, Bumble India, CRED, and others. The agency specializes in giving voice to consumer-facing brands while bridging the gap between creators and brands.



Amit Doshi
Head, IVM Podcasts- Pratilipi


Amit Doshi, founder and head of India's number 1 podcasting network - IVM Podcasts is a serial entrepreneur with a track record of success in the tech and digital space. He founded IVM Podcasts in 2016, and it quickly grew to become India's leading and largest podcast network.



Anshul Rustaggi
Founder, Totality Corp


Anshul Rustaggi the founder of Totality Corp, knowledge includes combining scalability via technology, creativity through design, and retention through content. Totality Corp's vision is to establish a live persistent virtual world where individuals from all over the world may assemble, socialize, play games, and collaborate on projects. Together, they're building and creating a decentralized metaverse for India, with content themed around Indian culture and mythology.



Ashish Pherwani
Partner & Leader at Ernst & Young


Ashish has been a part of the industry since 1999. At EY, Ashish collaborated with over 50 media companies, including those in TV broadcasting & distribution, radio, content production, out-of-home, mobile, events, print, and gaming. He has given presentations at TV.nxt, INMA, EEMAgine, Indian Magazine Congress, Digital Signage Asia, Outdoor Asia, and many other events.



Atit Mehta
Head of Marketing at Think and Learn Pvt. Ltd, BYJU's


Atit Mehta is the Head of Marketing at Think and Learn Pvt. Ltd, BYJU's the learning app. Above the line and digital marketing, media planning and buying, content planning, and startup ecosystem marketing are among his specialties.



Brian Tellis
Founder of Radioactive Ventures


Brian is an entertainment, advertising, and experiential professional as well as a corporate consultant with over thirty years in the experiential and entertainment industry. A radio host since the inception of FM Radio in India in 1993, Brian has been hosting and anchoring live events for the last three decades.



Deepak Choudhary
Founder: XPRNC, EVENTFAQS Media, Laqshya Event Capital, WWI School of Event Management, Live 101


Deepak Choudhary is synonymous to the Indian events eco-system. The journey began in 2002 where Deepak founded Premier Event Management school, EMDI. In 2007, he co-founded EVENTFAQS, India's first B2B publication for the experiential industry. In 2013 he established Event Capital, India's largest Live Event Intellectual Property rights company with Laqshya Media Group. Deepak dabbled in education business again with co-founding Whistling Woods in partnership with Subhash Ghai. During the pandemic, Deepak invested in artist tech pllatform Live 101 & Doremi Ent thereon. Deepak now spends half his time in Dubai and has launched the first IP & festival company in UAE called XPRNC with Roshan Abbas. Deepak also co-author 'Staged' – the first-ever book on Indian live events.



Devraj Sanyal
MD & CEO - India and South Asia, Universal Music Group


Devraj Sanyal, is in charge of a multi-pronged music and entertainment model that places the label in the center and is strategically surrounded by independent SBUs such as Live, Merchandising, Branded Solutions, and IP businesses. He also presides over Universal's domestic pop non-film superstar label VYRL Originals. He has a proven track record of delivering strategic and commercial objectives in the Media & Entertainment sector, with domain expertise in the Music industry and experience in building values-driven businesses from the ground up.



Gunjan Arya
CEO, OML Entertainment Pvt. Ltd


Gunjan Arya has extensive experience in the fields of media, marketing, and design, having begun her career at the age of 16, and launching her own brand consulting firm, 'Design of Information,' in 2009. She has been with OML since 2015 and has been crucial in establishing the company's worldwide creator network over the last three years, which now spans 20+ countries and 1500+ content producers, assisting brands and platforms in building equity.



Hemant Dua
Co-Founder & CGO, Do Your Thng, Creator Community Platform


Hemant Dua has more than 25 years of global leadership, including a decade of strategic development and plan execution. Before DYT, he held the position of CEO at GMR Sports and managed - Delhi Daredevils, UP Yoddha & Dilli Veer - 3 professional sports franchises in Cricket, Kabbadi and Wrestling. He was instrumental in structuring the first-ever divestment of an IPL franchise. Prior to that, he served as the Asia director of Octagon, a leading sports management agency globally. He has worked on global events like Olympics, ICC World Cup, Word Cup Gymnastics and many more. He brings with him experience in managing and scaling businesses, strategy, nurturing talent, consumer behaviour and entrepreneurship.



Isteyaq Ahmed
National Head- Digital, Red FM


Isteyaq Ahmed is a forward-thinking digital professional from the broadcast media and sports industries, with a unique combination of creativity and analytical skill, as well as the ability to assess both perspectives at the same time. While at Red FM, Isteyaq has won numerous accolades such as Emvies for best media marketer, best media strategy, and ERA for the best FM brand.



Jigar Sheth
Chief Revenue Officer at Esports & Gaming Company Nodwin


Jigar Sheth is currently the Chief Revenue Officer at Esports & Gaming Company Nodwin. He has worked on the revenue and budgeting sides of the media and entertainment industries, as well as the marketing angle.



Karthik Nagarajan
Head-Branded Content, GroupM


Karthik Nagarajan, Head of Branded Content at GroupM, he is in charge of guiding clients through a content journey based on tangible data measurements, media, and commerce fundamentals.
He assisted and reshaped GroupM's content product, and pioneered new products such as the GroupM Command Center and RADAR - an audience data platform designed for rural insights. He had a major role in Brew, India's first branded content up-front event IP. He brands his podcast #TheFilterKoffeePodcast as, ""a window into the minds of the most interesting people that I have met - a peek into their craft, passions, and convictions."" He is also working with a team that is helping farmers in the Krishnagiri district adopt organic farming as a sustainable, long-term practice.



KV Sridhar
Global Chief Creative Officer, Nihilent Hypercollective, Nihilent Limited


KV Sridhar is currently the Global Chief Creative Officer for IT Services Consulting company Nihilent Limited and advertising services company Hypercollective. Fondly known as Pops, he is a graphic designer, storyteller, teacher, social commentator, movie buff, advertising professional and cricket fanatic. KV has a demonstrated history of working in the marketing, advertising, and technology industries, and works at the intersection of creativity and technology.



Mae Mariyam Thomas
Presenter, Podcaster, Producer- Maed in India


Named among GQ's 50 Most Influential Young Indians, those in attendance will benefit from her insights as a podcast consultant - where she develops audio concepts, plans episodes, and supervises podcast production and distribution. 'Maed in India' is a Webby Award Honoree in the category of Limited Series & Specials - Diversity & Inclusion. She is known for hosting Maed in India. India's first indie music podcast, which was named one of Apple's Best Podcasts of 2018 in India, along with more critical acclaim and accolades.



Mithilesh Patankar
Content Creator, OpraahFx


Mithilesh Patankar has a wide range of content, majority of which is based on video games. His YouTube channel is one of India's most popular gaming channels, with over a million subscribers. He also runs host own podcast, The Mythpat Podcast, described as "India ka first time pass podcast". He discusses a variety of topics with his guests and co-gamers, including the benefits and drawbacks of being a YouTuber, his voice mimicry, YouTuber anxiety, and more.



Owen Roncon
Board Of Advisors-BookMyShow Live


Owen's career in media and entertainment spans two decades, and he has seen the event industry evolve from being a 'party organizer' to a genuine part of the marketing and outreach mix for brands and consumers. He was also a key person in the organization of the One Tree Festival, and now the Mahindra Blues Festival. He was a founding member of Fountainhead and Oranjuice Entertainment, two of India's most admired and well-known event companies. Owen Roncon is currently working with BookMyShow Live.



Preeti Nayyar
Vice President- Brand Partnerships, UMG & South Asia


Preeti Nayyar is a 20+ year veteran in the Media, Music & Entertainment industry in the region. A proud Harvard alumnus, Nayyar has spent the greater part of her career setting up and running non-traditional revenue verticals at some of India's top glocal brands like The Walt Disney Company, Fox Star Studios, India Today Group, Times of India & now Universal Music Group for five years. Her main passion is to be able to tell some of the most relevant brand stories of all time through music and its multiple allied businesses.



Raunak Munot
Co-Founder, Trove Experiences


Raunak Munot has a Master's degree in Creative Brand Management from the VCU Brandcenter in the United States, as well as 5 years of work experience managing digital and social media strategy for luxury brands such as Audi, Jaguar Land Rover, XPRIZE, and others. Raunak co-founded Bombay Shaving Company, a men's grooming company, spearheading the brand's marketing.



Resha Jain
Vice President - Content Marketing, SUGAR Cosmetics


Resha Jain is a data-driven content strategist, marketer, and communication specialist. She has over 14 years of media and entertainment experience, as well as 8+ years of e-commerce experience in content strategy, creation, automation, and distribution for Fashion, Beauty, and Lifestyle businesses.



Rishi Bradoo
Co-founder and Creative Lead, Swaraj Project


Rishi Bradoo is an Artist/Music Producer, who cut his teeth in India's developing independent music industry. He is the co-founder of Stitch Audio - A studio.He is also the co-founder and creative lead for The Swaraj Projekt - An organisation of technologists and artists building decentralised IPs that can be truly owned by fans, in the emerging digital goods economy in Web3. "At Swaraj, we believe Artists should be treated as the innovative leaders they are, and fans should be treated as patrons and not passive consumers."providing audio solutions for artists, creators, and film makers, with a close attention to spatial audio for metaverse applications.



Roshan Abbas
MD-VMLY&R Encompass Founder Kommune, RAP, XPRNC - President EEMA


Roshan Abbas is an entrepreneur, author, film & theatre director, TV and radio host, podcaster, producer, and angel investor. He now attempts to shine the spotlight and provide a platform to others by connecting people to opportunities.



Sameer Nair
CEO, Applause Entertainment


In his career, Sameer Nair's influence has spread across multiple networks including Star India, Balaji Telefilms Ltd, and NDTV Imagine Ltd. He has a track record of success in the entertainment industry. Attendees will benefit from his skills in Content Creation, Revenue Functions, Brand Management, Media Planning, and Team Leadership.



Shailesh Kapoor
Founder and CEO, Ormax Media Pvt. Ltd


Shailesh Kapoor, he Founder and CEO of Media Consulting company Ormax Media Pvt. Ltd. His career in media spans multiple companies including Zee Telefilms Ltd, Zoom Television, and Sahara One Media and Entertainment Ltd. He turned entrepreneur in 2008, after nine years in the industry in various marketing, content, business, and strategy roles. He then co-founded Ormax Media, a company that pioneered the use of insights to help Indian media companies make financially sound and consumer-centric business decisions.



Shreyansh Pandey
Head of TVF Originals,TVF


Shreyansh Pandey is a creative producer, showrunner, and writer. He was named on Social Samosa's 30Under30 winner's list while operating at TVF Originals as AVP - Content Strategy & Creative Producer. He worked on premium TVF Originals such as Kota Factory, Permanent Roommates S2, TVF Pitchers, TVF Tripling, and Humorously Yours for a multitude of sectors, including FMCG, Automobiles, and e-commerce.



Siddharth Roy Kapur
Founder & Managing Director, Roy Kapur Films; President, Producers Guilf of India


Siddharth Roy Kapoor is the founder and managing director of Roy Kapur Films, and has also previously served as the Managing Director of The Walt Disney Company India and as CEO of UTV Motion Pictures. Following his graduation, Siddharth began working for Proctor & Gamble. He then joined Star Plus, where he worked on marketing during the launch of Kaun Banega Crorepati (2001). Siddharth's filmography includes some of India's highest-grossing and most critically acclaimed films and shows, including Dangal, Kai Po Che!, and The Lunchbox, to name a few. He recently produced the mega hit series Rocket Boys for SonyLIV and Aranyak for Netflix. Among Roy Kapur Films' upcoming films and shows are Pippa, a war drama set in 1971, and Woh Ladki Hai Kahaan? a comedy drama. In 2021, he was unanimously re-elected as President of the Producers Guild of Indiana. Siddharth has been featured on Variety's Top 500 list of the most influential people in global entertainment for five consecutive years, and on The Hollywood Reporter's 'Next Generation Asia Inaugural Class of Young Leaders', among numerous other accolades for his leadership and achievements. He is also a trustee of the Mumbai Academy of the Moving Image, and a co-chairman of the Confederation of Indian Industry.



Sukesh Nayak
Chief Creative Office, Oglivy


Sukesh Nayak's ability to tell compelling stories is evident across his body of work on Cadbury, Coca Cola, Asian Paints, Tata, Bajaj, Swiggy, Hamam, Star Sports, HotStar, Google, Tata Motors, Castrol, ITC, JSW Steel, Shan Masala, Amazon, Fortune Oil, Economist, Axis Bank, Pantaloons, UNEP, Bandhan Bank, Indian Railways, Mattel, Fox Crime, MTDC, Wildstone, IAPA- Adoption Awareness and the ICC Cricket World Cup. He was one of the few people from India, listed in Campaign Asia's 40 Under 40 in 2015. Cadbury SRK-My-AD, Not just a Cadbury ad, Cadbury Good Luck Girls, Thums Up Palat De, 5 Star Do Nothing Coin, Cadbury Proud Sponsors of the Ground Staff, Cadbury Unity Bar, Perk Disclaimers, Cadbury My First Raakhi, Hamam Waterproof Sarees, 5 Star Do Nothing Mode, Castrol TruckAsana, Cadbury Purple Heart, UNEP Masaba, IWillWearOutPlastic, FeviCall, Seagrama's The Legacy Project, DNA Fights Rape are few examples that he defines as the way forward for engaging storytelling. Over the years, he has won over 400 national and international awards, including accolades at Effies, AMEs, Kyoorius, Adfest, Spikes, D&AD, One Show, London International Awards and Cannes. The one he treasures most, however, is the phone call that he received from his father after the Google Reunion film went viral.



Dr. Trinetra Haldar Gummaraju
Doctor/ Intern, Content Creator, Actor, Trans Woman


Dr. Trinetra Haldar Gummaraju is well-known for her activism, discussing transgender rights, political issues, and feminism. She mentors trans people, shares insecurities, worries, and missteps, and calls out trolls through her content. She is regarded as one of India's first openly transgender content creators and she recently featured in Forbes India 30 Under 30 Class of 2022.



Varun Duggirala
Co-Founder, The Glitch; Creator & Author


Varun Duggirala co-founded 'The Glitch' theglitchplex in 2009 and has since helped grow it to be one of the leading creative agencies in the country (Global AD Giant WPP acquired it in 2018). He hosts one of India's most popular business podcasts, 'Advertising is Dead', and co-hosts one of its most irreverent business podcasts, 'Think Fast'. He shares ways to optimise your mindset to perform better in life on his thrice-a-week podcast series 'Take a Pause with Varun Duggirala,' and writes a weekly newsletter "Unschooled". His first book "Everything is Out of Syllabus" released in February 2022 and has already hit No #1 on the creativity & entrepreneurship best-seller charts.



Vinit Karnik
Head of Sports, eSports, and Entertainment - South Asian, GroupM Media India


Vinit is currently employed by GroupM as the Head of Sports, eSports, and Entertainment for the South Asian markets, and he specializes in developing and coordinating marketing strategies for brands and services. He is also a proud contributor to GroupM's award-winning streak. He is a highly accomplished professional with more than 25 years of experience in Media, Entertainment, and Sports Management.


Online & Taj Lands End
Band Stand, BJ Road, Mount Mary, Bandra West, Mumbai, Maharashtra 400050
GET DIRECTIONS
June 1 & 2 | 11AM - 6PM IST
Online & Taj Lands End, Mumbai
Step out and enjoy this event
Invite your friends
and enjoy a shared experience