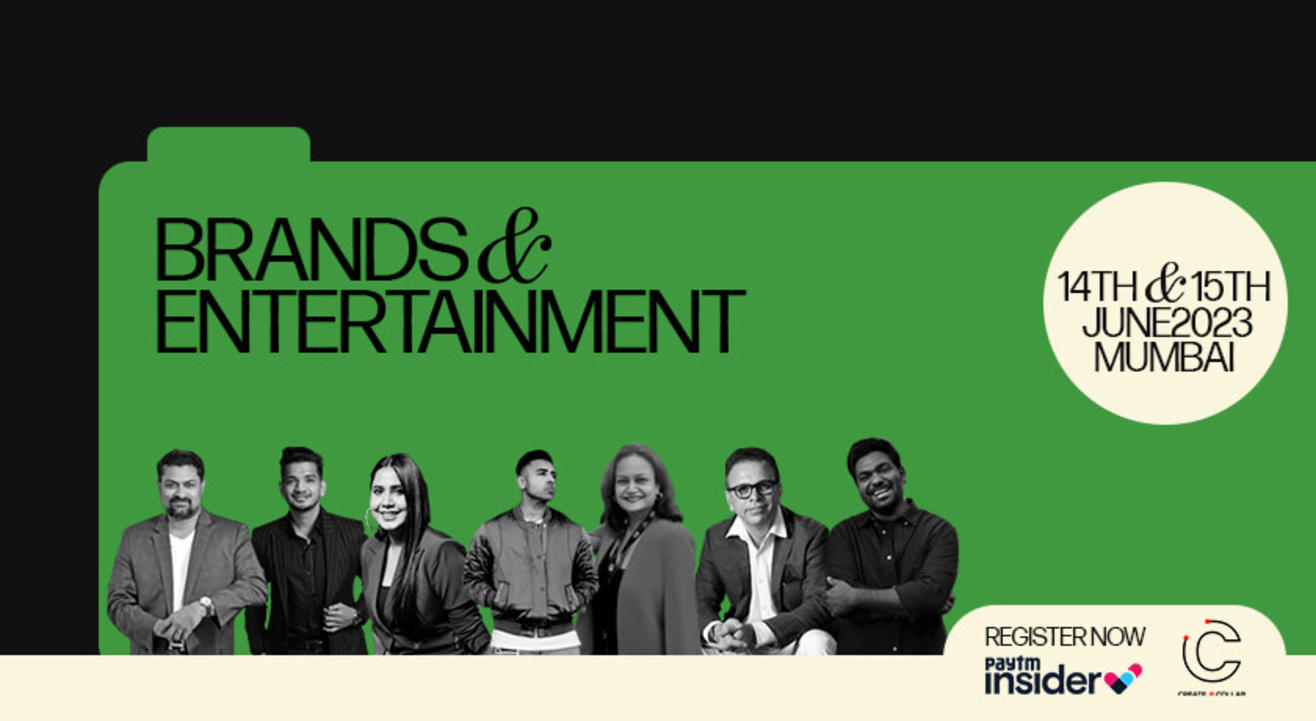 Brands and Entertainment 2023
Step out and enjoy this event
Invite your friends
and enjoy a shared experience
Brands and Entertainment 2023
Step out and enjoy this event
Invite your friends
and enjoy a shared experience
Covid 19 Safety Measures
This event adheres to the following

Health & safety measures
Social Distancing
Limited Capacity
Contactless Service
Sanitisation before the show
Invite your friends
and enjoy a shared experience
Covid 19 Safety Measures
This event adheres to the following

Health & safety measures
Social Distancing
Limited Capacity
Contactless Service
Sanitisation before the show
For this 2nd Edition, our vision at the conference is to bring together industry leaders and innovators in the branded entertainment space to discuss the latest trends, share best practices, and collaborate on new opportunities.
We aim to create an environment that fosters learning, networking, and creativity, ultimately advancing the industry as a whole.
WHO WILL BE THERE?
CMOs, CEOs, Brand Managers, Senior Managers & Marketing Managers of:
● Ad Agencies
● Artiste / Content Creators/Influencer
● Brands
● Creative Agencies
● Digital Media Agencies
● Events & Experimental Agencies
● Film Production Houses
● Gaming & E-Sports Platforms
● Marketing Agencies
● Music Labels
● PR & Marketing Agencies
● Radio Stations
● Short Video Platforms
● Social Media Platforms
● Technology Companies
● Television Channels
● Everybody connected with Brands & Entertainment.
2 days of Keynote Sessions, Panel Discussions, Path-Breaking Campaigns, Fireside Chats, Workshop, Brand Stories and Networking Lounge to connect with key players on one on one bases. Come join us on the 14th June and 15th of June 2023.
FAQ's
Q: How many people can attend the event on one ticket?
A: Each ticket allows a single individual to join the event.
Q: Are there any discounts available for bulk bookings?
A: Discounts on bulk bookings of 10 tickets or more are available.
Contact megha.purkayastha@createandcollab.in to know more.
Q: When will the event schedule be released?
A: The event schedule will be released closer to the event. Day-wise schedule will be accessible by
existing ticket holders only.
Terms & Conditions:
-You are required to carry a valid ID Proof for the event.
-You shall follow the security procedures. Organizer/Management reserves the right to conduct security checks at
the event.
-Organizer/Management shall have the right to deny entry in case you are found in an inebriated state or if you are
late to the event.
-Venue rules apply.
- The schedule is subject to change as per the organiser's discretion.
- No refunds on purchased tickets are possible, even in case of any rescheduling.
- For any ticketing related queries please contact mail us at
ticketing@brandsandenetertainement.com
- Age Limit for the event is 18 & above
- Attendees are prohibited from recording the event in part or whole.
- Tickets are non transferable.
- The ticket holder grants the organiser the right to use all or any part of the event's recording for
promotional purposes in perpetuity.
- Any misbehaviour within the comments/chat/networking section or use of profanity towards the
organiser, speakers, hosts or attendees will not be tolerated.
-We are committed to a respectful, safe environment free from harassment, violence,
discrimination, bullying, abuse, and solicitation. All parties, artists and attendees are to be treated
with respect and dignity. Participation in activities or behaviours that discriminate on the grounds
of race, colour, place of origin, gender, age, marital status, religious beliefs, citizenship, mental
and physical abilities, sexual orientation, or any other prohibited grounds within applicable law
will not be tolerated.
Hear from these industry stalwarts at Brands & Entertainment!
Aayushman Sinha
CEO & Founder - Represent Entertainment Services


Aayushman Sinha is an entrepreneur with a vision of building and enabling pop culture in India. He's actively involved in building REPRESENT, an entertainment company known for managing the best pop musicians in the country and for consulting some of the most prestigious brands on music, he's a partner at BlackCab and it's Network Agencies, a full suite of marketing, creative and advertising services, and actively invests in start ups through his micro-VC fund Patronus and network - DotIn.



Aditi Shrivastava
Co-founder & CEO - Pocket Aces Pictures Pvt Ltd


Aditi is Co-Founder and CEO at Pocket Aces, India's leading digital media entertainment company, whose mission is to be a Global Culture Creator that Influences People Positively. The Company operates India's largest socially distributed content network which includes five diverse brands: FilterCopy (short fiction), Dice Media (multi-episode web series), Gobble (lifestyle), Nutshell (infotainment), and Jambo (young-adult animation). Pocket Aces also operates Clout India's largest digital influencer management practice Aditi graduated magna cum laude from Princeton University majoring in Electrical Engineering and Computer Science. She is a CFA (USA) charter holder, and a Shaper in the World Economic Forum Global Shaper Mumbai Hub. She serves on the advisory board of Jibu, an affordable clean drinking water enterprise in East Africa.



Akshay Tandon
Co-Owner & President- FC Goa


Akshay Tandon is a visionary entrepreneur and business leader with a passion for innovation and sustainability. He is the President and Co-Owner of FC Goa, one of the most successful football clubs in India, and the founder of the Force Goa Foundation, a non-profit organization promoting sports and education among underprivileged children. Akshay has also served as an advisor and interim CEO for Josmo, transforming the company from a design studio to a manufacturer capable of scaling as a B2C and B2B player. He is the Founder and CEO of Solarpunk Futures, promoting sustainable energy and environmental protection. Akshay is committed to making a positive impact on the world around him through his leadership, vision, and dedication.



Angshuman Gogoi
Digital Manager Consumer Care- Glenmark Pharmaceuticals


Angshuman is an accomplished digital marketing professional who currently leads the digital marketing initiatives at Glenmark Consumer Care. Previously, he led growth marketing for V-Mart Retail's D2C platforms and e-commerce marketplaces. He also worked at WATConsult, part of Dentsu International, where he led digital media strategy and planning for their North BU. With his diverse experience, Angshuman brings a wealth of expertise in driving digital marketing success across different industries.



Aparajita Mukherjee
Head of Content & Advocacy- DIAGEO India


Aparajita Mukherjee, Head of Content and Advocacy at Diageo India. Discover how she's reshaping the brand landscape and making brands relevant in culture. From iconic labels like Johnnie Walker and Tanqueray to McDowell's No1 and more, Aparajita oversees it all! With 12+ years of experience and a background in journalism, she's a true industry powerhouse.



Dr. Trinetra Haldar Gummaraju
Content Creator, Actor, Doctor


"Dr. Trinetra Haldar Gummaraju is a content creator, actor, and Karnataka's first transgender doctor. She was on both India's and Asia's Forbes 30 under 30 Lists in 2022, and on GQ's 30 Most Influential Young Indians List two years in a row. As a woman of trans experience, her content often addresses misconceptions and stigma around the queer and trans communities in ways both real and comedic, her life in and out of the hospital, her experiences in transition, and more. Gummaraju among others provided gender and sexuality sensitisation to the honourable Madras High Court, leading to a series of orders by the court to ban conversion therapy, remove queerphobic content from medical literature, and various other protections. Gummaraju will make her acting debut in upcoming Amazon Prime web-series Made In Heaven Season 2."



Durga Gawde
Artist/Sculptor/Educator/Activist- New Clear Ideas Pvt ltd


"Sculptor, Educator, Activist and India's first performing drag king. Durga's work, thoughts and intentions have been published in numerous publications like Art India, Architectural Digest, Vogue, GQ, Femina, Harper's Bazzar, Elle Decor, Homegrown to name a few. Durga was part of the Grazia magazine 'Cool list 2018', and on the digital cover of Vogue India Sept 2019. Durga was on the cover of Rolling stone magazine India June 2020"



Gunjan Arya
CEO- OML Entertainment


"Gunjan is the CEO of OML Entertainment, a new media and entertainment company that's been partnering with creators and platforms to participate in culture for the last 20+ years. With its roots in creator management and artist representation, OML's operations today includes an award-winning content studio that packages and produces a record number of scripted and unscripted shows for OTT platforms, and a global brand solutions business. Gunjan has been working in the field of media, marketing and design since the age of 16 and started her own brand consulting company 'Design of Information' in 2009, which won several coveted awards globally. Gunjan, who has been part of OML since 2015, was instrumental in building OML's Global Creator Network that now operates across 20+ countries and 1700+ content creators that helps artists, brands and platforms build equity; and now offers a self-service solution for the Influencer Marketing industry through an online platform called Hypothesis. Gunjan is an alumnus of the Schools of Communications and Visual Arts at Emerson College in Boston, with further education from Harvard Business School. Her time off-line is best spent cooking with her husband or at the barré."



Gurpreet Singh
Co-founder & COO, One Digital Entertainment


Gurpreet Singh is the co-founder of Asia's leading digital video and creator network, One Digital Entertainment. Home to thousands of content creators, influencers, musicians and platforms alike; the network caters to a gamut of genres. ODE empowers content creators and studios, enabling them to build their digital portfolios, produce & distribute their content effectively and monetize via strategic associations with various platforms and brands. Apart from being one of the first companies in Asia to scout and groom talent over the digital platforms, ODE enjoys an esteemed reputation of working with over 1000+ brands in the space of new age marketing and also has made strategic investments in various ventures operating in the fields of social commerce, podcast studios, on ground IP's, Web 3.0 and more. Being named as BW Business World's "Hottest Young Entrepreneurs 2019" and winner of various other several accolades synonymous with his contribution to the Indian digital entertainment industry, Gurpreet has earlier worked with media giants like Viacom 18, UTV New Media (Disney) and Hungama Mobile. Gurpreet envisaged his journey as a full-fledged entrepreneur when he launched his first mobile services company at the age of 17 in 2002 and has not looked back since.



Himani Agarwal
Senior VP - Hypothesis, OML Entertainment Pvt Ltd


"Himani started off as a analytics consultant at PwC for about 4.5 years before finding her niche in digital media and the amazing world of content! She's worked at Culture Machine and Vice Media since. At Culture Machine she managed the content strategy, audience insights, marketing and social media strategy. She has also worked on a technology product which was a content recommendation engine for brands and creators. She has over 12 years of experience in the field of analytics and data science and she is a graduate of Indian Institute of Technology, Kanpur. At OML, Himani leads the Hypothesis team, that is building the future of influencer marketing with an AI-powered social prediction engine that enables creator economy with data backed decision making. Himani's vision for Hypothesis is to be a future-ready decision making tool that enables creators, brands and agencies with data and a global measurement standard for influencer marketing."



Hitesh Rajwani
Founder & CEO, Social Samosa Network


"Hitesh Rajwani heads Social Samosa Network, a group of online media publications which report the Advertising, Marketing, Creators and Local Businesses Landscape in India An MBA graduate from Symbiosis, Hitesh holds expertise in Content, Digital and Influencer Marketing. Over the years, he has built and scaled Digital Businesses and IPs across genres. Hitesh has been a speaker and Panelist at Industry Forums like CII Kolkata, Nasscom CSR Conference Delhi, Brands and Entertainment, Creative Solstice by Pepper. Jury at Talent Track Awards, Inkspell Drivers of Digital Awards, exchange4media IDMA and Indigo 6E Appsters."



Janice Sequeira
Digital Content Creator


Janice is known to bring out the best stories! The prolific content creator and media strategist, Janice Sequeira is one of India's top celebrity hosts. Known for her innovative chat show concepts, Sequeira has interviewed some of India's leading personalities and has a knack for drawing out authentic conversations.



Kabir Chandra
Head - Music Partnerships, Meta


In his role as Head of Music Partnerships at Meta India, Kabir has spearheaded the launch of all music tools across Instagram and Facebook in India, including the Music on Reels. With a diverse background that includes experience as an RJ, heading the digital business of a music label, and heading music in India at a tech company, Kabir has been an integral part of the digital landscape's evolution in India.



Kumar Razdan
Vice President- Nesco Ltd.


Kumar has been active in the space of entertainment, sports & internet commerce for close to 18 years. His past experience encompasses Media, Brand Solutions & launching new IP's. Kumar is instrumental in launching some of the most prestigious IP & content in India like Disney's Aladdin, Peppa Pig, Mughal E Aazam & many more. He also has vast experience working one some of the biggest IP's in India like Global Citizen, Just Bieber India Tour, Sunburn & many more.



LOKESH SUJI
Director - ESFI | VP - Asian Esports Federation


"Lokesh Suji aka dAwesomeNinja Esports Evangelist | Director - Esports Federation of India | Board Member & VP-South Asia (Asian Esports Federation) | Chief Gamer & Founder Ustreak Business owner by day and esports fanatic by night; Lokesh Suji aka dAwesomeNinja (that's his ingame name), is an esports Evangelist, Hustler and a Telecom Veteran with 18+ yrs of corporate experience with companies like Huawei, Tata Communications, Airtel, Reliance. He is a known name when it comes to Indian Esports. Over the years been part of esports, and across different formats and categories of games, he found that the vertical in India is unstructured & Unexplored, which needed to be developed along professional lines – much in the same way that other forms of sports are being developed in the country (be it Cricket, Football or now Kabaddi). His aspiration is to ensure that the category of esports is created and managed in much the same way as it is in countries like the United States, European Union, South Korea and China. "



Mitesh Kothari
Co-founder and Chief Creative Officer - White Rivers Media


Mitesh Kothari is the Right Brain of White Rivers Media, an independent, integrated, digital marketing agency based in two locations in Mumbai and one in Delhi. A MarTech enthusiast and a new-age marketer, Mitesh firmly believes that corporate bottom lines can be improved through greater customer engagement, mutual understanding, and merging technology with creativity. At White Rivers Media, Mitesh is responsible for incorporating new MarTech and currently leading various initiatives across Blockchain, Artificial Intelligence, Augmented Reality, and a few others that we'll probably find out about through WRM's upcoming campaigns. He specializes in the development of innovative marketing strategies, digital media strategies, customer segmentation, and brand positioning.



Munawar Faruqui
Artist


Munawar Faruqui is a multi-talented artist who has made a significant impact in both the stand-up comedy and music scene in India. With his keen interest in music, Munawar has successfully combined his two passions to create a unique and captivating style that has resonated with audiences across the country. His recent release "Alag BT" has been a hit, showcasing his ability to blend various genres seamlessly and create something truly unique. Munawar's previous tracks like "Khawab," "Kalandar," and "Khawahish" have also been highly popular, proving his versatility as a musician. But Munawar is not just a talented musician; he is also a highly acclaimed stand-up comedian known for his sharp wit and humor. He has the ability to connect with his audience in a way that few others can, making him a beloved performer among fans of all ages. What sets Munawar apart is his ability to create art that is both thought-provoking and entertaining. His music and comedy tackle a range of subjects, from love and relationships to politics and social issues, always with a unique perspective that challenges audiences to think deeper. Overall, Munawar Faruqui is a gifted artist with a bright future ahead of him. His ability to create art that is both entertaining and meaningful makes him a valuable addition to any platform or stage, and we can't wait to see where his talents take him next.



Nimish Raut
Global Head Partnerships - Nodwin Gaming


"New age sports marketing person who switched to esports around 2013-14 and made his mark across the SEA region. The switch to mainstream esports happened with riot games followed by an India lead role with one of the best esports team in the world 'Fnatic'"



Priyanka Paul
Artist- Artwhoring


Priyanka Paul aka Artwhoring is a multi-disciplinary artist and writer from Mumbai, India. Their work revolves around the themes of social justice, marginalisation and self exploration and has been published and exhibited globally. Paul's work uses bright and pastel colours interspersed with humour to talk about themes ranging from gender and caste to analysing current media trends and contemporary society.



Rahul daCunha
Managing Director- daCunha Communications Pvt Ltd


Rahul daCunha has balanced the parallel careers of advertising and theatre for over three decades. His advertising career includes stints at Lintas India and Contract where he worked on campaigns for Hamara Bajaj and Shoppers Stop. He has managed the creative product for daCunha Commmunications for 30 years, overseeing the much loved Amul Topical campaign. Rahul's productions have travelled to USA, the UK, South Korea, Singapore, Holland, Belgium, Germany and Malaysia. Most recently he has entered the world of films, and is in the process of making his first feature, along with Bugs Bhargava Krishna, titled Pune Highway.



Rishabh Nahar
Sr. Vice President-OML


Rishabh started out as an intern at OML & insider.in in 2013 and has been working with OML since then. He holds a Harvard Business School certification for Negotiation Mastery & has been leading OML's Creator Management and Live efforts in both domestic & International markets. With an artist first approach & a 360 degree management solution, OML manages a diverse roster of 87+ creators across comedians, creators / influencers, a chef, a mentalist and writers & directors, building opportunities across Brands, Content, Live, Equity deals, Building Talent led companies and more.



Rohan Rehani
Founder - Moonshine Meadery


Rohan Rehani is the Co-Founder of Moonshine Meads - Asia and India's first Meadery. Mead - is a gluten-free alcoholic beverage made by fermenting honey, with fruits & or spices. Moonshine has been commercially available in India since 2018, Sourcing honey directly from beekeepers, Moonshine offers not only its flagship Meads—Apple Mead, Traditional Mead and Coffee Mead — which are available all year round, but also seasonal meads known as MeadLABs. These include Salted Kokum Mead, Guava Chilli Mead, Chocolate Orange Mead, Grilled Pineapple Mead, and many more. Apart from offering meads, Moonshine also has its own wing of 'Moonshine Honey Project', which uses a unique 'Hive to Table' approach. Through this, they offer a variety of uniflora honey, such as—Acacia Honey, Mustard Honey, Sidr Honey—freshly sourced from their own bee boxes.



Rohit Kumar Singh
Secretary - Department of Consumer Affairs


Shri Rohit Kumar Singh is an IAS officer of the 1989 batch, Rajasthan cadre. After graduating in Electrical Engineering from Indian Institute of Technology(IIT), Banaras Hindu University (BHU), he completed Masters in Computer Engineering from Clarkson University, New York, USA before joining the IAS. Subsequently, he obtained Masters in Public Administration (MPA) from Harvard University, USA. At IIT BHU, he received the Director's Outstanding Merit Award in 1982 & 1983; and the Distinguished Alumnus Award recently in December 2021. At Harvard University, he was honored as Lucius N. Littaeur Fellow 2004 for outstanding academic performance and commitment to public service. He has worked extensively and provided leadership at the middle and senior levels in Government of India & in the state of Rajasthan across departments e.g. National Highways, Medical & Health, Home, Information Technology, Finance, Commercial Taxes, Urban Infrastructure Development, Road Transport, Rural Development, Culture and Information & Public Relations. He led the government initiative of reviving Public Private Partnerships (PPP) in National Highways via key policy interventions like the Hybrid Annuity Model through appropriate risk allocation among the public and private partners. He also successfully led the initiative of asset recycling of public funded national highways (Toll Operate Transfer Model) that resulted in one of the largest FDI in the highways sector amounting to USD 1.5 billion, one of the first successful asset monetization in India. As Additional Chief Secretary of the Department of Medical, Health & Family Welfare in Rajasthan, during the first wave of Covid-19 in the year 2020, he developed and deployed the Bhilwara Model of "ruthless containment" to successfully manage the Covid upsurge in the rural and urban hot spots across Rajasthan."



Rohit Raj
Co-Founder, Done Deal


Rohit is the Advertising guy who became a Banker. After 14 years of exposure int he media and advertising space across his two startups Glitch & Chtrbox, and working closely with multiple startups as an investor & mentor, found a new problem statement. Why do 9/10 startups fail? and How can we change that narrative for the better. This is exactly what he is now solving with his new venture Done Deal where they operate with a mission to make starting up worth it.



Rohit Raj
CEO & Co Founder- BB Ki Vines Production


Rohit is a new media entrepreneur. His foundations lie in events & artist management which he started building on when he was 17. He now runs multiple independent businesses popular as BB Ki Vines and BBKV Productions. His core passion lies in facilitating entertainment and creation of content through various mediums and on different platforms. He has partnered with Disney+ Hotstar to produce the most watched show in 2023 Taaza Khabar and has also helped home grown brands with their marketing campaigns to enhance their digital presence.



Roshan Abbas
Founder- Kommune, RAP


"Roshan Abbas got on stage when he was 4 years old, and never stepped away from the spotlight. He is an entrepreneur, author, film & theatre director, TV and radio host, podcaster, producer, angel investor but most of all, a storyteller. He now attempts to shine the spotlight and provide a platform to others by connecting people to opportunities. A stalwart in the Indian media industry, he has always been ahead of the curve – pioneering innovation across platforms and mediums. Roshan founded and led Encompass (now VMLY&R COMMERCE ENCOMPASS) as Managing Director into becoming India's largest, most awarded experiential marketing agency . He was an initial investor in and continues to be a mentor-partner at The Glitch, now India's leading creative agency, and at Chtrbox (acquired by Qyou Media), India's forerunner in influencer marketing. As an angel investor at GSF, he has made strategic investments in over 40 startups with successful exits in Little Eye Labs to Facebook,Slintel sold to Sixth Sense, Practo etc. Roshan has won seven national-level awards for TV and radio.Through RAP, his production house, he produces and curates content and events driven by great writers. Roshan co-founded Kommune – a creator collective that believes every story deserves a stage. He helped conceptualise Spokenfest, Asia's largest spoken word festival which brings together performers from across the world for storytelling through any medium. He is currently the President of EEMA, the consortium of event management and entertainment company leaders of the country. Roshan has channelled the magic of stories to create experiences, build businesses, change mindsets, and invoke curiosity. Roshan continues to inspire by sharing his life lessons with anyone looking to discover a unique voice! To surmise Roshan Abbas in a phrase, as he puts it himself, he is a Storyteller and a Story-Seller."



Shrenik Gandhi
Co-founder and Chief Executive Officer-White Rivers Media


Shrenik Gandhi is the Co-Founder and Chief Executive Officer of White Rivers Media (WRM), an independent integrated digital marketing agency based in two locations in Mumbai and one in Delhi. An entrepreneur, passionate about solving business problems with insightful digital marketing knowledge, Shrenik started White Rivers Media in 2012 along with Mitesh Kothari. Having expertise in the digital marketing space, Shrenik in his free time likes to mentor start-ups and entrepreneurs. He is quite passionate about helping and guiding new businesses throughout the setup and the initial journey. Shrenik is an avid reader and likes to be updated on the latest in the media and entertainment industry. When he is not busy mentoring start-ups, Shrenik enjoys going on road trips or watching stand-up comedy. Shrenik is a regular speaker at various digital and entrepreneurship summits, including TedX. He has also been featured in the 30 Under 30 list by IMPACT, along with several accolades nationally & internationally in the field of advertising and marketing. Together with Mitesh, they have driven White Rivers Media to be one of India's only agencies to be featured in Deloitte Tech Fast 50's Ranking 6 years in a row, in India & APAC. The agency has also been credited as 'Independent Agency of the Year', 'Social Media Agency of the Year', and 'Specialist Agency of the Year' by the globally coveted Campaign South Asia's Agency of the Year 2022. In addition, the agency has also won multiple 'Agency of the Year' awards by the likes of NaME Awards by Indian Business Council (2023), Digies Awards by Afaqs (2023), Digixx Awards by Adgully (2022 and 2021), and Digital Dragon Awards by Indian Business Council (2022). In less than 10 years, the young founders have built White Rivers Media as one of the fastest-growing Indian independent digital marketing agencies with a focus on Content, Media and Technology. Together they helm a team of 350+ passionate digital marketers, across their offices in Mumbai and Delhi. Under their guidance and leadership, WRM has worked with top brands across the country like ITC, Glenmark Pharmaceuticals, Universal Pictures India, Times Hollywood Network, Sony Entertainment Television, Swiggy Dineout, Piramal Group, Netflix, Amazon miniTV, JioSaavn, CavinKare, Dream11, Sony LIV, Red Chillies Entertainment, T-Series, Balaji Films, ALTBalaji, Zee, Viacom, Dun & Bradstreet and many more. Over the past year itself, the agency has marketed more than 50+ Bollywood and Hollywood movies, launched over 150 web series on leading OTT platforms and entertainment channels, and won 200+ awards at various industry awards in India and globally.



Vikram Sakhuja
Partner and Group CEO Media & OOH-Madison Communications


Vikram is the Equity Partner and Group CEO of Madison Media & OOH, India's largest independent Media Agency. In his 30 year career, he has been the global CEO of Maxus, the CEO of GroupM South Asia and Mindshare South Asia. Vikram started his career with P&G and Coca-Cola in Media, Market Research and Brand Marketing. He also set up the marketing department at Star India (Newscorp). His career highlights include setting up India's first Media AOR; starting India's first afternoon soap opera (and daily strip); a great track record of product launches including Ariel, Whisper, Sprite, Diet Coke, Kinley, IPL; pioneering a series of researches in India including BASES, Conversion Model, a Purchase Retail Audit and Consumption Panel; and being part of the leadership team that started Mindshare and GroupM in India/ South Asia. Under his leadership Mindshare was the undisputed Agency of the Year at most Indian awards. In the last five years he has been shaping Madison to address the key pillars of Outcomes, Audience Planning and Integrity. Vikram has sat on several industry body boards/ committees including ASCI, ABC, RSCI, BARC and FICCI. He is currently the Chairman of Technical Committee of both IRS and BARC, MRUCI Board member, Co-chair of IBF-AAAI subcommittee on payments, Ad Club ManCom member and ABC Board member. He has consistently been voted amongst the most influential persons in Indian Media by the Economic Times.



Sushant Divgikar
Artiste- Mango Films and Production


"Hailing from the Indian grounds, and helming their way into the Global space -carving a space for Inclusion and Acceptance.Breaking barriers through their Art Sushant Divgikar AKA Rani KoHEnur. A youth icon who's not afraid to make their voice heard"



Vinit Karnik
Head - Entertainment, Sports & esports- GroupM


Vinit Karnik is a Sports, Media & Entertainment professional, also an Author. Vinit has over 25 years' experience in Media, Entertainment and Sports Management. He has essayed leadership roles in areas related to business growth and strategic thinking. Marketer and team player at heart, Karnik has built a reputation of being an industry thought leader, drive business results and building long term relationships with key stakeholders. In a diverse market like India, he has deftly handled emerging market dynamics and has immensely contributed to the evolution of Sports Management and Consulting, Media Strategies and the Business of Entertainment.



Vishal Sinha
Director - Ads Strategy - Sharechat


With an extensive experience of over 14 years, I was previously heading the digital ad sales team at Google India where I was responsible for driving digital adoption of Google brand and performance solutions for large and mid-market businesses.


Taj Lands End
Byramji Jeejeebhoy Road, Near Band Stand, Bandra West, Mumbai,
GET DIRECTIONS
Brands and Entertainment 2023
Step out and enjoy this event
Invite your friends
and enjoy a shared experience