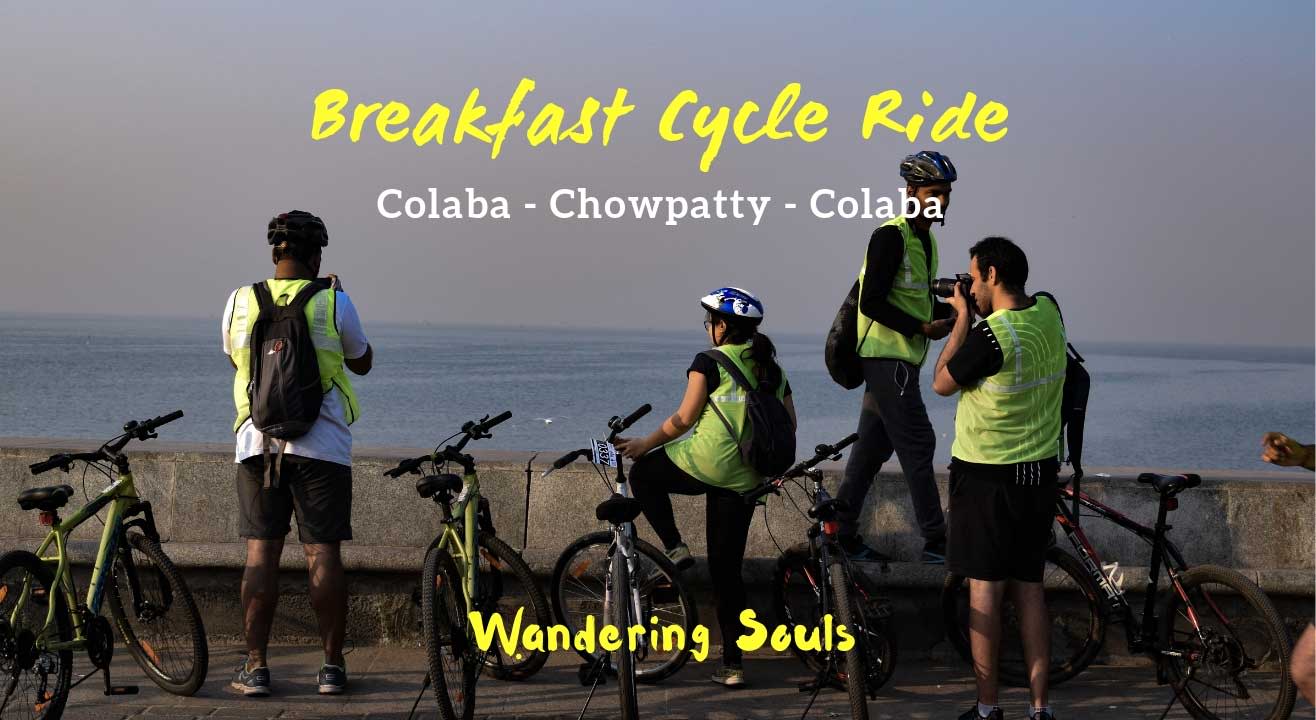 Cycling
Breakfast Cycle Ride by Wandering Souls
Kailash Parbat Restaurant, Colaba Causeway
About
Ride through the empty streets of South Bombay on a lazy Sunday morning and explore the various monuments and heritage sites with the ride ending with breakfast at one of the iconic restaurants of Mumbai in Colaba.
Anybody, who recalls Mumbai, visualizes the iconic Gateway of India that stands on Mumbai harbour facing grandeur TAJ Mahal Palace. This is the first monument we come to. We would be riding through Marine Drive, the queens necklace. Apart from the coastline, there lies enormous playgrounds surrounded by antiquated British structures touching Raja Bai clock and Mumbai high court passing through meticulously crafted flora fountain in the midst of the city. Then comes Bollywood favourite chai spot, 'The Horniman Circle'. Join us for a Perfect start to your Sunday
Level: Easy
Distance: 16kms
06:30 hrs – Gather at Colaba for Orientation and Distribution of cycles and refreshments
06:45 hrs – Start the ride from Gateway of India to Chowpatty
08:00 hrs – Start back towards Colaba
09:00 hrs – End the ride, deposit your cycles
09:30 hrs – Proceed for scrumptious breakfast
Leopold Café
Taj Mahal Palace
Gateway of India
Regal Cinema
Rajabhai Clock Tower
Bombay High Court
Flora Fountain
Horniman Circle
Asiatic Library
CST
Marine Drive
Taraporewala Aquarium
Girgaon Chowpatty
Gear/Non-Gear Cycles (for those who hire through Wandering Souls)
Breakfast
Wandering Souls expertise and admin charges
Reflectors
Mechanic
First Aid
Anything other than the above-mentioned things
Cancellation charge of 15% would be deducted from the booking if cancelled 3 days before the event
No refund would be granted if cancelled within 3 days of the event
How will you contact me once I register?
We will be mailing you the details about the ride a day or two before the event.

What is the difficulty level of this route?
The difficulty level of this ride is easy. Majority of the route is flat

Will I be able to complete the ride? I have not cycled for a long time.
We have had participants who cycles after a gap of 10 year or more complete the ride. We take ample stops in between so that the ride does not become strenuous.

I'm very tall/short, will I get a cycle for my height?
Please inform us beforehand for any special requirements, we will try to arrange the same.

What is the age limit of the ride?
The age limit for the trek is 18 years with no upper limit. Participants below the age of 18yrs need to be accompanied by a guardian

Can I come alone?
Yes, many of our participants are solo travellers.

Is it safe for a female solo traveller?
It is completely safe for a female solo traveller as our representatives will be there with you all the time. Moreover, most of our event have 60% female participation.
Can we smoke or drink alcohol?
Smoking or drinking alcohol is prohibited.

Will I get water during the ride?
You need to bring water with you.

What if I'm unable to complete the ride?
Our experienced coordinators will make sure you complete the ride. In case you not able to, you need to transfer the cycles back to the start point.

What if I have a medical emergency?
We will carry first aid kit with us. The coordinators will be first aid certified. If the problem increases, we will quickly get you to closest medical attention possible.

What kind of clothing we need to wear?
We recommend you bright coloured comfortable clothes
Use code FREEDOM25 and get a flat 25% off up to Rs. 300.
Venue
Kailash Parbat Restaurant, Colaba Causeway
5, Sheela Mahal, 1st Pasta Lane, Near Strand Cinema, Colaba, Mumbai