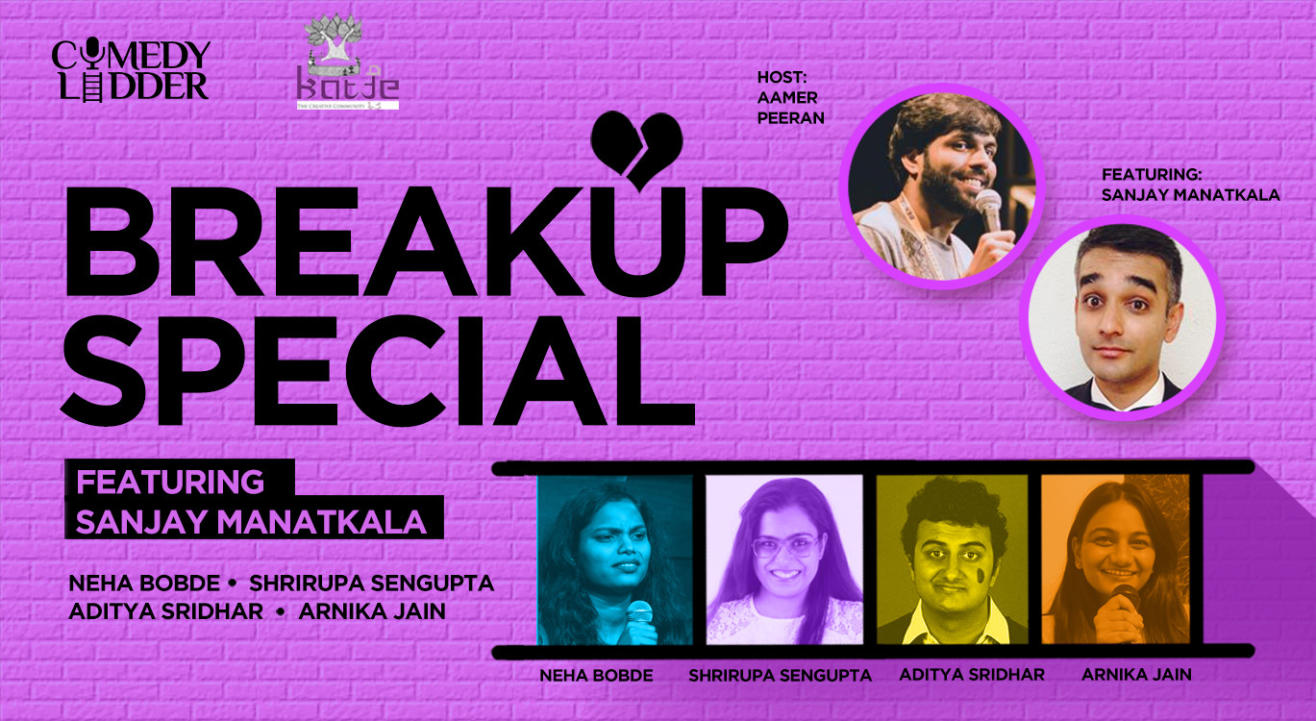 Breakup Special ft. Sanjay Manatkala
kaTTe - The Creative Community
Invite your friends
and enjoy a shared experience
Invite your friends
and enjoy a shared experience
About the Event
Breakup Special
Show details
A break-up is what makes a relationship special, if you've ever had a breakup or want to breakup this is the best show for you. comedians share their favourite breakup stories and joke about their relationships as most of us do, an evening with tears of laughter and not pain. Celebrate your breakup by booking tickets this show.
Line up
Host Aamer Peran
Comics
Aditya shridhar
Shirupa Sengupta
Neha bobde
Arnika
Sanjay Manatkala
Artists Info
Aamer Peran
Aamer Peran is a Stand Up Comedian and a Voice Over artist. Born In Saudi Arabia, to an Indian father and a Pakistani mother, he started stand up after losing his education in 2012 in Chennai. He helped brew a comedy scene in Chennai before eventually moving to Bangalore, His comedy has a blend of unique observations, experiences, sounds, colorful topics, colorless topics, brinjals and an innate undertone of extreme laziness.He has performed in many Major Cities in India.
Arnika Jain
Arnika Jain is a software engineer by day and ''trying to be funny'' almost all the time. A semi-reliable and annoying homo sapien whose only gift in life is to get herself in trouble almost all the time.
Aditya Shridhar
Aditya Shridhar is a doctor, a comedian, and a writer. While he spends his days running around the emergency room or crime scenes, and spends his nights performing comedy. He seems sure that he can continue to do both of these passions forever - mainly because he doesn't know how to do anything else.
Shrirupa Sengupta
Shrirupa Sengupta (Shri) burst into the stand-up comedy scene in 2014 winning the Bangalore Finals of the MICF Raw Heats. Her style hinges on quirky observations, overthinking mundane realities and dealing with her parents.
Based out of Kolkata and Bangalore depending on the mood of her parents, she performs in the genres of Improv, Stand Up and Concept Comedy Shows.
With a joyfully chaotic personality, Shri when not on stage or in rehearsals can be found burning things in the kitchen / putting her TISS-MSW degree to use, writing content / trying to shape shift into a cat and doing other such high energy activities.
Neha Bobde
Neha is an upcoming stand-up comedian, who moved from nagpur to mumbai to Bangalore for work and does comedy to survive the world that we live in. Neha has great insight into the minds of men and women as she has been around then in large number for far too long.
Sanjay Manatkala
Sanjay Manaktala (Los Angeles/ Bangalore) is a stand-up comedian born and raised in the USA who now works mainly out of India and California. He has built a fan following performing stand-up comedy across Asia via his YouTube channel which currently has over 4.5 million views across all videos and over 37,000 subscribers. He is one of the top comedians in the country and has been featured on BBC, CNN, Forbes, Buzzfeed and various other cool things. He's a regular on the Desi Comedy Festival in California and the Weird-ass Pajama Festival and the Bangalore Comedy Festival in India.
kaTTe - The Creative Community
#545, 4th cross, 6th Main Rd, HAL 2nd Stage, Indiranagar, Bengaluru, Karnataka 560038
GET DIRECTIONS