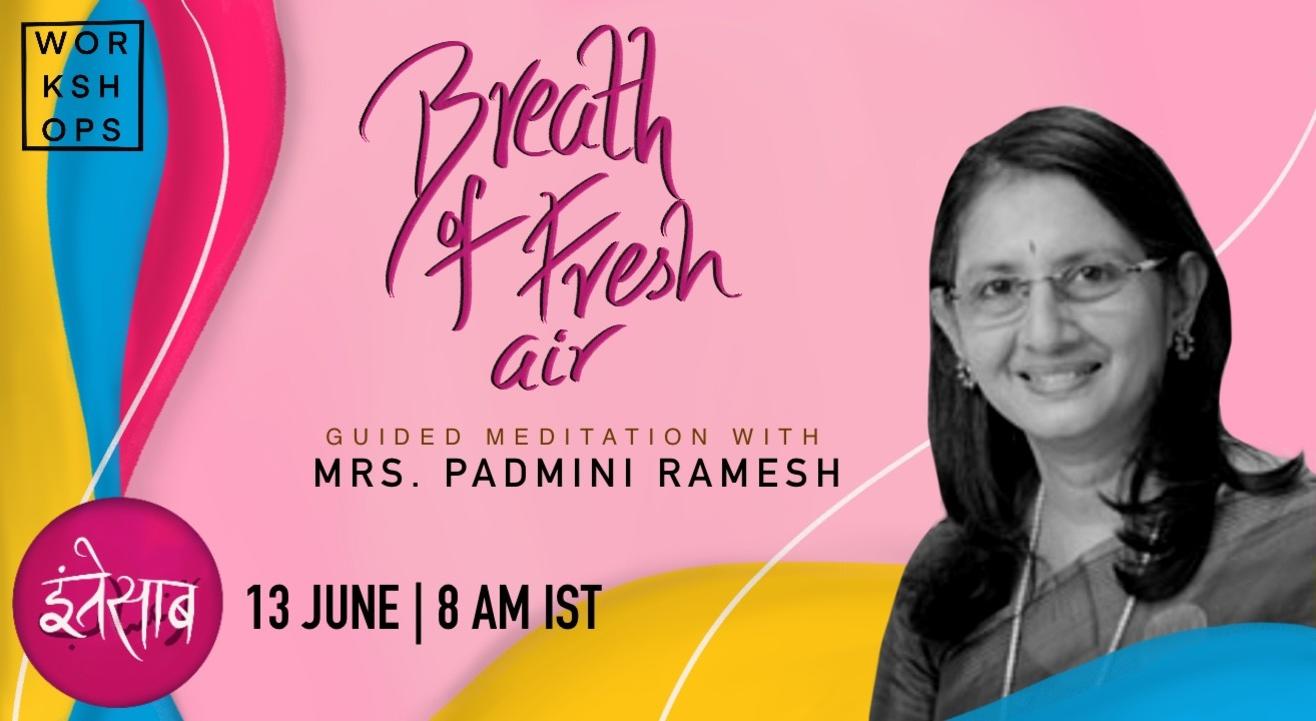 Breath of Fresh Air: Guided Meditation with Mrs. Padmini Ramesh
Enjoy this event from your home
Invite your friends
and enjoy a shared experience
Invite your friends
and enjoy a shared experience
About the Event
Intesaab Fest 2020 presents the workshop: Breath of Fresh Air with Mrs. Padmini Ramesh.
"Feelings come and go like clouds in a windy sky. Conscious breathing is my anchor."
– Thich Nhat Hahn
In the past few months so much has happened around us that can make us feel like we're losing control. It's okay to stop. Just breathe. Sometimes we just need to take a pause and collect ourselves. Meditation helps in clearing your mind through mindfulness and focus. Breath of Fresh Air will allow its participants to channelize the stored emotions they've been holding in. The aim of this workshop is to help us find some level of peace and calm in this chaos, and create a safe space for the participants.
About Intesaab 2020
Intesaab 2020, organised by the Ishan Foundation Trust, Jaipur x Mumbai, marks a new beginning where art and artists find their way to express their inhibitions. Scheduled on the 12th, 13th, and 14th of June 2020, it is India's first virtual festival, where these three days are an amalgamation of panel discussions, talks, events, and workshops, where Intesaab shall diverge into an iconic platform for art across the nation to be rediscovered and cherished.
With the grasping clutches of the COVID-19 pandemic, we also believe in making a change in society that sustains us. Hence all proceeds from the festival shall be donated to NGOs which provide relief to the victims of the COVID-19 crisis. Thus, Intesaab 2020 is a cradle for new avenues to emanate, reorient, and unravel incredible directions that will divulge our past, mold our present, and inspire our future.
Find more about Intesaab on www.ishantrust.org
Follow us on instagram: @intesaabfest
For queries: intesaab@ishantrust.org