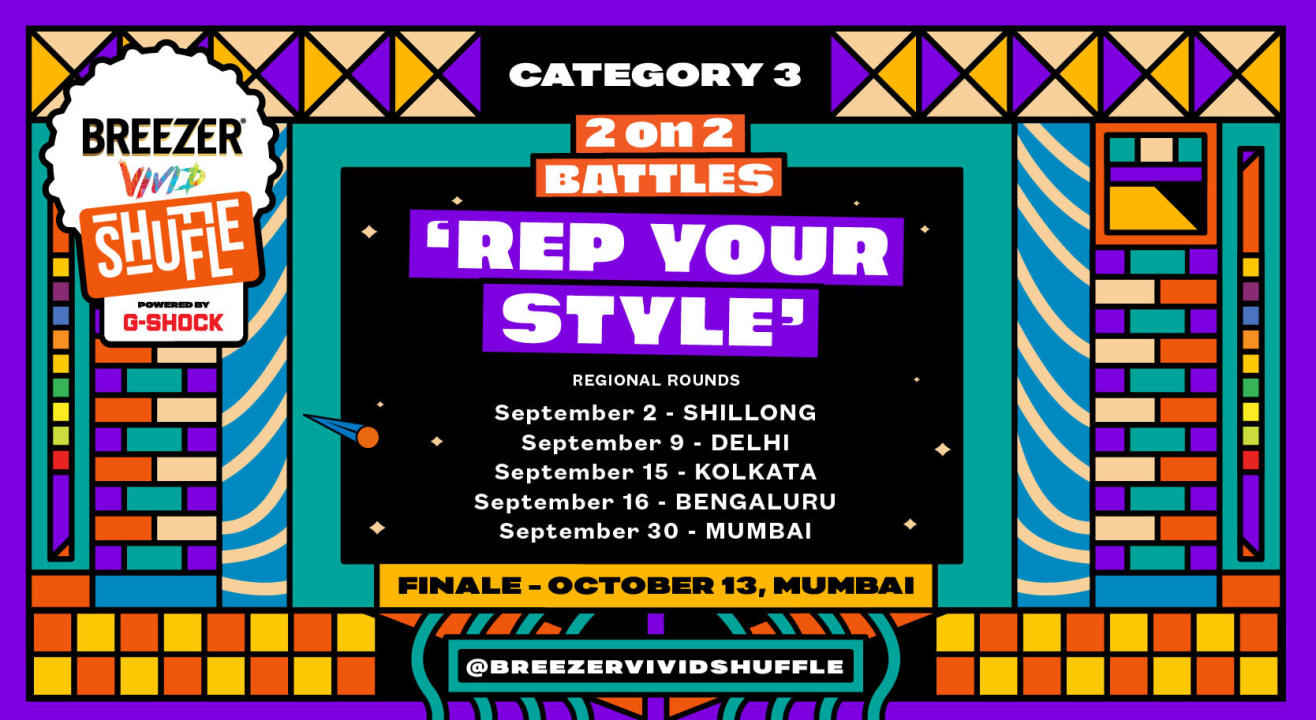 Dance
Breezer Vivid Shuffle - 2 ON 2 Rep Your Style
About
This year, hip-hop will take center-stage all over again. This medium of expression of the youth now gets a national stage and sweepstakes, with Breezer Vivid Shuffle: India's biggest hip-hop dance festival.

This is a pan-India competition with 5 regional rounds and one grand finale where individuals and crews will get the chance to battle it out across a variety of styles. Apart from being the first-ever event of this scale, Breezer Vivid Shuffle also offers India's largest cash prize pool for a hip-hop dance festival. Excited enough?
Age Restriction:
You must be 18 years or above on the day of the event to participate.
The event consists of a Regional Round and a Finale.

Regional Round:
- Round 1: Cypher for 30 seconds for each pair member. Total 1 minute for each pair.
- Round 2: Round 2: Top 16 battle it out 2v2 to discern who qualifies to the Finale.

Finale:
- The qualified pairs in the country battle it out 2vs2 till we find the top pair in India.

Disclaimer: The winners of the finale are hereby notified that they will be featured in the official Breezer Vivid Shuffle music video. It will be shot the day after the finale (Oct 14) along with Varun Dhawan and the international judges on a track made by Raftaar and by participating you are obliged to comply.
Pairs:
A pair consists of two members. The members of the pair may be made up of any combination of males and females. Age requirement : 18 and above Each Participant's proof of age must be validated by submitting to the event organizer, prior to a local or national competition, a government issued ID (a current driver's license, birth certificate copy, and/or passport) indicating date of birth. pairmember substitutions or additions once a competition event has begun are not permitted except for reasonable and justifiable cause. A substitution/addition of a member(s) within the pair may not be made without prior notice given and an approval received by the Judiciary Director, head judge and/or event organizer. Falsification of personal information and/or of national eligibility documents by a pair, pair member or representative resulting in ineligibility or the substitution/addition of a pair member(s) without approval is subject to disqualification or suspension.

Styles:
The following is a list of Street Dance Styles from early foundation to present from which pairs are advised to choose from:
Locking
Popping
Bboying/Bgirling (breaking)
Wacking/Punking
Vogueing
House Dance
Party Dances or Club Dances (popular or trendy dances)
Hip Hop Dance/Choreography
Krumping
Stepping/Gumboots
DanceHall

Regionals:
Please note : If any of the pairs fail to reach on or before the given call-time, negative marking shall be applicable for the same.
The participants are requested to carry a clean pair of shoes to be worn inside the venue since outside footwear is not allowed.
• First round will be a cypher round where a pair is expected to pack in all their best moves into a single throwdown of not more than 30 seconds per dancer.
• After tallying the marks given by the regional judges,16 of the top scoring pairs shall make it to the regional battle round.
• Each pair will then face another qualified pair in 1 throwdown each dancer to determine who moves to the next round. Note- Incase of a tie, a tie-breaker round shall determine the winner.
• The top 8 pairs will then face each other in a battle of one throwdown each in order to find out who the top 4 pairs from the regional qualifiers shall be. The top 4 will then battle against each other in a battle of two throwdowns each in order to find the top 2* pairs. Again in the case of a tie-breaker a singular round shall take place.
• The 2* pairs thus will automatically book a spot for the finals.
• The top 2* will then battle against each other and the final round to determine the winner from the regional rounds.
(Please note- This is to help us set the battle bracket for the finale, where the winners of each region will face the runner-ups of competing regions)
Disclaimer: *The number of qualified participants per region is subject to change depending on the number of participants in each region.
Note-
Judges decision shall be final
Touching an opponent will lead to a deduction in marks and might even
lead to disqualification.
Three judges will officiate.

Note- If you're an international participant, all the above rules apply in the same manner. We won't be able to pay for any expenses during the regional rounds but we may cover a part of your expense (Travel, Boarding & Lodging) for the finale if you qualify for the same.

Finale:
The top 16 pairs will battle in 2 throwdowns of 30 seconds each to narrow the field of competition.
Two (2) pairs will battle at a time to determine which one advances to the next Round.
The pool is halved and the same process continues till we have the best dancers of India.
Physical contact in battles will not be tolerated and may result in a disqualification or a score deduction for the dancer or dancers involved.
Inappropriate sexual gestures are not advised.
All music will be selected by the competition DJ.
The judges panel will determine the battle order by picking lots.
Three judges will officiate.

Note - If you're a finalist and your travel time is more than 24 hours by train/bus, only then will you be eligible for flights to and fro.