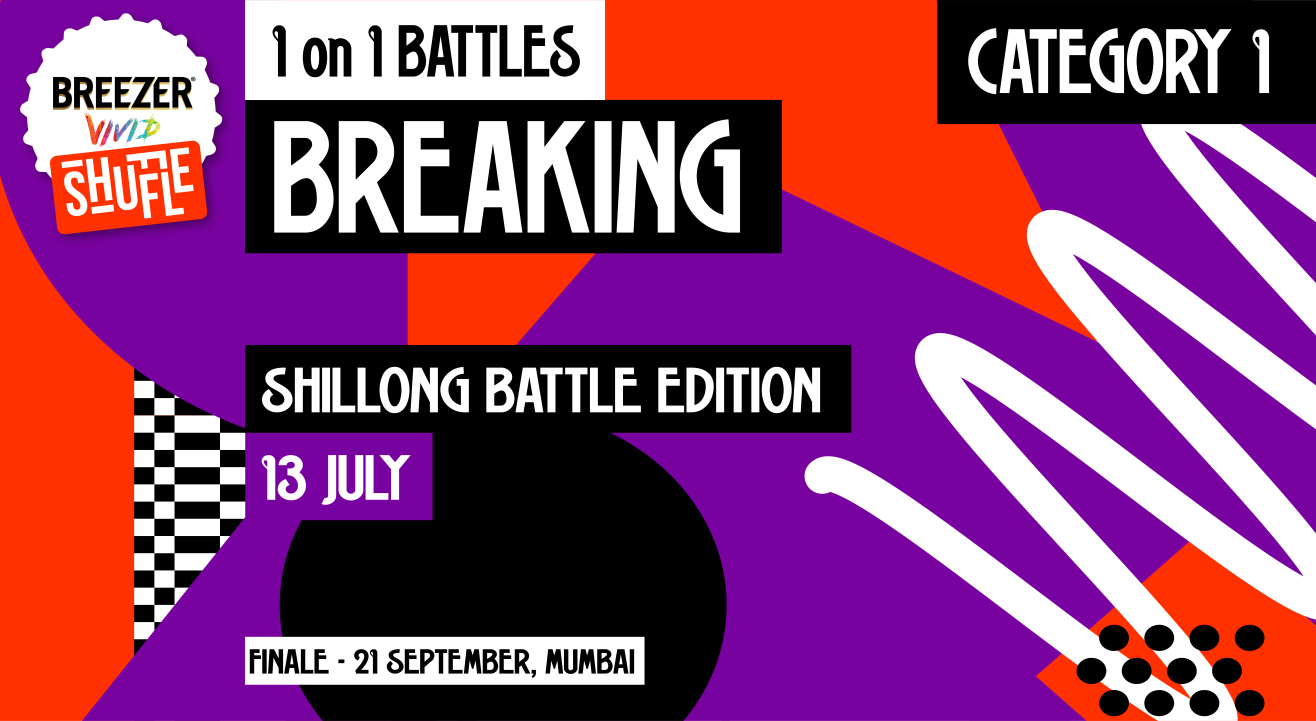 Breezer Vivid Shuffle – Calling all Breakers in Shillong!
Step out and enjoy this event
Invite your friends
and enjoy a shared experience
Invite your friends
and enjoy a shared experience
About the Event
Breezer Vivid Shuffle is back for year 3 and the regional round in Shillong on July 13 could be your stepping stone on the way to the grand finale on September 21 in Mumbai.
One regional round that could get you to the national stage. A chance to battle for the largest cash prize for a hip-hop dance festival. Register now, and get shufflin' with us.
Regional Round:
Round 1: Cypher for 45 seconds.
Round 2: The top 16 battle it out 1v1 to decide who qualifies to the Finale.

Finale:
The qualified Bboy/Bgirls from all regional rounds battle it out 1v1 until we find the top breaker in India!

The Breaking Battle is a 1 vs 1 battle and is open to all dancers of any gender.
The Breaking Battle has no age divisions. There is however a minimum age requirement of 18 years

Regional round:
Please note: If any of the participants fail to reach on or before the given call-time, negative marking shall be applicable for the same.
The first round will be a cypher round where a Bboy/Bgirl is expected to pack in all their best moves into a single throwdown of not more than 45 seconds.
After tallying the marks given by the regional judges,16 of the top scoring dancers shall make it to the regional battle round.
Each breaker will then face another qualified participant in a single round to determine who moves to the next round.
In case of a tie, a tie-breaker round shall determine the winner.
The top 8 dancers will then face each other in a battle of two throwdowns each in order to find out who the top 4 breakers from the regional qualifiers shall be.
Again in the case of a tie-breaker a singular tiebreaker round shall take place.
The 4 top breakers thus will automatically get a spot in the finals.
The top 4 will then battle against each other and a winner will be decided from the regional rounds. (Please note- This is to help us set the order of appearance in the Mumbai Finale rounds. All the 4 finalists will get a chance to compete at the Mumbai Finale irrespective of who wins in the regional rounds.)
The decisions will be made by a panel of 3 judges, and their decision shall be final, Touching an opponent will lead to a deduction in marks and might even lead to disqualification. Note- If you're an international participant, all the above rules apply in the same manner. We won't be able to pay for any expenses during the regional rounds but we may cover a part of your expense (Travel, Boarding & Lodging) for the finale if you qualify for the same.

Finale:
The top 16 bboys/bgirls will battle in rounds of two minutes each which will be conducted in 4 throwdowns of 45 seconds each to narrow the field of competition to the top bboys/bgirls in India.
Two bboys/bgirls will battle at a time to determine which one advances to the next round.
The pool is halved and the same process continues till we have the best bboy/bgirl of India.
Physical contact in battles will not be tolerated and may result in a disqualification or a score deduction for the dancer or dancers involved.
Inappropriate sexual gestures are not advised.
All music will be selected by the competition DJ.
The team determines the order of appearance of bboys/bgirls throughout the battle.
Three judges will officiate and their decision shall be final.
Note- If you're a finalist and your travel time is more than 24 hours by train/bus, only then will you be eligible for flights to and from the Grand Finale in Mumbai.

Forms and Releases
Entrants must complete and sign all forms, including but not limited to registration, music, and insurance information. The forms must be returned prior to the registration Finale.
Release of Liability: Each dancer must sign and submit a release of liability form prior to the competition releasing the organizer, their agents, officers, staff and sponsors from liability for any accident or injury occurring to a dancer prior to, during, or after a Shuffle event or competition.
Release of Likeness: All dancers must sign a release of likeness form permitting Shuffle and the competition organizer, agents or sponsors to film, videotape, and/or record the dancer's performance(s) and event participation for use in all forms of television, motion pictures, home video, internet, social media, radio, press releases, media, public relations, and other promotion/media vehicles whether now known or hereafter devised.

Suspension/Disqualification
Falsification of personal information and/or of national eligibility documents by dancer resulting in ineligibility is subject to disqualification or suspension.

Attire
Attire may include accessories such as hats, caps, gloves, scarves, jewelry, etc. Removing pieces of clothing during the performance is permitted provided it is not offensive or out of character.
Discarded clothing should be placed outside the competition area and never thrown off the stage into the audience. Appropriate under garments must be worn by all dancers at all times.
Clothing too short and/or too tight will be scrutinized and may be deemed inappropriate especially for overexposure of certain areas of the body and/or age appropriateness.
Body oils or other substances applied to the body or clothing that may affect the clean dry surface of the stage and the safety of fellow competitors are prohibited. Dancers may wear dance/stomp boots, street shoes, sneakers or athletic sport shoes.
All footwear must have clean, non-scuff soles. Tap shoes, jazz shoes, certain high-heeled shoes and bare feet are prohibited.

Medical Attention
If at any time prior to or during competition a dancer is ill, injured, or his/her physical or emotional condition is at risk by participating, he/she may be declared ineligible to compete, or disqualified from competing further. The competition organizer(s), Judiciary Director and/or Head Judge reserves the right to withdraw any competitor who appears to have such serious disability or injury or needs medical attention.
The competition organizer(s) reserves the right to request the submittal of a physician's written authorization for a dancer to compete who is deemed medically or emotionally at risk by the competition organizer.

Technical Equipment/Sound and Lighting
The audio/visual equipment provided will be of professional standard sound and lighting quality for the dancers and spectators.
Any particular tech requirement or query will have to be submitted to the organizers in advance.

Ministry Of Dance
Shillong, Lachumiere, Shillong, Meghalaya 793001
GET DIRECTIONS