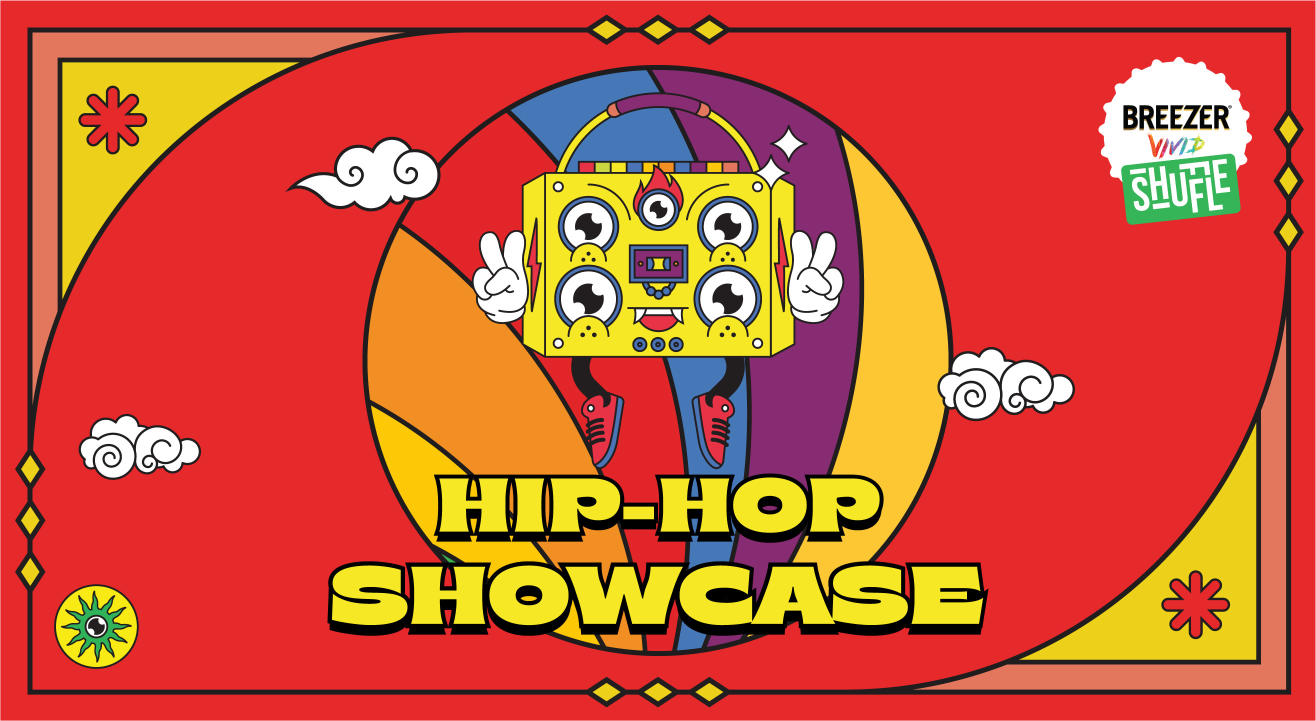 Breezer Vivid Shuffle – Calling all Street Dancers - Solo/Duet/Crews!
Be a part of India's first Hip-Hop League | Accepting Entries up till December 31
Enjoy this event from your home
Invite your friends
and enjoy a shared experience
Invite your friends
and enjoy a shared experience
About the Event
Breezer Vivid Shuffle is back for year 4 and by participating in the Hip-Hop Showcase (Solo/Duet/Crews) category, you're one step away from the virtual grand finale on February 21.
A chance to battle for the largest cash prize at India's first hip-hop league.
Register now, and get ready to shuffle!
HOW DOES THIS WORK?
Each entry can have a minimum of 1 and a maximum of 8 team mates in this category.
Entries: Send in your videos through the registration link along with your details.
League Qualifiers: Top 8 Performers (Solo/Duet/Crews) will be chosen by the judges, taking into account audience favourites.
League Teams: Top 8 Performers (Solo/Duet/Crews) will be divided into 4 teams (2 performers to each team).
Finale: Top 8 Performers (Solo/Duet/Crews) perform in the Finale for the title of the best Hip-Hop Performer in India.
Please note - Every Performer (Solo/Duet/Crews) needs to be 18 years or above on the day of the competition to participate.
SUBMISSION GUIDELINES
The Hip-Hop Showcases (Solo/Duet/Crews) must feature a minimum of 1 and a maximum of 8 members.
Video entries must be at least 2 minutes long.
Video quality will be taken into consideration as part of the judging process.
The video submission must not be edited.
What to Consider in the Development of Your Routine:
To develop a winning routine, CAREFULLY choose street dance styles that best represent your crew's strong points and the flavor of its personality. Hip-Hop Showcases (Solo/Duet/Crews) are encouraged to be fresh, imaginative and innovative in their choreography and to follow their own style and identity.
Avoid following or being influenced by past World Champions' routines. There is no distinct model for a winning routine. What is considered unique and special one year may be considered overused the next year. Be yourself and express your Hip-Hop Showcases (Solo/Duet/Crews) diversity with passion, intensity and style.
A winning routine must include an ample amount of dance. Do not make the mistake of using too many songs and incorporating too many sound effects as it often inhibits dance performance. Editing the music excessively or adding too many sound effects can prohibit phrasing, 8 counts and musicality. The songs in a routine are meant to leave a lasting impression or express a musical theme allowing for clean uninterrupted dance. Over usage of edits and sound effects often leads to a no music no dance outcome. Be cautious and preserve the musicality of your routine.
When performing the 20± seconds and 30± seconds of continuous and uninterrupted music segments of a routine, Hip-Hop Showcases (Solo/Duet/Crews) are encouraged to showcase choreography using continuous upper and lower body dance movement throughout the segment. This is a minimum – Showcases may extend this throughout the performance.
Frequently overlooked or forgotten by Hip-Hop Showcases (Solo/Duet/Crews) is finding "The Groove". The groove is the dancer's reaction to the beat and the undertone of the music. It helps a dancer to improvise and express their dancing more from the inside out. The groove exists in all types of music and dance and certainly within all styles of street dance. It's what makes the dance "funky". Find the groove in your music and express it in your crew's routine. It's another opportunity to showcase the dance and be rewarded by the judges.
Hip-Hop Showcases (Solo/Duet/Crews) should be cautious to not overload the routine with an abundance of street dance styles. Concentrate on including fewer styles and execute them correctly rather than performing more with the possibility of poor execution. Remember that the maximum number of street dance styles that can earn Variety points in a routine is three.
Moves performed in a routine (that require preparation into the move e.g. back flip) will be considered tricks with no values awarded unless they are preceded, followed and integrated within the hip hop dance choreography. The inclusion of TRICKS (a practice established by the use of specialized skills representative of a particular field of activity which does not conform to hip hop dance e.g., gymnastics) may add to the overall production of a routine, but may not place it higher than another Hip-Hop Showcases (Solo/Duet/Crews) routine. No special points will be awarded for the inclusion "specifically "of tricks but using them to heighten the routine's theme, personality and excitement is an allowable risk
Originating and utilising one-of-a-kind "signature moves" to increase creativity and crowd appeal is encouraged. The inclusion of a SIGNATURE MOVE (a difficult, dexterous, or clever act designed to amuse intrigue and/or amaze) will enhance a routine and increase a score if executed well and is relevant to the overall interpretation of a routine. The creation and use of a signature move will help to identify a Hip-Hop Showcase (Solo/Duet/Crews) from another. Hip-Hop Showcases (Solo/Duet/Crews) are cautioned however to limit the number of signature moves in a routine since the set up time to perform them may take away from the time needed to perform a proper amount of hip-hop dance choreography needed for a high-scoring routine.
Keeping the routine fresh when performed in front of the same panel of judges throughout preliminary, semifinal, and final rounds is acceptable and encouraged.
Rules & Regulations
The Official Rules and Regulations of Breezer Vivid Shuffle contains the participant eligibility/entry requirements, standard procedures, and the rules and regulations for competing.
Shuffle's dance events are competitive dance events that provide dancers with opportunities to showcase the artistry and technique of Hip Hop dance and street dance, nationally with the chance for media exposure and prestigious titles.
This is a competition for the best dance/s from Hip-Hop Showcases (Solo/Duet/Crews) in India.
Each Hip-Hop Showcase can consist of minimum 1 and maximum 8 members. No dancer can be a part of more than one showcase.
The highest scoring hip hop dance routine according to Shuffle contains a variety of street dance styles, showmanship, original signature moves, engaging music and a demonstration of continuous and uninterrupted complete body (head-to-toe) hip hop dance choreography without overuse of gymnastics, cheer, acrobatics, or overly dangerous moves.
Hip-Hop Showcases (Solo/Duet/Crews) showcase their ultimate works of skill and performance in a choreographed routine.
Creativity, showmanship, and artistic freedom are always encouraged provided integrity, good taste, and safety are not compromised.
The competition begins with a preliminary round which is a video submission.
The rules below will decide which Showcase's graduate to the Finale.
PLEASE NOTE: The qualifier routine and the Finale routine must be discernibly different.
Performance Music Requirements
The routine must be performed, in its entirety, to music selected, prepared and provided by the performers. The competition organiser(s) will not provide the Performers music.
A showcase is expected to include a segment of continuous music, uninterrupted by edits or sound effects, within their routine to obtain the highest possible score from the judges.
A showcase's competition music must be recorded and shared on a Google Drive Link and be the only piece of music recorded on the drive (unless specified differently by the event organiser).
The Showcase name and division must be identified on the device.
There is no maximum or minimum number of songs or recordings that may be used in the routine.
Note: the judging panel concludes that fewer songs may be preferable over multiple music selections/mixes allowing for greater focus on continuous dancing.
Sound effects and original compositions are permitted. Showcases are highly cautioned and advised against the music becoming too complex with too many edits, sound effects, or songs preventing them from exhibiting a clean and continuous dance performance.
The competition music must not contain inappropriate, lewd, or offensive language.
A Showcase may edit or substitute its initial music when advancing from one round to another. The change/edit must be made and provided to the competition organiser within the allotted time permitted by the competition organiser.
Showcases may be required to provide the following music information in writing to the competition organiser(s) prior to the event for each song used in the routine.
Title
Artist
Composer
Publisher
Recording Company
Due to varying copyright laws, the competition organiser(s) do not guarantee that a Showcase's music will be used at live events, on television, film or theatrical broadcasts, or other distribution mediums. The competition organiser(s) reserve the right to ask the Showcase's to replace the music for one that is acceptable.
League Shortlist process
There is an online video entry-based qualifying round. Showcase's are requested to upload videos of their performance on the Shuffle Registration page and on YouTube and Instagram by tagging us on @breezervividshuffle with the hashtags #BreezerVividShuffle and #LiveLifeInColour.
Videos cannot be over 2 minutes long.
Videos submitted can and will be used for Shuffle promotion on different media.
TEAM SELECTION:
After the league shortlist process, the Hip-Hop Showcases will advance to team selection where they will be clubbed with their league ambassador and qualifiers dancers/artists from other categories.
The categories represented under each league team are Breaking (4), Popping (4), Hip-Hop Showcase(2), Rap (2) and Graffiti (1).
FINALE:
The top 8 Hip-Hop Showcases will battle in 1v1 knockout rounds.
2 Hip-Hop Showcases will battle at a time.
The pool is halved and the same process continues till we have the best Hip-hop Showcase of India.
Inappropriate sexual gestures are not advised.
All music will be selected by the competition DJ.
The team determines the order of appearance of Hip-Hop Showcases throughout the battle.
Judges will officiate and their decision shall be final.
In case of a tie, a tie-breaker round shall determine the winner.
Tushar Shetty shows you how to register for showcase category