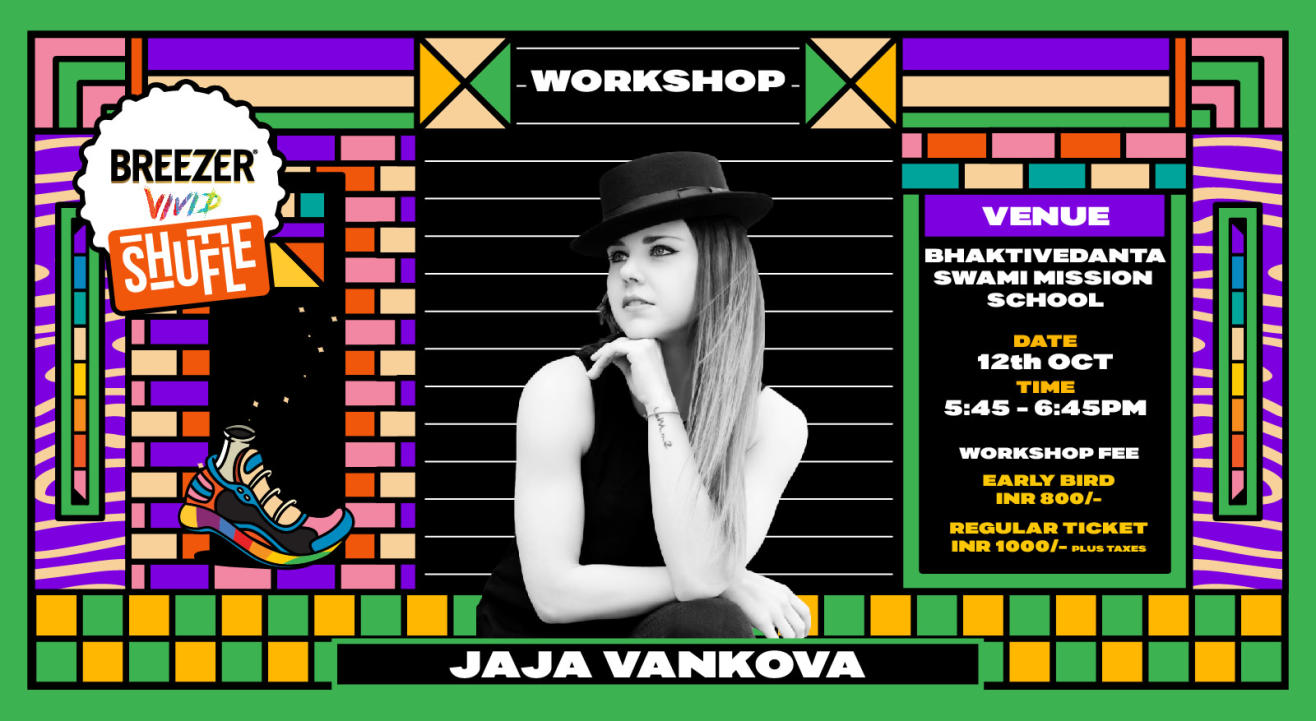 Dance
Breezer Vivid Shuffle – Jaja Vankova Workshop
Bhaktivedanta Swami Mission School, Mumbai
About
Hola, all you dancers! The best of the best artists are coming to our country, why miss out on the chance to learn from them? Breezer Vivid Shuffle is organising dance workshops conducted by our insane line-up of the Finale Judges!
Calling all the HIP HOP Heads. Come together to learn and share with the best from the scene and #livelifeincolour.
Get #ReadyToShuffle
#BreezerVivid
Jana Vankova was born on March 21st, 1992, in the small town of Decin, located in the Czech Republic. Ever since she was a child, she has always had a big passion for dance. However, her professional career began in 2006, when she joined Out Of Bounds dance group. At that point, she began to explore street dance and choreography. Since then, she has been learning many styles (popping, locking, house dance, hip hop etc.). Later, she led her team, Out of Bounds, to become national champions of the Czech Republic in 2010, and semifinalists in Czech Got Talent (2010). Individually, Jaja won International Dancer Of The Year (2010), and a national championship in 2008. In 2010, Jaja was chosen to be apart of I.aM.mE Crew – MTV's America's Best Dance Crew Season 6 Champions – which led to her move to the US. She has received 1st place in several urban dance competitions and dance battles, and has been featured in several movies.
Additionally, she has choreographed for theater shows, danced in various commercials, and could be seen dancing with artists like Selena Gomez, Ludacris, Kevin Hart and more. Jaja notably performed during the 1st Olympic European Games in Baku as a featured lead dancer. She is, perhaps, most well known from her appearance as the "Robot Girl" in "Step Up All In" , and as a finalist of So You Think You Can Dance (Season 12-Top 2). She has been trained by the Electric Boogaloos, Elite Force, and by all of the legendary hip hop, popping, locking and krump dancers in the world. Currently, she travels the world individually. All the while, she teaches, performs, works in the industry and consistently improves upon her freestyle. Jaja credits America for many of her dance-related opportunities, which have allowed her to be creative as she continues to develop as an artist.
Book any workshop ticket and get a 7-day cult.fit pass FREE. Offer valid till 31st September. (T&C apply) Click here for more information
Venue
Bhaktivedanta Swami Mission School, Mumbai
Lokhandwala Complex, Shastri Nagar,Near Laxmi Industrial Estate, Andheri West, Mumbai, Maharashtra 400053