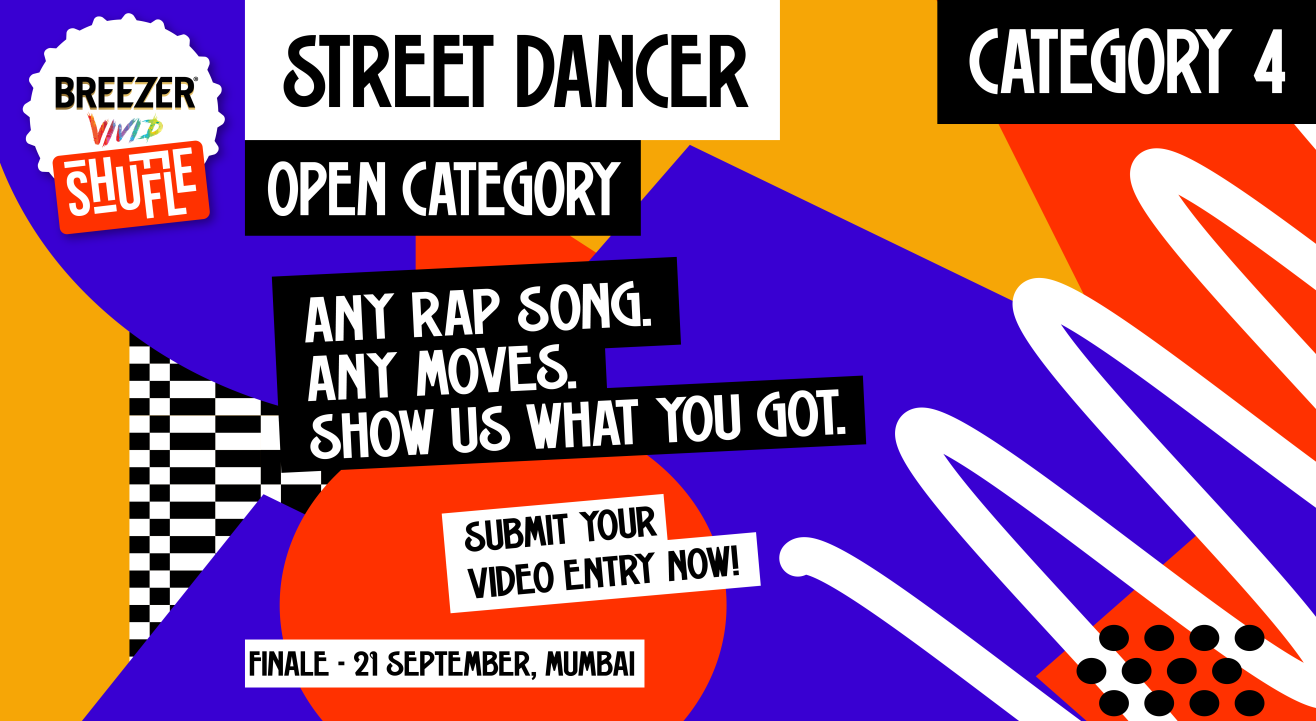 Breezer Vivid Shuffle – Whoever you are, whatever you do - it's time to get Shuffling
Enjoy this event from your home
Invite your friends
and enjoy a shared experience
Breezer Vivid Shuffle – Whoever you are, whatever you do - it's time to get Shuffling
Enjoy this event from your home
Invite your friends
and enjoy a shared experience
Invite your friends
and enjoy a shared experience
Breezer Vivid Shuffle is back for year 3 and this time we're opening it up to everyone. Whether you're a dancer of any sort, an artist, a yoga aficionado, or just plain fun. Presenting.. .The Street Dancer open category!
All you need is a rap song - any rap song - and your moves. Want to dance ballet? Bhangra? Jazz? Kathak? Want to do parkour? Want to create some art? Want to do some yoga, jump up and down? Do your thing as a rap song plays, and take a video. There are no rules, but there is a theme - Live Life in Colour.
Show us your interpretation of what that means, upload it on Instagram with the hashtags #ReadyToShuffle and #StreetDancerShuffle. And make sure to tag us @breezervividshuffle.
The top entries will be selected to perform at the Breezer Vivid Shuffle Finale in Mumbai on September 21, get rewarded, and rub shoulders with India's hip-hop elite!
The event consists of a Video Round and the Finale.
Round 1: The theme is "Live life in colour". Show us in any way how you interpret that through your performance to a rap song and upload your videos on Instagram, with the hashtag #StreetDancerShuffle. And make sure to tag us @breezervividshuffle.

Round 2: Top 8 submissions qualify to the Finale.

Finale:
The top entries participate to show us how they can dance, Street Dancer style!

The minimum age requirement for participation is 18 years.
The submissions will be judged on originality and an adherence to the theme "Live life in colour". How you want to do that is entirely up to you - through your costume, your moves, your choice of song, or anything else.
Creativity, showmanship and artistic freedom are always encouraged provided integrity, good taste and safety are not compromised.