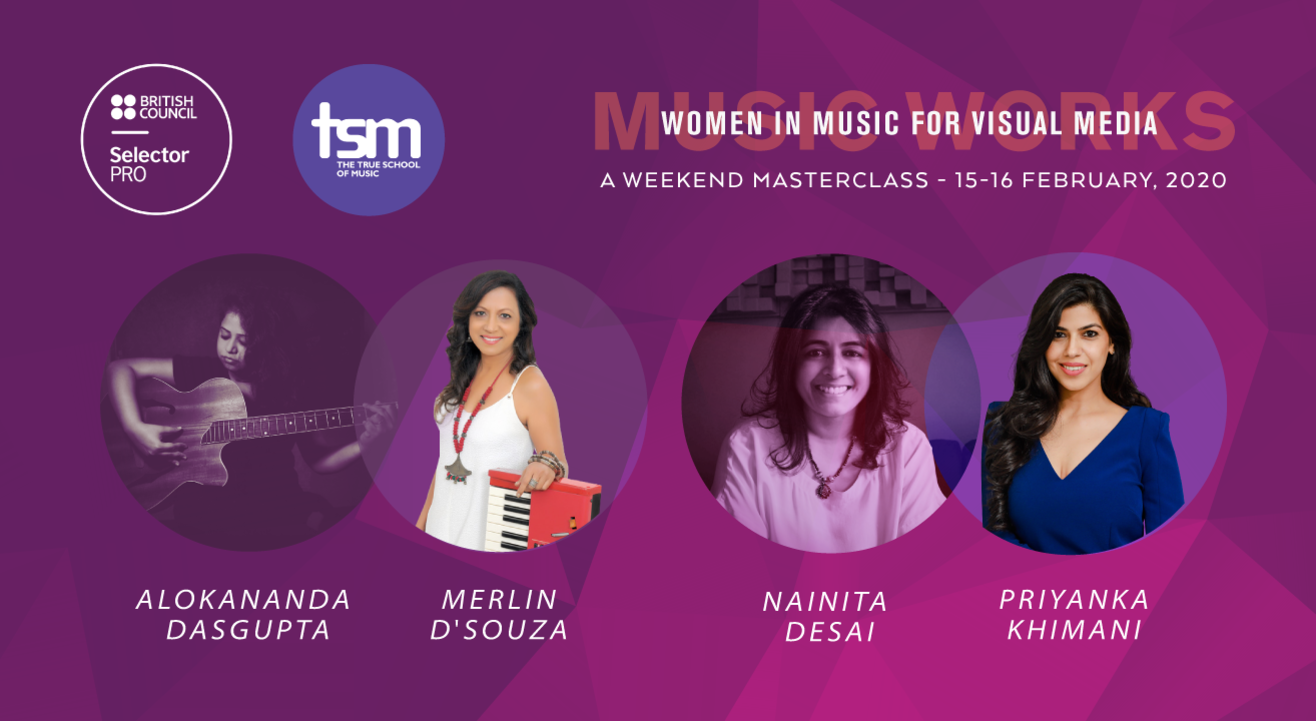 Music
British Council's Selector PRO and The True School of Music present Music Works: Women in Music for Visual Media
February 15 & 16 | 10AM - 5PM
True School Of Music, Mumbai
About
British Council's Selector PRO and The True School of Music have partnered to bring you a never before opportunity to explore exciting possibilities in creating music for visual media.
Attend this 2-day masterclass series to interact with and learn from leading music professionals from the UK and India to gain deep insights into the process of scoring music for visuals, the business of film music and the emerging opportunities in music for visual media in India and beyond.
Through this masterclass series you will be able to:
Recognise the different commercial visual media formats
Develop an awareness of the process of scoring music for visuals
Identify the skills required to compose and produce music for visuals
Determine basic equipment and software required to create music for visuals
Learn about Intellectual Property Rights, monetisation and general business practices in music for visuals
Identify current and emerging professional opportunities
DAY 1
Session 1: Scoring Music for Online Television Series by Alokananda Dasgupta
Session 2: Scoring music for Brands and Advertising by Merlin D'souza
DAY 2
Session 1: Scoring Music using a Digital Audio Workstation by Aki Spadaro
Session 2: Scoring Music for Film, Documentaries and Games by Nainita Desai
Session 3: Intellectual Property Rights and Commercial Opportunities in Music for Visual Media by Priyanka Khimani
Hurry up and book your pass now! Limited seats. We look forward to seeing you on the 15 & 16 February in Mumbai.
Your masterclass access pass is inclusive of breakfast, lunch and tea breaks on both event days.
For any further queries, requesting you to get in touch with us on +91-022-66243200 (Mon-Sat 10.00 AM - 6.00 PM) or contact@trueschool.in
Alokananda Dasgupta
Alokananda Dasgupta is a composer based in Mumbai. She composed the original background score for Amazon Prime's original series Breathe, and in 2018 garnered national recognition for scoring music and songs for season 1 of Netflix India's Sacred Games. Alokananda's appreciation for a diverse range of music has led her to work for National award-winning Marathi films like Shala and Fandry and the critically acclaimed Hindi film B.A Pass. Alokananda is the recipient of the Prabhat Purashkar and the Sanskriti Kala Darshan awards for the best background score in 2012 and 2014.

Learn about the creative and technical skills needed to make music for online tv shows and find out ways to seek out opportunities in this rapidly growing industry.



Merlin D'Souza
Merlin D'Souza is an Indian composer and pianist from Mumbai. Merlin has composed music for advertising, film, albums and theatre, and sonic branding is her speciality. Her recent works include brand music for mastercard and Dubai tourism. Merlin is the recipient of the International World Women Inspirational Leadership awards in Music and the International Rodas Womens Day award. She was also Nominated for the 2013 Karmaveer Puraskaar Awards for her role in music for Women Empowerment.

Familiarise with the unique creative and technical considerations for creating captivating music for ads and brands.



Aki Spadaro
Aki Spadaro heads the Music Production department at the True School of Music. Aki holds a master's degree in Composing for Film from Conservatorium van Amsterdam and the Nederlandse Filmacademie. He has composed and produced music for a number of Dutch fiction and documentary productions, including "Vandaag", which won the award for best short film at the Dutch YAKFA Festival and selected in 2016 for the International Short Film Festival, Nijmegen.



Nainita Desai
Nainita Desai, a BAFTA Breakthrough Brit has worked in British television for over two decades scoring countless BAFTA, Oscar, and Emmy acclaimed productions. The PRS placed Desai at No 2 in their Top 10 female writers whose work was most used in Film & TV through 2018. Nainita won Best Feature Film Score at the Music+Sound Awards 2016 , and is a GOPO Romania Film Awards Nominee 2019 , NaturVision Film Awards Winner 2019 for Best Film Score, totaling eight nominations and two wins in 2019.

Learn the major differences involved in creating music for films, documentaries and games, and get to know the music workflows behind international productions.



Priyanka Khimani
Priyanka Khimani, co-founder and lead partner of Anand & Khimani, is best known for her unmatched legal expertise in the Indian entertainment space. Her clientele is studded with some of the most celebrated names in film, TV and music, including international record labels, publishers, distribution companies, studios, streaming and social media platforms, Emmy-nominated film-makers and showrunners, as well as Oscar and Grammy winners, among others. Priyanka is the founding chairperson for the Indian Chapter of 'Women In Music', a global not-for-profit organization dedicated to championing the female voice across global music spaces.

Learn about the various elements of music over which you will have rights and how to navigate contracts and agreements when you enter into the music industry.


Venue
True School Of Music, Mumbai
No. 107, Sun Mill Compound, Opp. Hanuman Temple,Lower Parel
GET DIRECTIONS