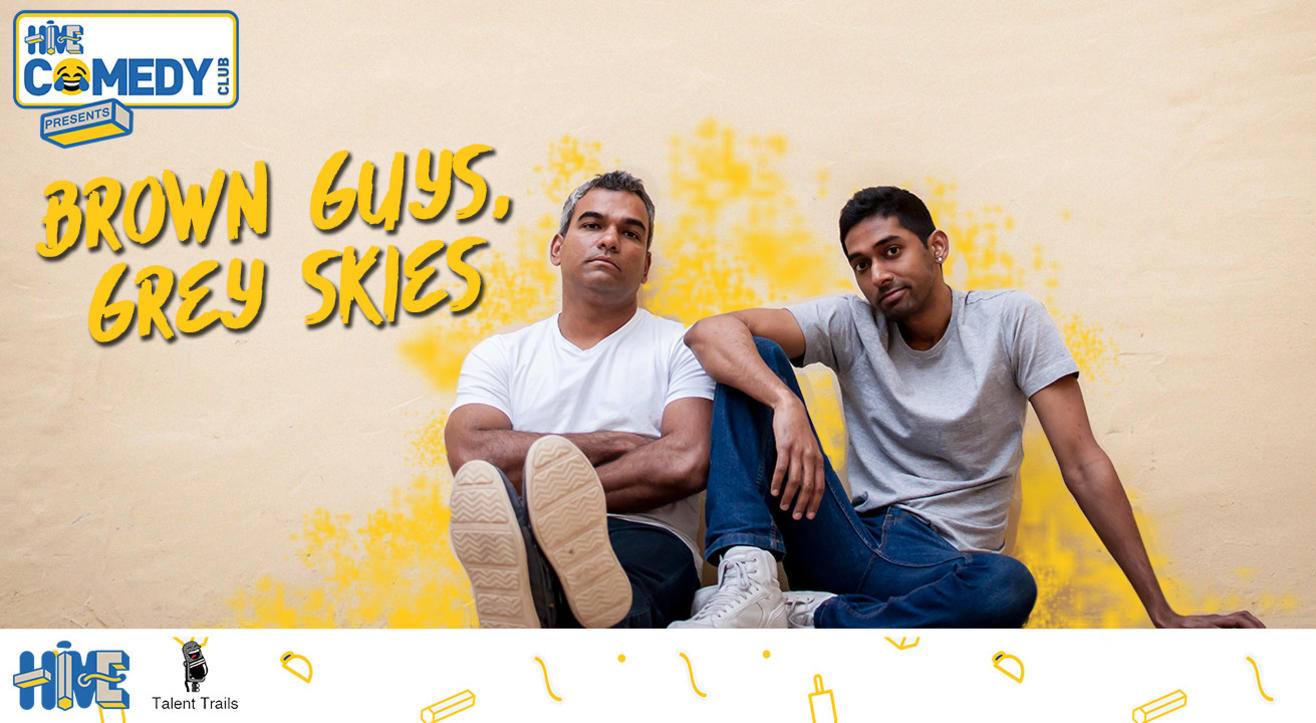 Invite your friends
and enjoy a shared experience
Invite your friends
and enjoy a shared experience
About the Event
"Original and Refreshing" - Luxembourg Times
"Hilarious, genuine and sincere. Deserve great audiences." – Edinburgh Fringe Festival
"The story telling is what makes this show fabulous" - City Savvy
"Refreshing new voices…and outrageously funny" - Hush Hush Comedy, Barcelona
'Brown Guys, Grey Skies' is a standup comedy show that presents an outsider perspective to life in Europe. Featuring Deepu Dileepan and Sundeep Bhardwaj -the show explores themes of love, adventure and truth. In 2018, 'Brown Guys, Grey Skies' had a sold out run at the Edinburgh International Fringe Festival and currently on tour across 12 countries in Europe.
This Hive event in Pune was made possible through the good efforts of Samay Raina, Talent Trails & Austin40 Cafe that have been regularly pushing standup comedy in Pune.
About the Artists
Sundeep Bhardwaj
A banker turned standup-comedian and public speaker, Sundeep is an Indian-Luxembourgish with a unique perspective on the western and oriental worlds. Growing up, he was terrified of public speaking, partly due to a walking disability. He took up comedy and public speaking as a challenge, and has not looked back since. He enjoys significant repute as a serial champion speaker in humorous speech contests across Toastmasters Clubs in Europe and is a star on the European comedy circuit. He is a writer for City Savvy Luxembourg with a wide followership for his humorous columns. Blessed with two kids, he spends most of his time convincing strangers that he is the real father.
Deepu Dileepan Lingaiah
Deepu is a former social scientist turned writer/ comedian. His credits include appearances on RTL TV, 'funny business with Deepu' on ARA Radio and Live108.4FM, with over 3 million views on Youtube. Currently based in Luxembourg City, he is the co-producer of the Luxembourg Comedy Festival and performs in venues across Europe. His credits include performances in Seattle, New York City, Vienna, Mumbai, Madrid, Paris, Amsterdam, Cannes, London, Bonn, Edinburgh, Dublin and Barcelona among several others.
Austin40 CafeHouse
869, Bhandarkar Rd, Shreeman Society, Shivajinagar, Pune, Maharashtra 411004
GET DIRECTIONS