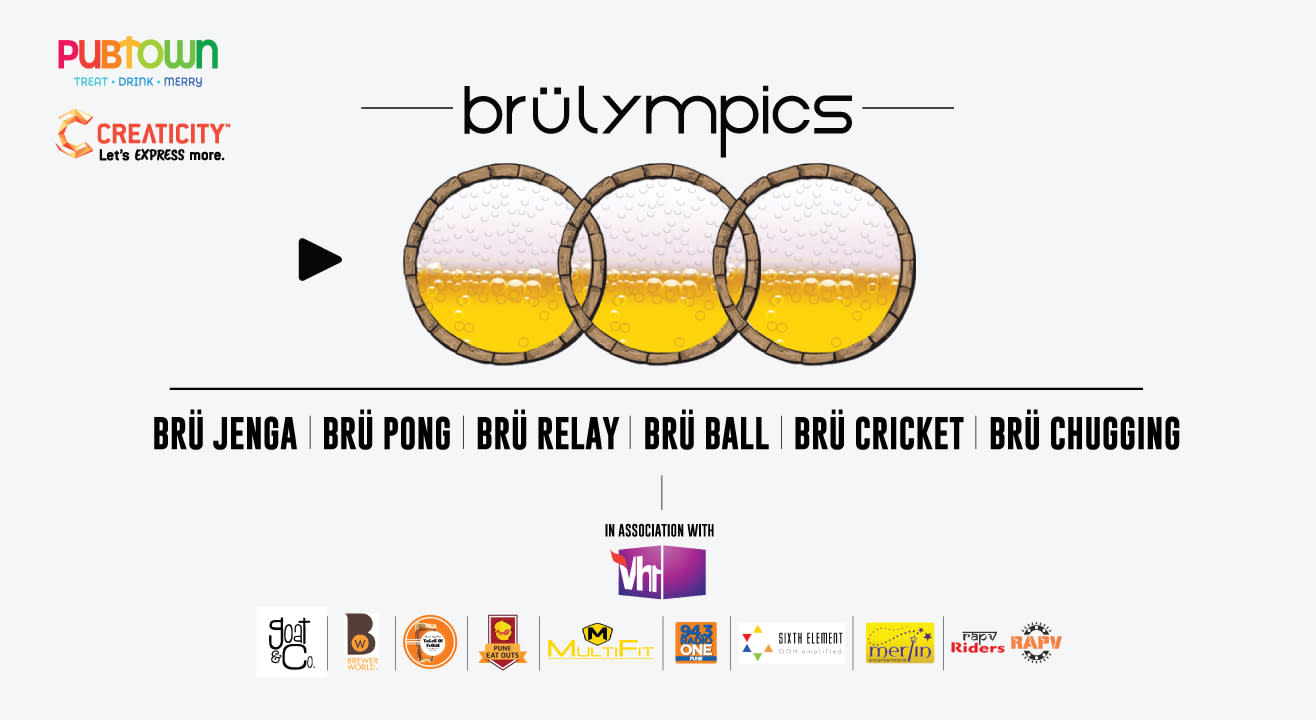 Drinks & More
About
The BrüLympics are here!

Put on your jogging shoes and run.

Get your friends together and assemble your teams.

Get your game face & your chugging gear on.


The first edition of the Pubtown BrüLympics are here!

Spread over 2 days, the contest is open to teams and individuals who register for the event. A maximum of 30 teams of 4 persons each will be registered and individual entries will only be accepted for non-team events.


So get your friends at your workplace or your company to join you, get your college friends or your hangout buddies, or your 3 AM friends to sign up with you and jump right in. If you're a regular at a pub, then get your buddies from there to join in. If you're a local at a neighbourhood brewery, make a brewery team, and let's enjoy the spirit of craft brüs.


Shake, rattle & roll as you chug down your brüs and chill amongst the beautiful climes of Pubtown at Creaticity (formerly Ishanya).

Participate in individual events and in team events and enjoy up to a max of 10 litres of free brü during the competition - depending on how far you go!
Each participant gets a free lunch, & brü passport for the games.
Teams get to name themselves and come in all shapes sizes and from both sexes.

What brü am I drinking?
Pubtown believes in #craftnotcrap, and so all the brüs you consume during the competition will be craft brüs.

Every event, Pubtown will only serve craft brüs to competitors.

The competition rounds: (any 4)
Brü jenga
Brü pong
Brü relay
Brü ball
Brü cricket
Brü chugging

Where is the venue for the events?
The entire area of Creaticity, (formerly Ishanya) Pubtown will be used for the events

Who can sign up?
Anyone who is of legal drinking age is eligible to participate.

Don't have a team? Pubtown can help
Pubtown can pair together various individuals and make teams out of them.

How does the competition run?
Depending on the number of entries, the first rounds of elimination will be held on Saturday afternoon and the team elimination rounds will be on Saturday evening.

The second and final round of eliminations will be done by Saturday night.

Sunday afternoon will be the grand finale of each competition.

Each category will have a winner with certificates being awarded to them. The winning team will be awarded the Brülympics trophy and will get ₹5000 of free brü and meal vouchers at Pubtown - Pune's no.1 F&B destination.

On your marks, get set, go!