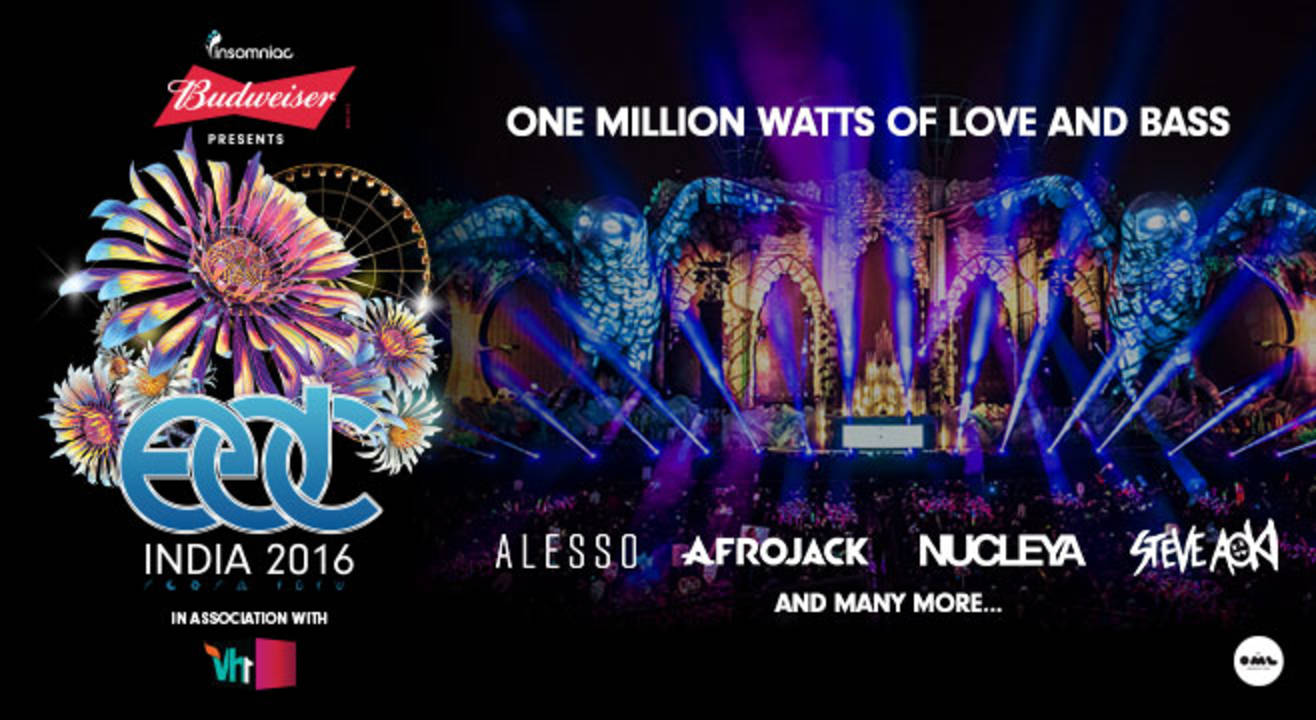 Budweiser Presents EDC India
November 12 - 13 | 2PM
Buddh International Circuit
About
November will be a historic month for electronic music lovers in the country as Insomniac and OML in partnership with Budweiser will bring Electric Daisy Carnival (EDC), one of the biggest electronic music festivals in the world to India. The first-ever edition of the Vegas-style festival will be held in Delhi on the 12th and 13th of November, with one of the largest line-ups of International and Indian artists ever witnessed in the country.
A multidimensional music experience, EDC combines the world's most renowned electronic music talent with mesmerizing production and sound design that is sure to overwhelm fans with its sheer scale, creativity and overall immersive experience.
Since its inception in 1996, EDC has traveled to various venues across the United States (California, Florida, Nevada, New York) as well as other countries including Mexico, the UK, and Brazil. The largest music festival in North America, EDC was dubbed the "American Ibiza" in 2010. EDC began as a one-day event in Los Angeles, welcoming a crowd of 5,000 dance music lovers in its first year. Over the past 20 years, EDC has grown into a global phenomenon, hosting over 400,000 fans over three days in Las Vegas this past June.
Afrojack Alesso Anish Sood Arjun Vagale AU/D10/GRAMME Audio Units B.R.E.E.D BLOT! Brillz Crizzly Dualist Inquiry Ferry Corstenv Hamza Kohra Lost Stories Markus Schulz Nucleya Oozeundat Pearl Praveen Achary Qwiver R3hab Sandunes Sartek Sequ3l Shaan SHFT Sickflip Sound Avtar Spinal Fusion StarLab Steve Aoki The Upbeats Tommy Trashv Vini Vici Yellow Claw Zaeden
BUY TICKETS AT OFFLINE OUTLETS
Delhi NCR Barcelos , Gurgaon Barcelos, Khan Market Barcelos, Hauz Khas Village My Bar Square, E -34 &35, Connaught Place My Bar Lounge, G - 68, Connaught Place My Bar Headquarters , N - 49, Connaught Place My Bar and Restaurant, Paharganj My Bar Grill, Hauz Khas Village My Bar Studio, Hauz Khas Village My Bar Cafe, Gk - 1 M Block Raasta Cafe, Hauz Khas Village Raasta Cafe, Cyber Hub, Gurgaon Turquoise Cottage, Kamla Nagar Turquoise Cottage, Nodia Turquoise Cottage, Saket The Backyard, Punjabi Bagh The Backyard. Gurgaon Zu Tisch, GK 1 M Block The Sky Bar, Rajouri Garden Londoners, GK 1 M Block Depot 48, GK 1 N Block Social, Hauz Khas Social, Def Col Social, Cyber Hub Social, Nehru Place Social, Odeon
Kinetic Field Alesso Afrojack Lost Stories Anish Sood R3hab Dualist Inquiry Sartek Nucleya Tommy Trash Shaan Yellow Claw Steve Aoki Zaeden Circuit GROUNDS AU/D10/GRAMME B.R.E.E.D Ferry Corsten Brillz Markus Schulz Crizzly Spinal Fusion Sickflip StarLab Sound Avtar Vini Vici The Upbeats Budweiser presents neonGARDEN Audio Units Arjun Vagale BLOT! Kohra Hamza Oozeundat Praveen Achary Pearl Sandunes Qwiver Sequ3l SHFT
Venue
Buddh International Circuit
Sector - 25, YEIDA, Yamuna Expressway, Jaypee Sports City, Gautam Buddha Nagar, Noida
Terms & Conditions
Wristbands for the designated dates will be issued at the box office during the festival. These allow you to access all the stages. Please keep your wristband on for all days through sleep, showers and what may come. In case wristbands are taken off or misplaced, a replacement wristband will not be issued.
No refund on a purchased ticket and F&B coupons is possible, even in case of any rescheduling.
If you are under the age of 16, you need to be accompanied by an adult guardian at all times.
Rights of admission reserved, even to valid ticket holders.
Do not buy tickets from anyone except us or one of our authorised ticket outlets. We only issue wristbands at the box office and they are put on you by our staff. If anyone offers to sell you a wristband outside of the festival gates, you can be certain it is counterfeit.
Please remember to carry a valid government issued photo ID proof (Driver's license/ Aadhar/ Passport). You may not be permitted to enter in the absence of one.
No alcohol will be served to patrons under legal drinking age (LDA). Alcohol will only be served on display of a valid Government Issued ID proof. If you intend on drinking, we recommend you use public transport or assign a designated driver to drive you to and from the festival grounds. If you are underage, please don't drink or we will be forced to ask you to leave the festival. Be cool, guys.
Artist lineup and schedule are subject to change.
This ticket permits entry to the festival grounds only. Any pre or after parties may have other ticketing requirements and may be sold separately.
Security procedures, including frisking, remain the right of the management.
Handheld personal communication devices will be permitted unless otherwise advised. As acondition of entry to the venue, you agree that the creation, storage or use of any data or any such recordings for any form of public advertisement, display, commercial gain or for any other purpose (except for your own enjoyment) is not permitted without prior written permission from OML Entertainment Pvt Ltd.
No tickets for the event shall be used by any person for re-sale, advertising, promotional or commercial purposes, including but not limited to prizes, competition, contests or sweepstakes without obtaining written consent of OML Entertainment Pvt Ltd.
Please do not carry dangerous or potentially hazardous objects including but not limited to weapons, knives, guns, fireworks, lazer devices and bottles to the venue. We may have to eject these things, (with or without you) from the venue.
The sponsors/bands/organisers/management are not responsible for, including but not limited to, any injury or damage that may occur during or at the festival. Any claims that may arise due to gross negligence would be settled exclusively in the courts in Mumbai.
This festival uses amplified sound. Earplugs and hearing protection at live concerts to reduce the risk of hearing damage is recommended, especially for children.
Strobe lighting at this event may trigger epileptic fits. Those with a history of epilepsy or any health condition that would be of concern must take adequate precautions.20. Consumption and possession of narcotics is strictly prohibited and those found possessing or consuming narcotics at the event will be immediately handed over to anti-narcotics police.
Carrying of liquids, alcohol, cigarettes and banned substances including outside food and beverages to the festival will not be permitted.
No liability or claims that may arise due to the consumption or intake of any food or drink or any other consumption will be entertained by the management.
Parking near or at the festival premises is at the risk of the vehicle owner.
You shall not use or display within the venue any sponsorship, promotional or marketing materials unless authorised by written confirmation from OML Entertainment Pvt Ltd.
The holder of this ticket grants organisers the right to use, in perpetuity, all or any part of the recording of any video or still footage made of the holder's appearance on any channel or magazine for broadcast in any and all media globally and for advertising, publicity and promotions relating hereto without any further approval of yours.
Areas at the festival are built to capacity. Management reserves the right to hold entry to certain areas within the festival to ensure a safe festival experience.
The management reserves the exclusive right without refund or other recourse, to refuse admission to anyone who is found to be in breach of these terms and conditions including, if necessary, ejecting the holder/s of the ticket from the venue after they have entered the ground.