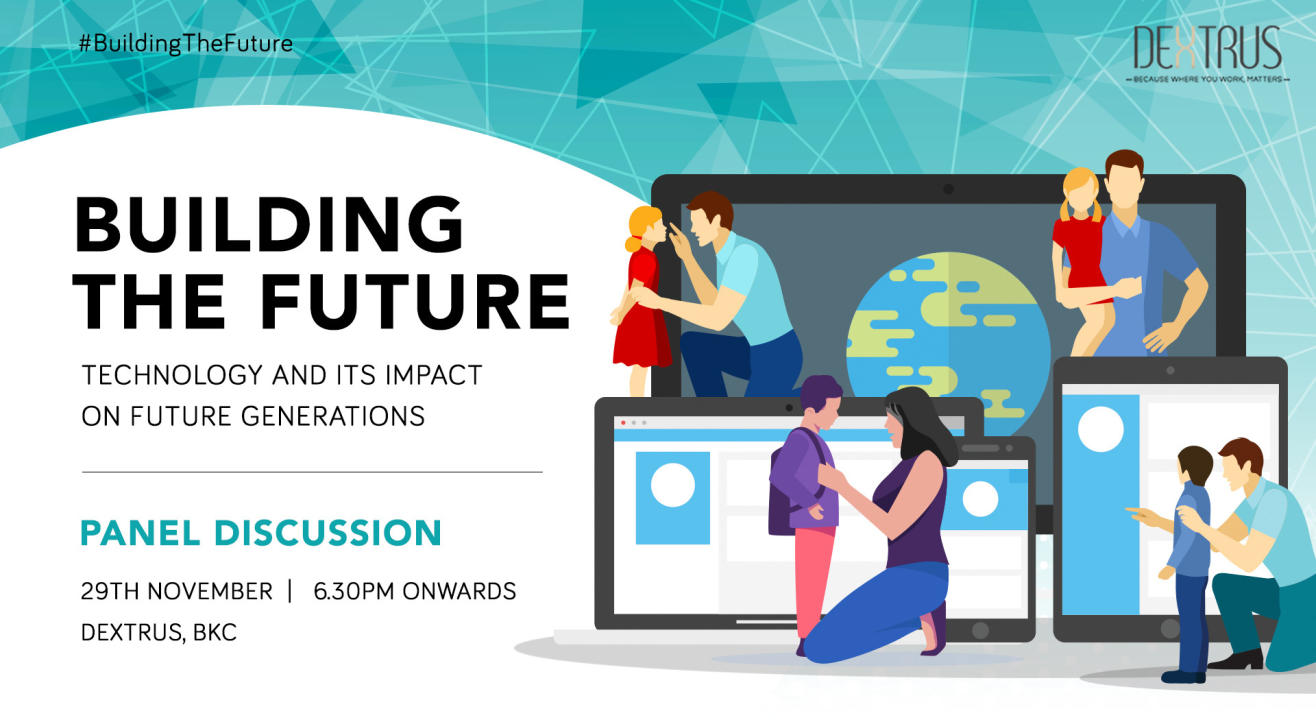 Technology
Building the Future: Technology & its impact on future generations
About
Building the Future: Technology and its impact on future generations; this November, Dextrus is bringing an evening of insightful conversations focusing on the impact technology has on the younger generations of the world and what perhaps that future may look like.
Noted panelists of the evening will be:
Meeta Sen Gupta
Director, Stratenomics UK
Founder - Centre for Education Strategy
Writer, Advisor, Keynote Speaker
Meeta Sengupta works at the cusp of policy and practice across the education and skills spectrum, she has been an investment banker, a researcher, an editor, a teacher and school leader across continents.
Lina Ashar
Founder - Kangaroo Kids Preschool &
Billabong High International School
Lina Ashar is an Indian educationist, entrepreneur, and writer based in Mumbai. She is the chairman of Kangaroo Kids Education Limited (KKEL).
Priyanka Bakhru Talwar
Founder - Jalebi Street
Priyanka Bakhru Talwar spent 11 years in the corporate world after her MBA, and in her last profile, she headed marketing for Vogue and Conde Nast Traveler. She specialises in relationship and inner child therapies, and is currently pursuing a Masters in Psychology.
Anil Mammen
Chief – Learning Design & Social Impact, Tata ClassEdge
Anil serves on the advisory of CLIx (Connected Learning Initiative), a collaborative open education initiative between the Tata Trusts, Massachusetts Institute of Technology (MIT) and Tata Institute of Social Sciences (TISS). He also serves as an advisor and guest faculty at the Centre for Education Innovation and Action Research at TISS.
Dr. Anjali Chhabria
Leading Psychiatrist and Psychotherapist
Founder, MindTemple
Author - Death is Not The Answer
A leading psychiatrist and psychotherapist of India, and now an author, Dr Anjali is recognized for her outstanding contribution to the field of mental health since the past 25 years.
Technology has virtually changed every aspect of our society just in the last decade, from the way we work to the way we socialize. Although it does provide many positive benefits, its widespread use also raises questions for parents and educators. What are the strategies that we can start to use to better prepare for what lies ahead?
Let's find out on 29th November, 6.30pm onwards.
About Dextrus
Dextrus is a shared workspace with the single focus of creating the right work environment to enable people to be the best at what they do. 'Work the way you want' is our motto, a range of areas such as a private office, open desks, a library, phone booths, lounges etc. give you the flexibility to choose your space of work. With us you get the whole office and not just your desk.
Our 24x7 center balances utility with style. We have invested in the things that matter; from acoustic design to tech infrastructure balanced with stylish architectural design helps give the workspace a sense of prestige and makes it an address on the map of BKC, Mumbai.
Venue
Dextrus
A-802, Crescenzo, G Block BKC, Bandra Kurla Complex, Bandra East, Mumbai, Maharashtra 400051
GET DIRECTIONS