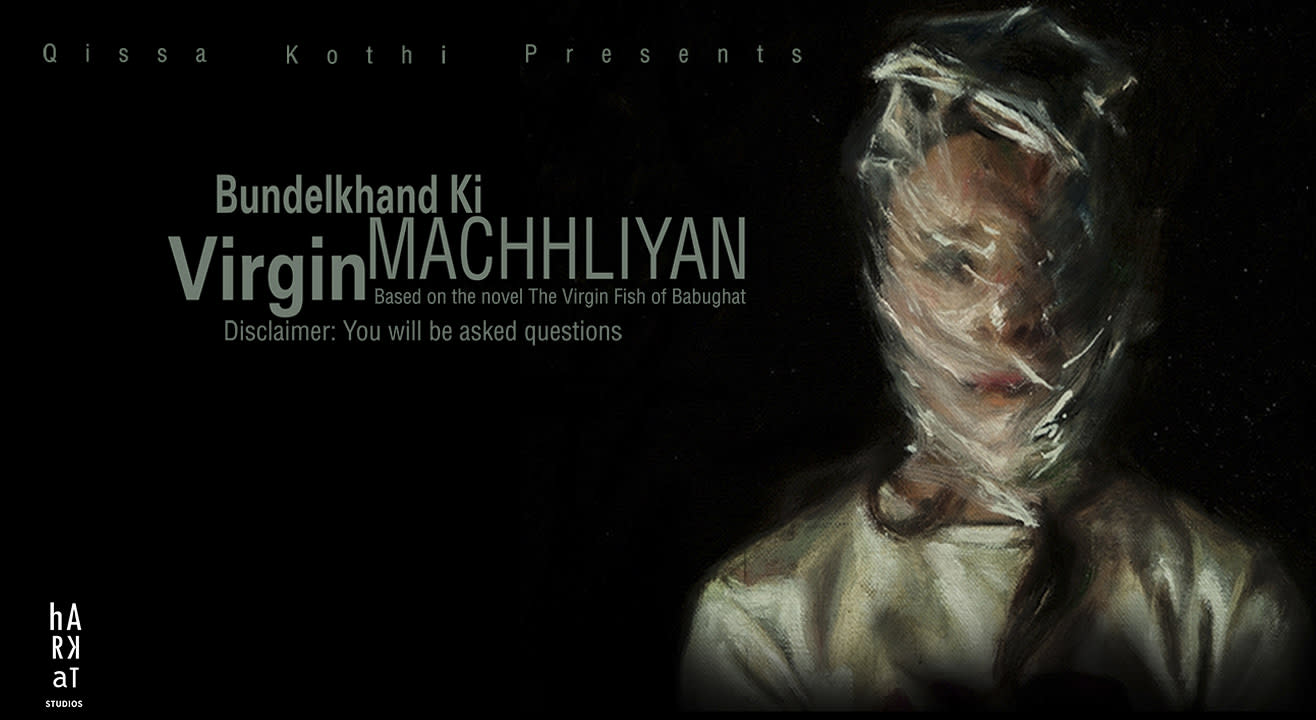 Theatre
Bundelkhand Ki Virgin Machhliyan
Harkat Studios, Versova, Mumbai
About
Based on the novel, The virgin fish of Babughat" by Lokenath Bhattacharya (an author extensively published and read in France), Bundelkhand Ki Virgin Machhliyan is a shameless testimony against the State or those who are in power. Individuals who were once citizens are now inmates under constant observation. What they have in exchange is a hedonistic lifestyle. They have lost their identities since their different ways of being have been erased. All prisoners of this camp must be the same. They have been reduced to their productivity and segregated according to their skill sets. Women have been reduced to resources for reproduction. Their virginity is thus a fundamental parameter to judge their ability. It is a hedonistic world, where everyone's belongings were taken away. They were given all the luxuries of life which include unlimited sexual gratification. However it is only the Pradhan Karyalay or Headquarters who decides what pleasures they would have.
In this world, is it possible to find love?


The protagonist of the play who was an actor-director before he came to the camp has been given a unique punishment: he must create a play about each of the moment that he lives in the camp.


The nameless protagonist who is nameless or may be one of you happens to find love in Ishnoor, a divine brightness. In this grotesque developed world he finds a hint of beauty. This is a dangerous beauty that turns the world of the camp upside down.


Scenes of this impossible love story in this dystopian world are knit together like frames in a film as moments captured out of life, running through those years of captivity, editing together a panorama of social breakdowns. Five actors live through these breakdowns fighting their will to act. They are not allowed to without permission. Bundelkhand Ki Virgin Machhliyan is a political satire that promises to give a good many laughs - at your self!


Length: 110 minutes.
Qissa Kothi was formed about a year back when some artists/researchers based in Mumbai were grappling with a name for their collective explorations. Several names were discussed before one decided upon Qissa Kothi, a name that embodies the tradition of performance in the outside of accepted social life - the Kotha culture and the many said/unsaid qissa that it holds. Qissa Kothi aims at collective explorations of the personal beings of the artists who are housed in this group. These explorations are of course reflective of the society at large. Her Letters, funded by the Tagore Centre in Berlin is its first production. It has recently received the Inlaks - Asia Art Archive Grant for its next project on the performance archive in colonial India.
SsmaraN is the band that forms a trinity of vocal by the Sufi singer Ragini Rainu, instrumentation by Aman Nath and rhythm by Chanchal Singh to form a beautiful fusion of Sufi, Folk and Electronica. SsmaraN has composed the music for Her Letters with a different insight into Rabindrasangeet yet maintaining the essence of the genre.
Gaurav: Gaurav Kunwar Singh and Nilraj Singh Rathore
Bheeshm: Kranthi Kumar and Bheeshm Pratap Singh Chauhan
Bharati: Lata S. Singh and Bharati Perwani
Dev: Nishant Kumar and Saurabh Pratap Singh
Vishal: Mohammed Faisal and Vishal Vats
Teaser: Bundelkhand Ki Virgin Machhliyan
Harkat Studios is an international boutique arts studio based in India with offices in Mumbai, New Delhi and Berlin. They make films, curate experiences and are an alternative performance space that tries to make the world a little better of a place to live in.
Venue
Harkat Studios, Versova, Mumbai
Bungalow No. 75, JP Road, Aram Nagar Part 2, Machlimar, Versova, Andheri West, Mumbai, Maharashtra 400061, India