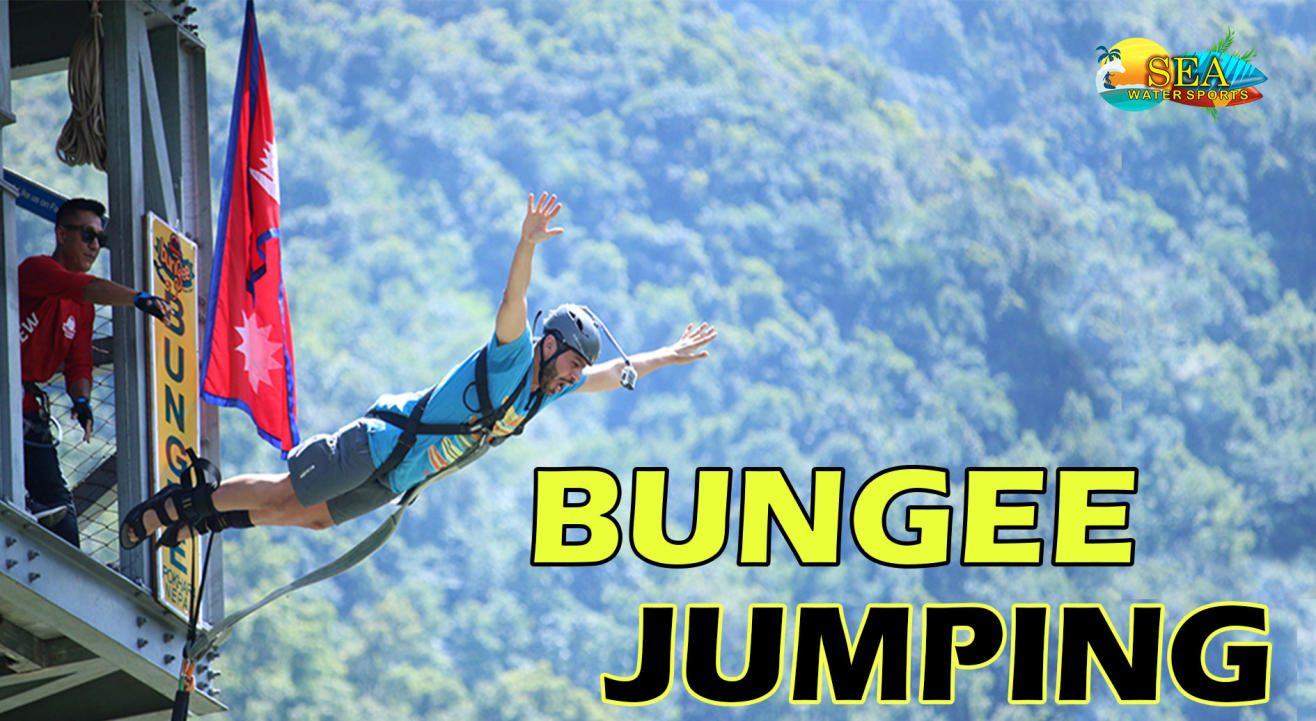 Adventure
Bungee Jumping in Goa By Sea Water Sports
Goa Bungee Flysports Adventure Park
About
Bungee Jumping In Goa
Batch Timing- Between 9am to 6pm
Departure Location-
Goa Bungee Flysports adventure park.
Waddavall, p.o Latambarcem, Bicholem ,Goa 403503
Google Map Link of the Venue –https://goo.gl/maps/TY6LH77noKBf6TFDA
Bungee jumping is a thrilling yet exciting game in which individuals bounce from higher ground, for example, a bridge with a versatile rope attached to their lower legs to prevent them from hitting the ground. The rope is elastic as it is intended to extend, not break. At the point when the rope has reached its limits, the jumper bobbles upwards again. Bungee jumping will not require much of your physical vigour but definitely need a considerable measure of mental mettle. Planning a trip to Goa, do try your first bungee jumping.
Inclusions
Pick and Drop
All safety Equipment
Breakfast / lunch
Water bottles
3 beer (after activity)
Unlimited soft drinks
5 pictures of jumps (Soft copy)
Jump masters guidance
Things To Carry
· Sunscreen
· Comfortable clothes and footwear
· Sunglasses
· Basic medication and first aid
· Avoid wearing a skirt dress.
SAFETY PROCESSES AND PROCEDURES
Safety is Priority!
Safety is a prime consideration in everything we do. With Strict safety checks, non-compromising SANZ (standard of Australia and new Zealand) standard operation procedure, super active Bungee masters, lively and dynamic crew, we believe to call Goa Bungee as one of the safest Bungee jumps around the globe.
Exclusions
Any Personal Expenses
Anything not mentioned above is not included
Note
Booking should be done before 24 hours prior.
Minimum 10 years old. Children 10-17 Years require an adult to sign consent at check-in..
100% Safe & Risk-Free Activity.
Weight minimum 35kg to 150kg.
You can jump from the height of 50m/60m/70m.
· Booking Amount is non-refundable
FAQs
Is there any maximum age limit?
While you must be at least 10 years require an adult to sign consent at check-in.
Is it dangerous?
No, it is not. Whenever injuries do occur though, it is only because careful attention wasn't paid during training or the instructor wasn't certified.
What does SANZ stand for?
standard of Australia and New Zealan
Venue
Goa Bungee Flysports Adventure Park
Waddavall, p.o Latambarcem, Bicholem ,Goa
GET DIRECTIONS