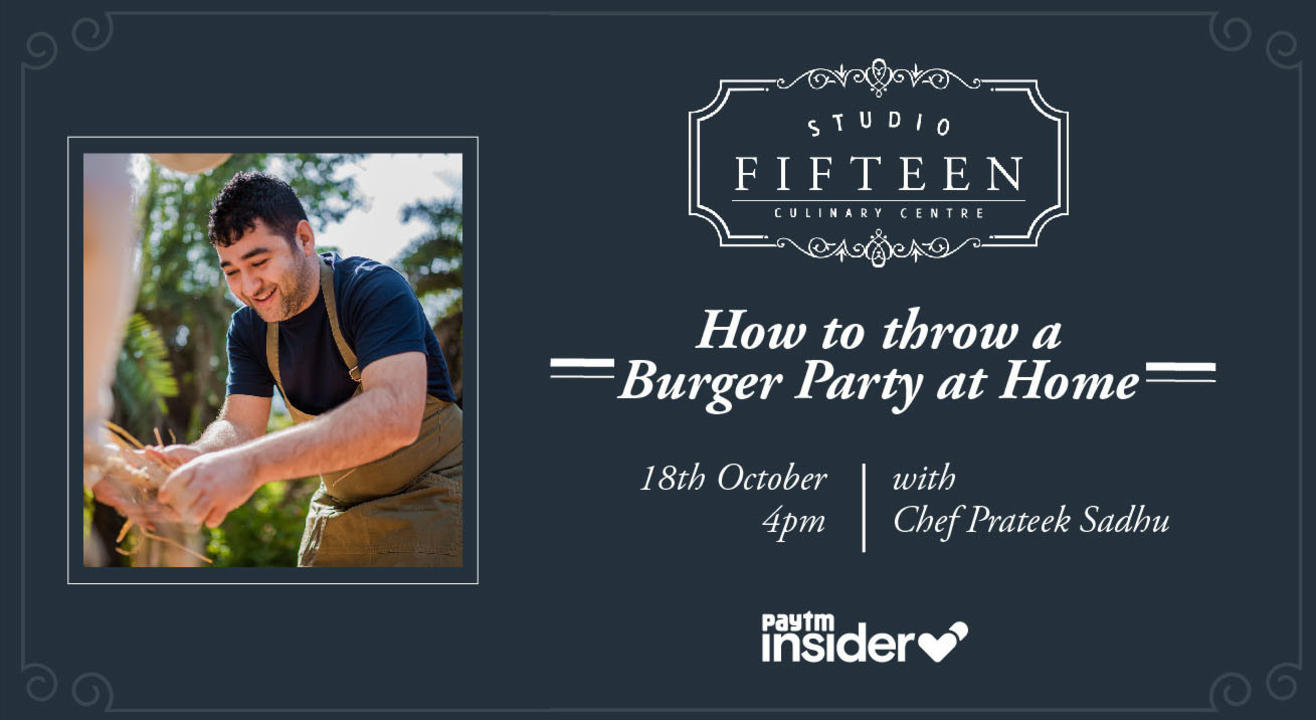 Studio Fifteen | Burger Party at Home with Chef Prateek Sadhu
Event Guide
Digital Event
Watch on Zoom
For Age(s)
Family Friendly
Masterclass
Learn from an expert
Invite your friends
and enjoy a shared experience
Event Guide
Digital Event
Watch on Zoom
For Age(s)
Family Friendly
Masterclass
Learn from an expert
Invite your friends
and enjoy a shared experience
About the Event
Chef Prateek Sadhu is an Executive Chef and Co-Owner at Masque Restaurant located in Mumbai.
Born in Baramulla, Kashmir, in 1986, Prateek Sadhu grew up around family farms, leading him to the kitchen by his 10th birthday. His mother and aunt taught him cooking basics, and a passion for food soon derailed his initial plans to become a commercial pilot; instead Prateek attended college for hotel management and began working in kitchens at Taj Hotels.
Prateek went on to the Culinary Institute of America, graduating with double gold medals. After stints at several of the world's finest kitchens including Alinea, The French Laundry, Bourbon Steak, Le Bernardin and Noma, Prateek gradually developed a food philosophy that places local ingredients at the fore, sourcing within the region, and foraging for 'lost' ingredients.
A move back to India connected Prateek with Aditi Dugar. The pair travelled the country in search of the best regional produce, creating strong ties with local farmers along the way. After nearly 2 years of research, they opened Masque in the heart of Mumbai in September 2016.
Masque has blazed its own trail through India's culinary landscape, garnering a reputation for constant innovation and numerous accolades along the way. Its commitment to sustainability saw Masque ranked among the top 10 on Food Tank's 2016 list of restaurant innovators in the world. That same year Prateek was awarded the most innovative chef of the year by the Western Culinary Association of India. In December 2017, he was named Chef of the Year at the Conde Nast Traveller Top Restaurant Awards, where in 2018, Masque was ranked #5 among the country's best restaurants. In August 2019, Masque was ranked on Food & Wine and Travel + Leisure's collaborative, inaugural list of the World's Best Restaurants, and in 2020, the restaurant won the Miele One To Watch Award at Asia's 50 Best Restaurants.
Learn to throw a Burger Party at home! In this workshop Chef Prateek will demonstrate:
Fried Chicken Burger
Mushroom Edamame Sando
Accompaniments
About Studio Fifteen
When Chef Pooja Dhingra set up the Le15 Patisserie kitchen in March 2010 the plan was to run baking and cooking classes out of it. And she did exactly that, with weekend classes every month for three years. Then, there came a point at which she felt that they could do a lot more with a kitchen space that was dedicated to culinary workshops. And Studio Fifteen was born as a culinary hub for everything from workshops, to private lessons and corporate training sessions, to pop-up meals and chef collaborations. The classes were aimed at everyone who just wanted to learn how to bake or cook in an environment that wasn't intimidating. The mission of this space was to encourage people to absorb and share knowledge. After all, it was born of her own constant need to keep learning and growing.