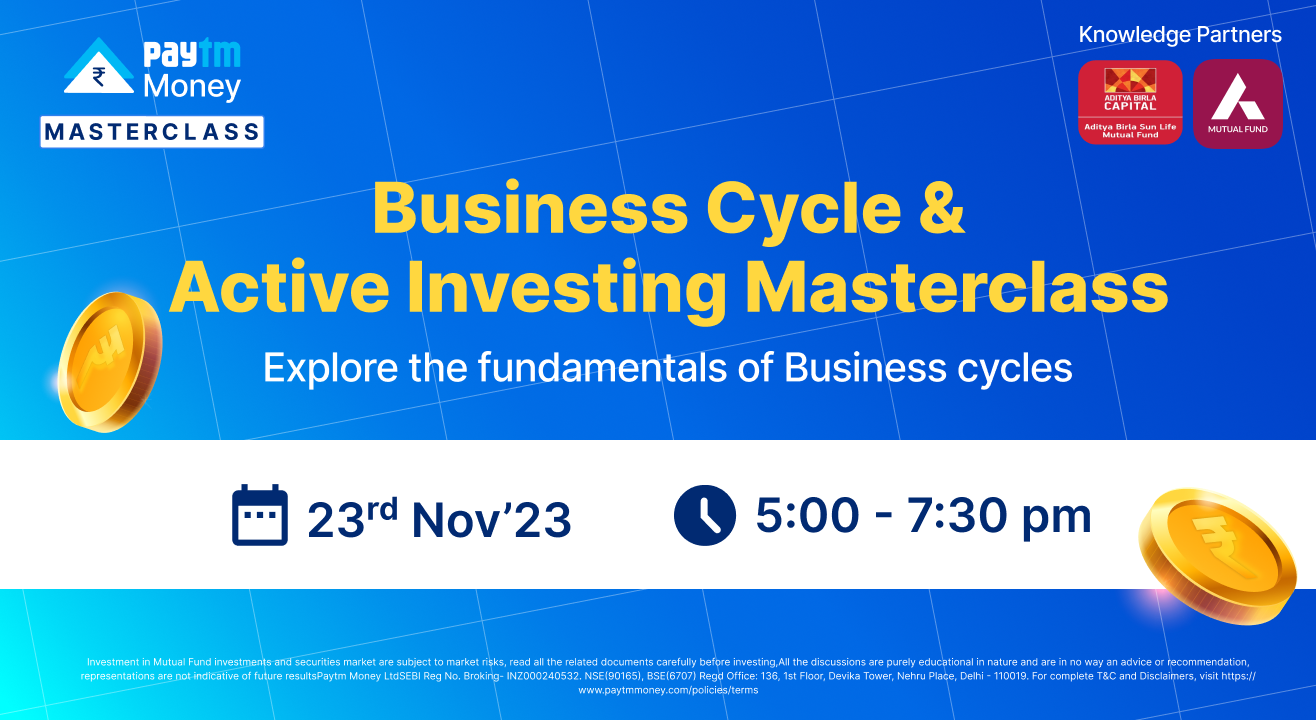 Business Cycle and Active Investing Masterclass
Event Guide
Digital Event
Live On Insider
Masterclass
Learn from an expert
Invite your friends
and enjoy a shared experience
Business Cycle and Active Investing Masterclass
Event Guide
Digital Event
Live On Insider
Masterclass
Learn from an expert
Invite your friends
and enjoy a shared experience
Event Guide
Digital Event
Live On Insider
Masterclass
Learn from an expert
Invite your friends
and enjoy a shared experience
Event Brief:
Among most of the successful investors, it is common knowledge that the business cycle has a direct impact on the stock market. Business cycle investing involves adapting your investment strategy to the stages of the economic cycle: expansion, peak, contraction, and trough. During the expansion phase, investors typically favor riskier assets like stocks, as the economy grows. As the cycle approaches its peak, caution may lead to reallocating to defensive assets like bonds or dividend-paying stocks. In the contraction phase, safe-haven assets become attractive, and in the trough, there's potential for bargain hunting in undervalued assets. Timing helps mitigate risk and maximize returns. Successful business cycle investing requires a keen understanding of economic indicators, data analysis, and flexibility in one's investment portfolio.
Join this masterclass to learn all about 'Business Cycle' and how you can predict the market & invest in the right industries at the right time. Now how cool is that?
Topics to be covered:
Understand what the business cycle is and what its different phases reflect.
Learn the EIC model of fundamental analysis.
Decode how the market cycle is correlated with the business cycle.
Find out how the market behaves during different phases of the business cycle.
Understand how sector rotation can protect your investment.
Master the strategies and put them in action with 'Investment Clock'.
Learn to invest in the right industries & sectors as per the business cycle, through active & passive strategies.
What's in it for you?
Learn from seasoned professionals with decades of experience in the stock market and finance industry.
Discover practical ideas with advantages and disadvantages for different asset classes.
Understand how to develop a practical road map for yourself.
Master creating multiple income streams with practical examples.
This masterclass includes:
LIVE expert-led training
Access to the entire session recording on any device with internet and browser access
Certificate of successful completion
Added Bonus:
Access to all the material presented during the session
Exclusive doubt-clearing session with trainers, after 2 weeks of the live masterclass
Requirements to attend the masterclass:
An internet connection that won't fail you
An open mind to learn & take calculated risks
The zeal to dream big and achieve bigger
Event Disclaimers
Investments in the securities market are subject to market risks; read all the related documents carefully before investing. Paytm Money Limited. SEBI Reg No. Broking - INZ000240532. NSE (90165), BSE (6707). Registered Office: 136, 1st Floor, Devika Tower, Nehru Place, Delhi - 110019. For complete disclaimers visit www.paytmmoney.com.
Representations are not indicative of future results
All the discussions are purely educational in nature and are in no way an advice or recommendation.
Mutual Fund investments are subject to market risks, read all scheme related documents carefully
Business Cycle and Active Investing Masterclass
Event Guide
Digital Event
Live On Insider
Masterclass
Learn from an expert
Invite your friends
and enjoy a shared experience