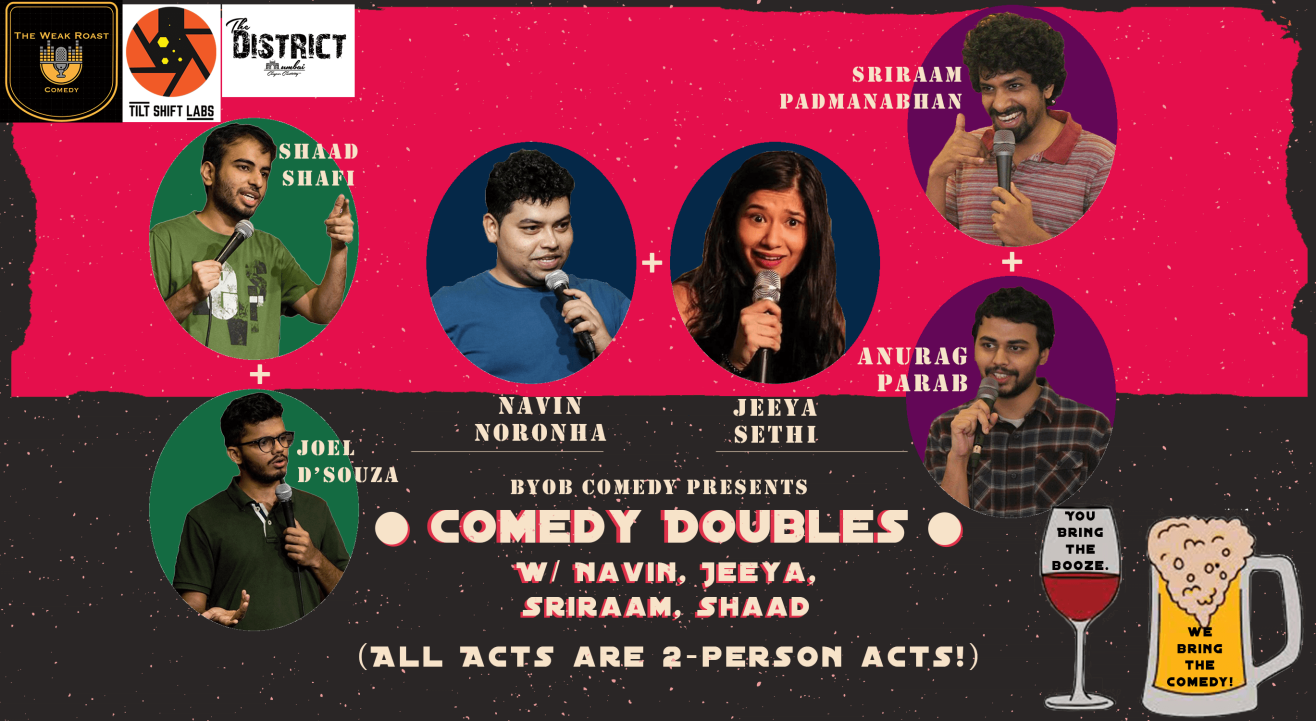 Comedy
(BYOB) Comedy Doubles w/ Navin, Jeeya, Sriraam
The District - Bungalow No. 96
About
You bring the booze, we'll bring the comedy!
A remarkably curated comedy event for the ages, at The District, Mumbai, with some of the funniest faces in the comedy scene…and then they have jokes too…
COMEDY DOUBLES - A Concept Show
A purely Two-person act night! All acts will be two-person acts! You've never seen a show like this before!
Lets see if these acts do crowdwork, or roast each other, or tell stories together! Anything can happen, as long as there are two people on-stage!
Fresh Line-ups every week.
And, this week, have we got the ultimate line-up for you with Hosts Kashyap Swaroop & Antariksh Takkar!
Special Acts:
Navin Noronha + Jeeya Sethi, Sriraam Padmanabhan + Anurag Parab, Manaal Patil + Shahan Karanjia, Shaad Shafi + Joel D'Souza, Sumedh Natu + Aayushi Jagad, Shivam Lakhanpal + Chirag Panjwani, Vrinda Bhagchandani + Rahul Pal, Kashyap Swaroop + Antariksh Takkar (as Hosts) and more side-splittingly hilarious acts.
Come drink your woes away and have an evening of memorable laughs. If you are a fan of comedy, or a comedy nerd (like us!), or just want to support and check out upcoming talent, do come for this. Cheers!
Brought to you by Tilt Shift Labs, in association with The Weak Roast.
Thanks to The District, Mumbai for co-hosting the event. Offices and studios for rent at the venue! See you there!
Venue
The District - Bungalow No. 96
Jankidevi School Rd, Versova, Andheri West, Mumbai, Maharashtra 400061, India